Let's have a look at 3D Printing in Construction-
The fast-industrious world has given birth to multiple ways, new ways to basic engineering. 3D printed building sounds unique and futuristic, doesn't it?
The idea that we can make our building just by drawing into a computer. No physical work, no external conditions that will slow down our building. 3D printing in construction is here now, in our present time, and we will let you peek under its hood.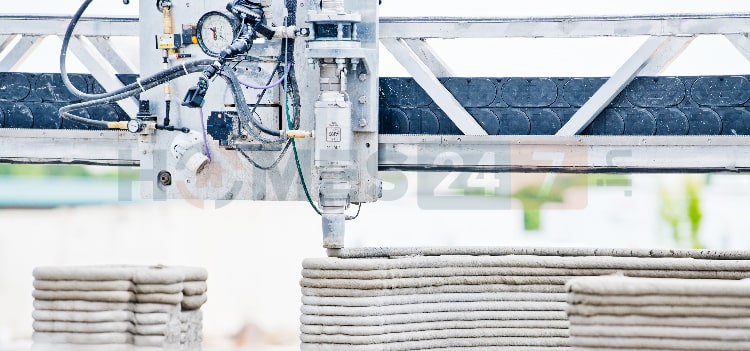 First, let us get the basics straight. 3-D printing, what is it?
Well, 3-D printing or additive manufacturing is the construction or engineering of 3-D shapes in various sizes. With materials being added, subtracted, and shaped into the desired item that fits into a larger system.
3d printing itself is not a new technology, dating back to the 1980s. Fabricating a three-dimensional model, or prototype, from a computer-aided design by adding successive layers of material is now standard practice in many industries, ranging from aerospace and architecture to medicine and high-end manufacturing.
In practice, concrete is just squeezed out of a nozzle attached to a computer-programmed robotic arm, either stationary or traveling along rails, in successive strips, layer upon layer, to produce the desired building structure, such as an exterior or interior wall, or components, like an archway or void.
3-D printing in construction has come to the rescue. With the rising housing crisis globally, the ability to create 3-D printed houses must come as a 'breather' to people. Sadly, as it is, many construction companies and associations do not fully accept the idea of 3-D printing in construction for reasons such as cost, the idea of fuel, and traditional practices in the construction process. Nevertheless, newer construction companies are beginning to understand the various processes and merits of 3-D construction.
There are two basic differences when it comes to 3-D printing in construction:
1. Component Creation
2. Total Project printing
As the name suggests, component creation is when the use of 3-D printing in construction is restricted to only printing the necessary components for the building, from specific beams and foundations to false ceilings. In recent years, with the emergence of Building information modeling, the information of the building is digital input into a computer. It serves as a database for that project. 3-D printed buildings are made using this information as the base blueprint.
Often the need to produce components like this comes with the complexity and difficulty in procuring those components. This process also gives complete control of the component creation to the engineer giving the perfect product to satisfy the hour's need. One effective way of using 3-D printing in construction.
Another amazing way that has been seen is called 'Total project printing.' As the name suggests, this process is having your entire house printed by a huge machine that will use the very same Building information model of your house. 3-D printed buildings in their truest sense, where a giant machine governed by a few engineers can make a house in a matter of months.
This method has been receiving steam, the last few years. With the idea of a 3-D printed house being accepted and technology pushed to the point where reliability can be generally accepted from unconventional styles at construction.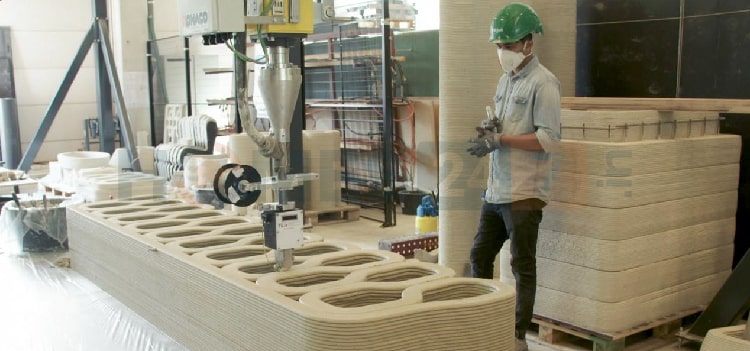 The other reason that this method is now gaining steam is not because of what it is right now, but what it can be. Some of the merits include:
1. Cost-effective projects
2. Eco-friendly process
3. Low-risk environment
4. Faster completion
5. Zero-Fail buildings
The possibility of making buildings without the need of at least 3/4th of the entire labor force has made construction companies hungry for this innovation.
'3-D printed buildings are the future' as claimed by many industry experts. However, this idea has received much criticism, such as:
1. Reduced employment opportunities
2. Buildings will be of a similar style
3. Cost to produce and run such machines
4. Quality control
The idea of 3-D printing in construction reminds many critics of the buildings made extensively in days of wars, where buildings all looked the same and were made similarly. Their construction would be considered basic and stick to the needs, which often is not what most people seek when they choose to build their homes.
As mentioned earlier, a clever alternative was the use of 3-D printing in construction for certain components only. Using the advanced fabrication machines and methods that we have developed over the years and leaving the rest to the old-fashioned way. A hybrid of sorts that lets one keep the best of both worlds.
This might all seem surreal, but there are real-life projects that have been constructed using the 3-D printing formula, such as the building in Warsan, Dubai, that currently holds the Guinness records for the largest on-site constructed 3-D printed construction. A two-story building met all the building standards that were required of it.
All in all, 3-D printing in construction, is it all one big hoax? Or a stepping stone to a larger ideal in the construction sector? Well, we cannot say for sure now except this, the future is near and closer than we think. The ability to build using nothing but a machine and a computer design is not that far away.
This is the future, ladies and gentlemen, and as of now, it looks bright as the sunrise that captures our eyes every day. And let's wait for the mornings, when we look at a urbanscape filled with buildings spawned by 3D Printing in Construction.