Hey Friends, here's something on Home theatre designs, for you to gather and reflect, today!
Ever skipped or cancelled a movie plan or a match for the aversion of crowds? Ever wished to sit back at home and watch all of the things you missed, at your own movie room, without stirring from your lazy bean bag?
Imagine witnessing all of it in your living room in Ultra HD Screens, with a cup of hot steaming coffee in a laid back cushion seating. You need not go anywhere! Set up one in your own place, right now! That is why we have come up with this piece, which we thought can help you. Give it a shot!
Home theatre otherwise called home cinema is that private set up inside houses that can serve well all entertainment purposes, giving you the perfect feeling of cinematic experience just as in a movie hall.
Various technology born audio-video equipment's can aid in designing better home theatre systems in one's own space. To bring out the best Home theatre designs is rather easy with a good imagination and a little help from us!
Some people remark it as a boon to have one at home and all movie buffs nod in agreement without doubt. Of course, during times of confinement at your respective houses like we do have right now during lockdown, what can beat having an amazing film adventure sitting at our very safe places and overcoming the stress? Not just movies – your favourite television shows, gaming, sports, choices are many!
Here, everything including the sound and visuals can cater to your individual needs of cinematic affair, in vitro!
Now, let us jolt without further ado to the practicality of assembling one such system at home. Here are some easy tips for setting up the best Home theatre designs-
For your takeaway –
1. Accessories requirement
On a general note, for putting a system together, one needs to have a minimum of – good quality speakers, connection cables (HDMI cables), video projector screen or a TV and a receiver.
The type and quality can differ. So, market research of the same is very much advisable. (Also, serving the purpose like – Dolby Atmos processing receivers for overhead sound effects! )
Pro tip: A sound meter is highly advisable while fixing the whole unit. A Sound Pressure Level (SPL) meter can help you calibrate and tune your system better!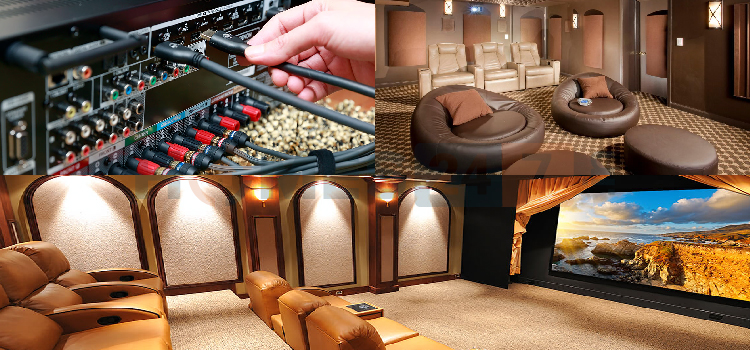 2. Discovering the perfect space
It all depends on where you place it. Most modern homes have a separate room for accommodating a home theatre set up. But minimalistic arrangement of the Home theatre designs in living rooms are also a sight.
When you are streaming a show or watching your favourite movie, wouldn't you love to do it without hindrances? So, picking the right spot inside the house for organizing is salient!
The Flooring too plays a major role in containing the vobrations of sounds produced, without making it too distracting. The best are wooden flooring.
Pro tip: Room acoustics play a vital role in escalating the setting. The wall surfaces requires your attention, for undulations in the surfaces can attenuate the sound in it's various forms. Also, check on wall diffusers and noise absorbers!
3. Lighting and seats –Home Theatre lighting Design
If you need that " movie – hall – like – feeling" , there is something you need to work on – lighting and seats!
While LED strips has found room in many hit-lists, ambient lighting and downlight fixtures are also on the boom.
Comfy couches or sofas can amplify the mood like no other. For sure, home theatre is your relaxing space and in most of the Home theatre designs, you can customize it in the best way possible by adding things like – cup holders in the arm-rests, push-back chairs and leg stands or recliners.
If you need that wholesome theatre vibe, you can also explore on cinema hall seating styles.
Pro tip: Scone lights can interest you and they are available in wide varieties in the market. (Like metal, rustic/ceramic wall scones). Integrated LED-Scones are also on the high!
Speaking of lights, why don't you explore these eco friendly lighting tips for your home!.
4. Costs of Home theatre designs
While we all thought in the start that home theatres are a luxury, we can now see the scenes shifting in the background and the whole thing has become the new common!
Don't you wish to know how far this dedicated room housing all your interests (Gaming, Tv – you name it!) can cost you?
It all depends on what you have in it, as a matter of fact!
Working from building a separate movie room for a home theatre in your house (or finding the place for it in the basement), ideally it needs to have dimensions about 18 feet* 12 feet and the height of the ceiling particularly not less than 9 feet. This can easily accommodate a family of eight!
The cost for the whole setting and some of the best Home theatre designs might be come under one to two lakhs on an average, including all necessary electronics we mentioned before.
Pro tip: Home theatre units available online starting from a minimum price of Rs. 20,000/unit to about Rs 3 lakhs/unit. All-in-one package options are also in the trade! (You know your purse, more than anybody!)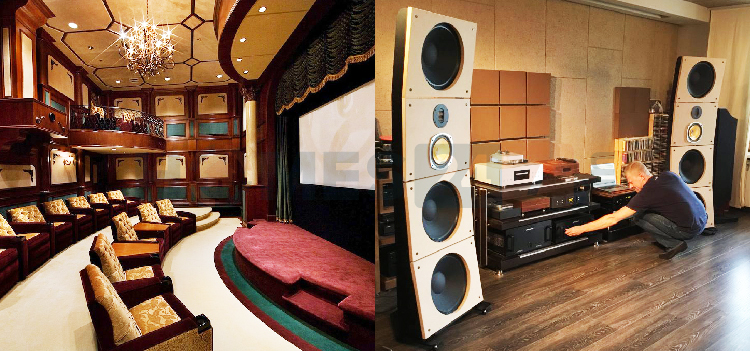 5. Setting the limits
Apart from the walls preferably homogeneously structured for excellent cinematic perceptions, there are also some other things to address in the bull's eye!
Some of these are –
Spacing limits: The spacing from the screen to your seats. Generally, researchers have the take that about 9-15 feet distance should be all right.
Sound limits and audibility: The sound bars, number of speakers, stereos and channels (say, 5.1 or 7.1) – everythimg depends on the area expected out of them to cover (Precisely in Square feet). It can influence the arrangement on front end and rear end speaker placing also.
When we speak of home theatre ceiling design, the best would be anything other than metalic, which would not distort the sounds.
Pro tip: Subwoofers, which are components of loud speakers that help reproduce low-bass and low- audio frequencies can help cover ranges so low, even of 20 Hz !
Now that you are well aware in general about the must-haves to put together a home theatre system, it is upon you to design a theatre cabinet, upgrading all the features, playing with different colours, textures and gadgets to make it stand classy and modern!
Once you have settled, bring on your Play stations and joysticks and gear up! All set to go!
So, that was about "Home theatre designs: Creating your own movie room" guys! Hope you do find the matter useful