Hi Folks!
Today we have come up with the key topic -
The best Vastu items for home:7 lucky charms for home!
A home is a place where you settle your insecurities, letting down your guard. At the same time, it is also that space where you learn to weave courage into your skin and wear it upright, ready to face the world on its face.
In short, home is the chest where you store the valuable moments of life and gain energy, rejuvenating yourself to welcome the uncertainties of each passing day!
How can a place be everything? If it is, then how do you take care of that abode that caters to all your wants and needs? How do you intend to make it better?
Well, designing options to beautify your living space is not one, but many. But, while you are at it, why don't you try decorating it with lucky charms, aligning positively with potential Vastu ideas?
A dose of luck, well-being, joy, and peace – isn't that supposed to be your "go-to "while you are at your favorite place called home?
On that note, let's straight away get into the task of exploring the options on some lucky charms/items that promises themselves as good luck home décor. Here you go –
1) Paintings:
Beautiful sceneries are not just eye-soothing alone. But according to Vastu Shastra, they also help oil battling relationships. Always keep a mental note of staying away from placing negative images with blood spills and war in your rooms, for this tends to have adverse effects.
Market availability: Painting of seven running horses Vastu art priced from Rs.300, Buddha framed paintings from Rs.300.
2) Laughing Buddha:
Laughing Buddha facing the entrance for economic profitability. Also, Buddha artifacts and statutes are assumed to ward off unwanted energy from the household, according to Vastu, when positioned in proximity with the main entrance.
Market availability: Chinese Feng Shui Standing Laughing Buddha Statues priced from Rs. 250, Buddha idols for home décor available online, starting from a price range of Rs.300 to big ones at a price of Rs.3000.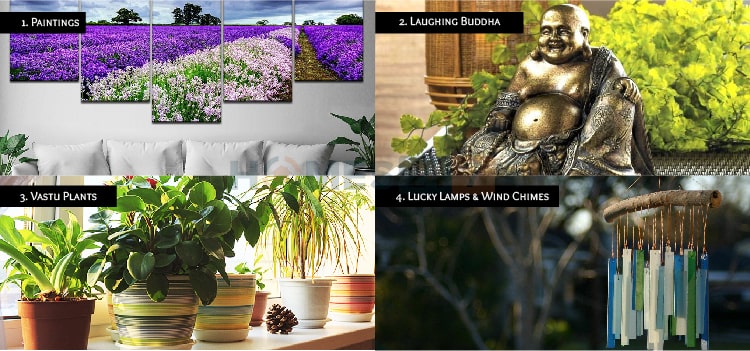 3) Vastu Plants:
Money plants for enticing financial benefits. Also, keeping some coins in an open bowl can help the same cause.
Market availability: Healing good luck money plants from price Rs.250.
Block Quote: There are many more Vastu Compliant Plants which can usher in benefits of all kind! Come & Check out our very popular Vastu Plants for Home Blog!
4) Lucky Lamps & Wind Chimes:
Lamps for energizing the aura of rooms. Wind chimes made of metal is also said to guard your happiness and free flow of creativity indoors.
Market availability: Tuned chimes with Color Pipes for Positive Energy and Home Décor, starting from a price range of Rs. 200.
5) Vastu Fishes & Aquariums:
Aquariums and fresh flowers for reducing pressures and tensions. Keeping water in a bowl with fresh flowers spread on it is also said to boost financial prospects. You might be really surprised to know that there are many Vastu Fishes too that ropes in prosperity!
Market availability: You can refer to floating tortoise Vastu sets for aquariums, starting from a price range of Rs.200.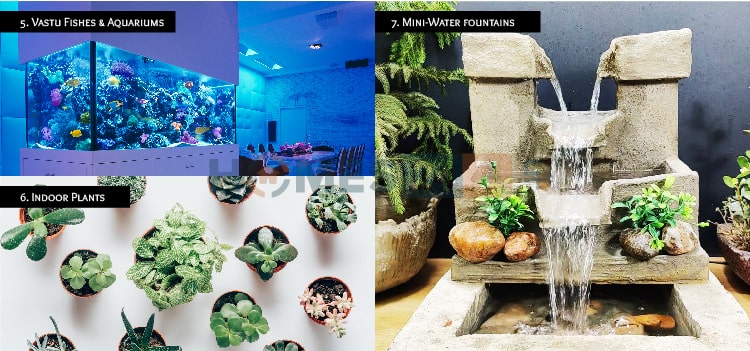 6) Indoor Plants :
Indoor Plants can act as air purifiers. Also, nurturing fruit plants outside the house in the front yard proposes to bring positivity, good health, and quality of living.
Market availability: You can buy both outdoor fruit-bearing plant seedlings and indoor saplings from your nearest nursery or online nurseries starting, at different price ranges according to their type. Bamboo plants are available from a price range of Rs.300.
7) Mini-Water fountains :
Waterfalls and fountains at home appeal best as good luck charms. Hence, it is a very good idea to keep a small water fountain outside the house relatively close to the main door.
Market availability: Decorative water fountain Vastu showpieces for entrances are available from a price range of Rs.2000 online.
Talking about "Vastu items for home," we need to answer certain questions– Why rely on Vastu? How good is it?
Well, The 'Vastu Shastra' is acknowledged to guide you to find the right corners of your house or make the ordinary prime! It is said to focus on flourishing prosperity in all the nodes of the house.

The Vastu delves itself into the five important elements of – Earth, Air, Space, Fire, and Water. It's according to these elements, and the Vastu designs work out for homes.

According to Andy Sentara in her book called 'Vastu Shastra: Complete guidelines for constructing dream house,' "Vastu Shastra is the science of construction. Each and every living thing in this world tries to set up a place in which to live comfortably, enjoying all lavish luxuries and happiness of this world.

Vastu Shastra is a science and discipline of ancient architecture that guides humans to choose a path of happiness by complying with ancient principles embedded in immemorial Indian text of Vedas".
According to Vastu Shastra, what are the things that needed to keep in mind prior to making the arrangements?
The direction into which the main entrance opens.

The direction of the swing of the main door.

The available light in all rooms.

The placing of appliances in the right locations.

The bathrooms' location is of utmost importance, with regard to the letting out of negative energy in reference to other rooms.

Choosing the right shades for walls (Like for prayer rooms, choosing soothing, peaceful colors like off-white or white).
The Vastu shastra puts forth some principles on orienting the rooms in your house, so that is flooded with more positive energy and high spirits! One of the main reasons why Vastu decorative items are in high demand in the market these days!
While you are in the search for good luck home décor and Vastu items for your home, you can find that there are many sound options to put your trust on.
In the words of William Morris, "Have nothing in your home that you don't know to be useful or believe to be beautiful," A quote to live by while indulging in the home decoration process.
The latter part of the quote might be an easy catch, but it's in the former lot where most of our lucky charms fall into. But then, there are some Vastu items for home that have the potential to stay true to both grounds, proving to be useful as well as beautiful!
So that was about "The best Vastu items for home: 7 lucky charms for home" for you. Hope you find it useful!