Yes but before that, we'll dig deep into some more questions concerning NRIs to buy property in India-
Can an NRI buy property in India?
The answer to this question is yes. Over the years, Indian laws have made this a secure and easy job. Besides, there is no restriction on the buyer for the number of residential or commercial properties he/she can purchase in India.
The Reserve Bank of India administers such activities. And, they come under the scope of the Foreign Exchange Management Act (FEMA).
RBI's guidelines permit non-resident Indians to buy specific types of properties. They cannot buy agricultural land, plantation land, or a farmhouse in India. They cannot even receive such property as a present. So, if an NRI desires to buy a farmhouse or plantation, it is mandatory to approach the RBI for special permissions. And RBI will analyze the request on a case-to-case basis.
How do NRI Buy Property in India?
RBI Permission
To buy property in India, residential or commercial property, RBIs' permission is not mandatory. The income tax laws further empower NRIs to own as many residential or commercial properties as they want.
How to Fund the Purchase?
To buy property in India, it is required that NRIs carry out all transactions in Indian currency and by local banks. This means that NRI investment in real estate requires an account in one of the authorized Indian banks.
They can effortlessly get funds to buy property in India if their paperwork is in order. Several financial organizations administer numerous NRI home loan plans.
However, buyers need to make certain that they are in a state to invest at least 20 percent of the property value from their own sources. This implies that they can get funding for up to 80 percent of the property's value.
Besides, as to buy property in India requires buyers to perform all their transactions through Indian banks, it is imperative to make sure that they use their NRO/NRE accounts for all inward money payments. They are also permitted to present post-dated cheques or opt for Electronic Clearance Service (ECS) from their NRO, NRE, or Foreign Currency Non-Resident (FCNR) accounts.
Before addressing a bank for funds, NRIs need to get all their documents authenticated by a qualified lawyer to guarantee that they are in order. In addition, they should unmistakably get a certificate from the seller declaring that there is no lien added to the property that is being bought.
In the case of a jointly held property, it is necessary to ensure that the title deed is cleared. Moreover, NRIs need to ensure that all bills or other dues with any of the authorities are cleared.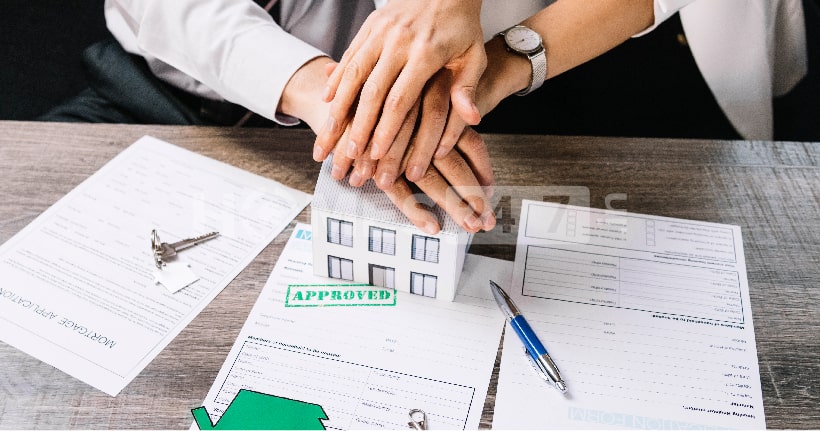 NRI Investment in Indian Real Estate
NRI investment in real estate may be in various forms. This includes:
by means of direct purchase or

as a present from a person who is a resident of India or

as a gift from an NRI/ OCI relative. 'Relative' here is as per foreign exchange laws (husband, wife, brother or sister or any lineal ascendant or descendant of an individual).
In addition to this, real estate can also be acquired through inheritance from a person who has citizenship of India. It can also be from a person residing outside India who would have obtained the said property in accordance with the terms of the foreign exchange law. Hence, NRI investment in Indian real estate is carried in these ways:
Transfer or Sale of Immovable Property
One of the important parts of NRI investment in real estate is the transfer or sale of immovable property. They can transfer any sort of immovable property to a person who is a resident in India or another NRI. In case of the transfer is in the form of a gift, the transferee needs to be a relative. Moreover, agricultural land, plantation property, or a farmhouse is acquired through inheritance and can be transferred only to Indian citizens.
Taxes When NRI Buying Property in India
In the case of buying a property in India, NRI real estate buyers, require to pay some taxes. There will be no income tax associations at the time of acquisition. This is when the consideration paid for getting the property is equal to or more than the property's stamp duty value. But, if the stamp duty value is greater than the consideration and such difference between stamp duty and purchase consideration is higher of the following, then the differential will be payable in the hands of the buyer.
The above tax implication should not occur in case the property is inherited from a relative or on the occasion of inheritance or in contemplation of death of the payer or donor or marriage or under a will.
Moreover, according to the Indian Income Tax Act, if a person (resident or NRI) has more than one house property, only one will be considered self-occupied. And there will be no income tax on self-occupied property.
Besides, in the case of the other one, whether the property is rent out or not, it will be deemed to be given on rent. If the second property is not given on rent, then deemed rental income will be calculated on the second property (based on specific valuations commanded by the income tax rules), and tax will be paid thereof.
What this implies is that if an NRI buyer owns only one property globally and that property is in India, he/she would not have to pay any income tax on it in India.
However, in case if she/he is a resident of the USA and owns and lives in a house in the USA and also owns a house property in India. Then, even if the owner does not give the property in India on rent, she/he has to pay income tax on deemed rent in India. The deemed rent is decided by specific valuation laws prescribed in the Income Tax Act. Even if the property is inherited and holds joint ownership, then it is mandatory to pay tax on deemed income.
Joint Ownership for NRI Investment in Indian Real Estate
NRI investment in Indian real estate can be either by a single owner or jointly with any other NRI. However, an Indian citizen or any other person, who is unless not permitted to invest in a property in India, is not liable to become a joint holder in such property, irrespective of the second holder's participation towards the purchase.
NRIs Wishing to Buy Property in India Should Know
In order to buy property in India, if the buyer wishes to authorize a trustworthy person to handle transactions on his/her behalf, such as in case of registration of a property, it will be needed to give that person a Power of Attorney (PoA). The PoA holder has to sign on the NRI's behalf by providing a copy of the PoA to the appropriate authorities.

Buyers can invest in a property in India to earn rental income. However, he/she will be taxed at 30% via tax deducted at source (TDS), while the remaining amount will be returned as per FEMA rules.

In the state of income that is obtained by the sale of immovable property, it will be repatriated after a deduction of between 20% and 30% TDS, depending on whether it is a long-term or short-term capital gain.
Buying a home undeniably stands as one of the biggest Indian dreams. No matter in which part of the world you breathe in, a home in India is completely a must, and buying it is an easy job now.