People usually speak of wanting a light-headed sleep under a safe roof. Coming to roofs, here's a little something on different types of false ceilings for those of you who have stopped having an insight on creating a living space, now significantly more appealing!
And also, let's explore the options we have to play with the crown of the house! We have options for those who are worried about the expensive false ceiling types and cost!
Man has undergone an evolution, and so with him has transformed the culture of living. From seeking shelter in caves to a thatched roof to one safe enough under a concrete vault, the housing elements such as floorings and roofs have undergone huge transitions alongside life in its very own essence. Speaking of one in particular – the roof, the various types of ornately decorated ceiling, and of which false ceiling is now in the head.
To put it to definitive terms, types of false ceilings are that overhead surfaces that cover the topmost space of the room. The square panels in hanging poles, which are bolted. They come handy when in need of concealing the ugly wiring and pipe installations and are perfect for heat insulation.
Spanning from simple aluminium struts and rails carrying rectangular panels of cardboard, to intricately drawn designs and artwork in a lightweight, easily handleable mediums, the journey the ceilings have travelled is also one that deserves mentioning.
False ceilings are the trend of modern homes. Now let's see the best types of false ceilings we have of them in the market, based on material availability and purpose of use.
Different Types of False Ceilings: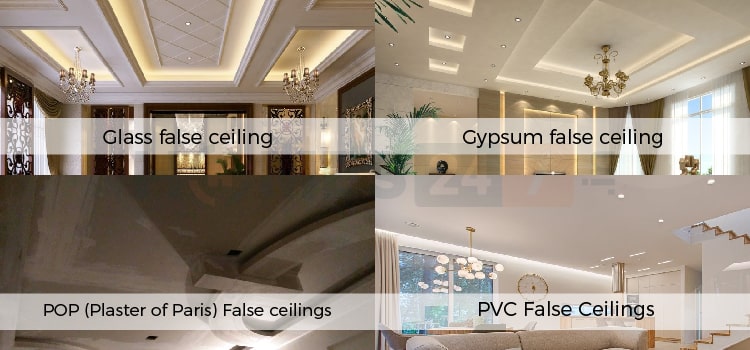 1. Glass false ceiling -
They open a platform to experiment in shades, designs, and thickness and is surely a favourite in the trend today. Glass false ceilings enhance the visual appearance to a greater detail and amplifies the space availability in the room. Also, this provides better insulation from heat. However, they thrive on the expensive side comparing to the other types, and that, therefore, is a con.
Pro tip: Pick glass false ceilings if you are the experimentalist at home. By which we mean to tell you about its features being so flexible. You can try the transparent or opaque. The leaner or, the thicker shield!
2. Gypsum false ceiling -
For instance, if you need the ceiling to be lightweight but giving a finished texture, these square boards shall fit your purpose. The best for those who are concerned about the false ceiling types and cost!
Pro tip: Tailors the need, Serves the pocket!
3. POP (Plaster of Paris) False ceilings -
Smooth finished ceilings. Rope in a couple of lights according to the theme and viola- " Spectacular". The only real problem for these types of false ceilings is the tendency to peel off in a later stage of life, for it is a crack prone matter.
Pro tip: More room for light, accommodates great designs on the surface, and the finish is a takeaway!
4. PVC False Ceilings -
Used primarily for kitchens, basements, and bathrooms. Easily available and is a money-saver by far in comparison.
Pro tip: Veils the ducts and pipes under the PVC shielding, and there is no scope for pest indulgence, which surely helps the idea of choice!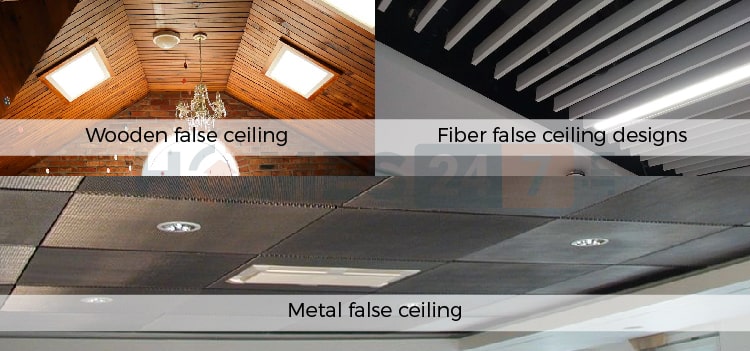 5. Wooden false ceiling -
One of the most appealing types of false ceilings in the market today.Easy to work with, but termite attacks can be a nightmare – it's a warning that is universal and needs wholesome attention in detail. With wooden furniture and flooring, the room would look out of this world. But the visual appeal they give is a real deal.
6. Fiber false ceiling designs -
Available in varieties of shapes and sizes, catering to your economy as well! Also, there are fabric false ceilings, which are synthetic ceilings, but they lie in the weaker side of strength. Fibre designed ceilings with appropriate flooring in a fully automated home would make your home stand out! However, visually they might woo you!
7. Metal false ceiling -
Hard, durable ceilings. Has been here dating from the tin steel ceiling in Victorian architecture to the Durasteel ceilings, which stands a fire test! These are said to be the best among the sloped roof false ceiling types.
These some of the elegant false ceiling types and costs are affordable!
The drop ceilings we see today, which falls from the main ceiling below the roof slab on suspended supports has reached this state after undergoing a multitude of changes.
False ceilings are a thing of modern homes, and why do you think they are?
Here's a list you could possibly think of -
1. They are largely protective in function, considering the handprints and soot and smoke from a fireplace.
2. Ideal for hiding house ducts and water pipes, easily removable for maintenance.
3. Possible potential to work on detailing's and designs, rather than placing it plain and bare.
4. Enhances the aesthetics.
5. Help reduce fire hazards. ("Fire resistance rated" Ceilings deserves your notice!)
6. Unpleasing elements can be well covered.
7. The surface tends to be relatively homogeneous and smooth, with a neat texture.
8. Fits the purse, when the economy is the question.
Compartmentation is the main functional objective of false ceilings, and this function can be of prime importance when it comes down to a sudden outburst of fire and hence can save the structure!
With no picking of sides, here's another list of the other face of the tossed coin –
1. Decent ceiling height is a want and a must for false ceiling installations.
2. Making a note of the ceiling strength is also significant given that some of it can't house heavier artifacts. (Do keep this point checked, considering the durability of the material before hanging your favorite piece up there! Saves you from the trouble!)
Also, heard of "Celebrated ceilings," the histories of all of which take root from nativities so random and distant? The artwork that we see in various religious buildings today, while you look at them, have you ever wondered who is the master craft?
From the Fresco mural painting like " Michelangelo's Creation of Adam" to the beautiful drawing compositions with pigments of earth printed over lime plasters in the caves of Ajanta and Ellora in India, the Badami Cave temples – these types of false ceilings speak for themselves in a tongue of their own and have been marveled all this while.
Quoting Bran D.Smith, "The best time to repair the roof is while the sun is shining!" Now that you have read enough on ceilings of past as well as that of today with different types of false ceilings to suit modern houses, the ball is in your court, and here's wishing you best to explore and arrive!