Steel is known for its incomparable strength and durability characteristics. Below, we have something on "different types of steel used in construction," to second this very fact. Steel: It is simply an alloy of iron, carbon, and various other materials. They have unique properties of high tensile strength and structural integrity. It is one of the core materials needed for the construction of a house.
In reference to the list of countries in order based on mass steel production (According to the data from the World Steel Association, 2018), India is positioned as the second-largest producer, with the People's Republic of China leading ( with a difference of about 880.3 million metric tons of crude steel). This detail in itself brings into the forefront of how vitally steel production is catered in our country.
The main reason why steel reinforcement is of utmost importance in building construction is because of it's feature of bonding well with concrete. With increasing wants and needs of the ever-increasing population and skyscrapers springing out of the blue like mushrooms, the potential rise of the affordable housing sector, the high demand for steel is, without a doubt, a reasonable one.
The application is numerous from steel sheet products and reinforcing bars, internal fixtures to structural and non- structural sections in buildings. Pre-stressed steel and Pre-fabricated steel are also having high markets.
Types of steel used in construction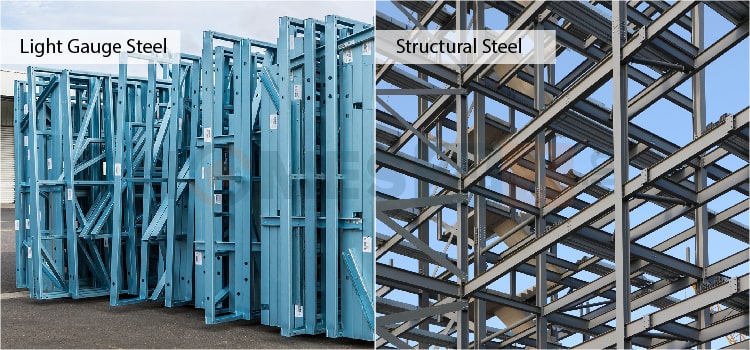 1. Light Gauge Steel
Made from thin sheets based on specific standards.

Easily workable to make a steel frame system with cold deformed steel (Steel shaped by a cold working process).

Light gauge steel joists and studs are readily available in shops.

It is flexible and safe.

One of the different types of steel used in construction which is popular in flooring.
Pro tip: Using light gauge steel in facades, composite panels, and for different cladding solutions is remarkable. Also, it can be used for load-bearing walls in addition to purlins and side rails.
2. Structural Steel
Structural Steel is yet another one of the popular types of steel used in construction which is used mainly to give a base or structure to the building. This is one of the popular types of steel available.
Used for developing the structure
Available in different specifications & shapes like – T shaped, Channel Sections, I-beam, Plate type, bar or rod-type, etc.
Corrosion check (When iron oxides to form rust).
Pro tip: Protective coatings like aerosol sprays can help prevent corrosion. Also, galvanization ( Zinc coated on steel) helps. Structural steel is a more environmentally friendly recyclable option, easily workable with a variety of designs.
Example, in steel beams and columns. Used even for bridges and transmission towers. India has ample of buildings that have scooped national recognition and awards for best steel structures as in Sardar Vallabhai Patel International Airport in Gujarat.
For heavy construction projects, we use iron rods. Wrought iron, which is easy to handle is one of the major types of iron rod used in construction and mild steel and deformed bars, is significantly important.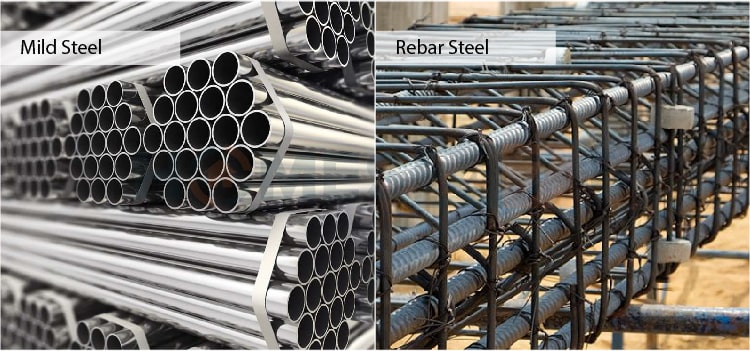 3. Mild Steel
Plain carbon steel.
Known for its strength.
The most commonly used steel for construction.
Used for both conventional and modern bolted pre-engineered buildings.
Pro tip: Crack-resistant to a greater extent. Great weldability and hence can serve the purpose very well. More easily available, considering all the other options.
4. Rebar Steel
Reinforcing steel, reinforces the structure affixing well with concrete.
Also used in the form of a mesh of steel wires for building purposes.
Hot-rolled round carbon steel bars are mainly used.
Improves tensile strength.
It can be manufactured to very long lengths.
Deformed bars which are hot rolled are commonly used in RCC (Reinforced Concrete) structures. Apart from RCC , this is yet another one of the major types of steel used in construction in the Indian Subcontinent especially in Pre Cast Construction Technology. Indian standard IS 1069 is used as a reference for grading mild steel based on tensile properties.
Types of Steel Gradation
Based on the physical properties and their composition, the four types of steel gradation are –
Stainless steel ( Steel in combination with chromium)
Carbon steel ( A combo of iron and carbon)
Alloy steel (Carbon steel along with various other alloying elements)
Tool steel (Carbon alloy steel well suited to manufacture tools).
Gradation of steel helps distinguish the different types of steel used in construction based on their distinctive properties like density, hardness, thermal conductivity, etc.
Bonus: The choice of steel also fits energy-efficient construction. Also, it helps resist a great deal of shaking during earthquakes due to its innate ductile properties!
In the ancient period, men made steel from raw ore. The process further transformed to reach the state it is in today, following the steps of Sir Henry Bessemer, inventor of the first manufacturing steel.
In India's sphere of construction technology steelmaking plays a huge role. Today, the steelmaking process is commercially practiced by two important methods. Viz. Basic oxygen steelmaking and electric arc furnace steelmaking. Also, there is primary and secondary categorization for this steel making process. Pig iron, Coke, and lime are the main aids for steel production.
Steel Bars used in India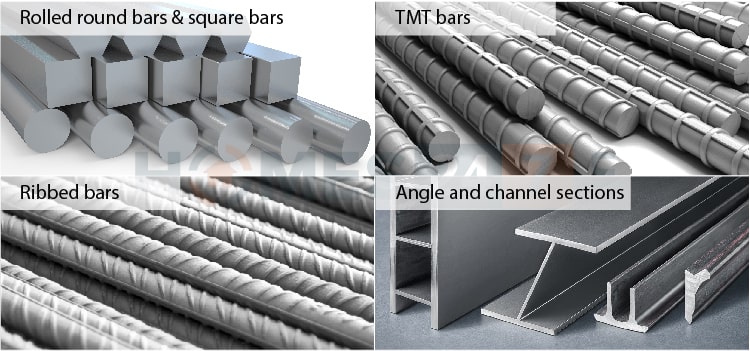 On account of the functions of steel we are foreseeing in the context of a building site, the members are manufactured in a factory assembly. Rolled steel products serve different purposes. Some of the different types of steel bars used in construction or Rolled steel products are –
Rolled round bars and square bars – For windows and grill works.
TMT bars (Thermo – Mechanically Treated) – Excellent strength, shake – resistance, and quality.
Ribbed bars – These have High Yield Strength and are also called HYSD ( D for deformed as they are made by cold twisting). Also, there are ribbed mild steel bars. HYSD bars are used extensively for precast concrete works.
Angle and channel sections - Steel angles for communication towers, shelves, bridges.
North American cities are known for their steel frame structures. India has also started rooting for this technique widely. The prefabricated steel building trade is on the rise these days commercially.
Advantages of steel framed construction: Can prevent water ingress to a great level and rotting and fungal attack is out of the question compared to a similar wooden framed structure.
Disadvantages of steel framed construction: Rusting of exposed surfaces. Error in fabrication can also cause lots of issues.
The steel industry is booming and the average minimum price range For TMT steel bars is widely used in buildings, with a diameter of 16 mm. The minimum price of TMT steel bars is Rs 30/Kg and maximum Rs 50/Kg according to market research. It is available in Fe – 500, Fe-500D, Fe-550, and Fe – 600 grades extensively.
That was about different " types of steel used in construction ," We hope you had a fine read!