Best things can happen to you when you travel, and travel tips can help you make sure that it does.
Travelling can be one of the most enlivening things we can do. Whether you are going on a solo trip, attending a destination wedding with your family, or you are finally executing that Goa plan with your friends! These travel tips are something you must follow!
Also, we have added a travel checklist that you can screenshot or print at the bottom ! And the list goes like this:
Book your tickets and room early.
Leave Room for Spontaneity.
Carry a Travel First Aid Kit.
Listen to the Local Guide.
Carry Photocopies of Important Documents.
Pre-plan Your Outfits.
Learn Common Phrases of the Local Language.
1. Book your tickets and room early!
Last-minute travel plans always sound cool, but nobody tells you about the numerous things that can go wrong. So, schedule your tickets ahead of time; if you can do it months before, go for it.
Even if they are bus tickets, railway berth tickets, or air plane tickets, many advantages come with booking tickets early. Since flights are one of the most expensive transportation modes, it is better to book your trip ahead of time. You can save a massive proportion of money on airfare.
Apart from fares, booking early gives you a lot of time to prepare for the trip. Also, you do not have to deal with the stress of not finding the ideal seat at the last moment. Besides, booking tickets early gives you control over the ways the trip has to go. Hence, this is the first of our travel tips.
2. Leave Room for Spontaneity
As good as it is to plan early, it is essential to leave some space for the unplanned. It is essential to let go and go with the flow. To leave room for spontaneity means you do not plan the entire itinerary ahead of time and strictly stick to it.
When you visit a new place that you have not been to before, you can wander aimlessly through the streets and visit places that were not on your list. You can get off the beaten path and find not so popular yet beautiful locations. You might even end up being surprised by the myriad of surprising things a new place can offer.
Since over-planning keeps everything predictable, it is a good thing to have some unplanned fun in your time away from the daily grill.
3. Carry a Travel First Aid Kit
Travel first aid is a travel essential that must the first in your list of travel kits. Always make sure to pack a small first aid kit containing Bandages, Aspirin, Oral Rehydration Solution, Cough Syrup, Cough drops, medications and rubs for cold, and Paracetamol tablets. In addition, keep some cotton, burnol, and cotton buds.
You can always trust the local pharmacy stores and medical centers, yet it is crucial to carry your mini first aid kit. This is just in case if something happens to you or your fellow travelers when clinics and pharmacy outlets are not reachable.
4. Listen to the Local Guide
Local people always know the best restaurants, street food, impressive spots to watch the sunset or sunrise, the best place to taste the local beverage better than anyone else. Hence, always make it a point to ask the local people.
You can always discover intriguing places that you would not have chosen yourself, with the help of local people. Local people will be able to guide you exactly where to go for expensive desserts or cheap meals and many more underrated attractions.
You can connect with local people via online forums, trip advisory websites, or you can talk to the hotel staff and shopkeepers.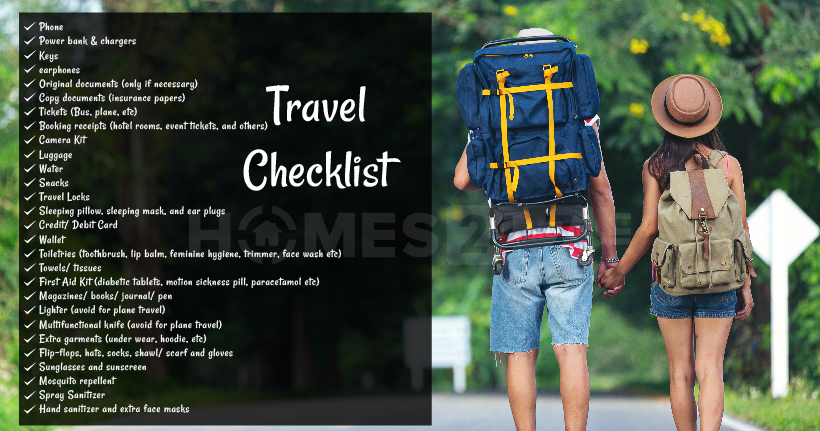 5. Carry Photocopies of Important Documents
One of the most crucial travel tips is to carry photocopies of necessary documents. You may never know when you might need to have some documentation. Hence it is better to carry the copies with you and not carry all your original documentation.
When you carry photocopies of your essential travel documents like passport, credit cards, and driver's license, it will be much easier to replace the originals should the requirement emerge.
For example, if you lose your passport when you are on an international trip, a copy of your passport can come in handy. You can visit the nearest embassy and have that document reissued quickly and in a smoother process.
Also, remember to save all the necessary documents and information like your ticket details/ hotel room booking details on your phone or upload them in the cloud.
6. Pre-plan Your Outfits
Planning your outfits before packing may seem not that important of a travel trip. But it is essential because planning all of your outfits and packing only them during your trip can free you from a lot of tension throughout your trip.
This trick will help you organize your clothing, and you will also discover that a small amount of clothing can make countless outfit combinations if you plan it strategically.
One of the secrets to exceptional traveling light is creating a functional yet minimal capsule wardrobe that can fit into a backpack. Also, remember to pack clothes for the unpredictable, such as a rain jacket for an unexpected downpour, extra inner garments, and inexpensive jewellery.
7. Learn Common Phrases of the Local Language
It is a crucial travel tip to learn a few phrases in your destination's local language. It makes a great impression and could also give your travel a much more comfortable experience.
You do not have to be speak fluently; you just need to learn phrases such as "Please," "Thank you," and "How much is it." And, crucial phrases like "Emergency," and "Help."
Take Only What You Really Need
Packing light is one of the most vital traveling trips since if something goes wrong in a place that is far away from your home, you can recover easily. Once you force yourself to carry only the things that you need, your journey becomes more comfortable.
A minimalist strategy for packing a travel bag will make your trip more comfortable and helps you be more mobile. By keeping things carry-on size, a lot of money can be saved by avoiding extra check-in fees.
Put a cap on the amount of hard cash and bank cards you carry with you. It is better to take only one Debit or Credit Card with you. And nowadays, it is easy to UPI payments app across India.
Apart from these, make sure to carry hand sanitizer bottles, spray disinfectant bottles, extra face masks, and tissues. And, always remember to maintain social distancing.
We hope you do not forget to follow these travel tips, that is why we have created a travel checklist just for You! Find it below.
Click here to download the free checklist - Download