Entrepreneurs in India you should know about!
Only a handful of Entrepreneurs in India stand out! Do You want to know Why?
Let us learn from the people who do it, Stand Out. We will talk about the entrepreneurs in India whose start-ups are now the talk of the town! They are the stars of the business world in India.
There are over 1.26 million registered companies in India, and only a few produce the Best Entrepreneurs. Or, only a few Entrepreneurs make the best Companies!
These Entrepreneurs in India have been known not only for their business achievements, awards, and accolades, they are also known for their innovations and the fresh energy they have brought to the Indian economy.
Let us scroll through the list!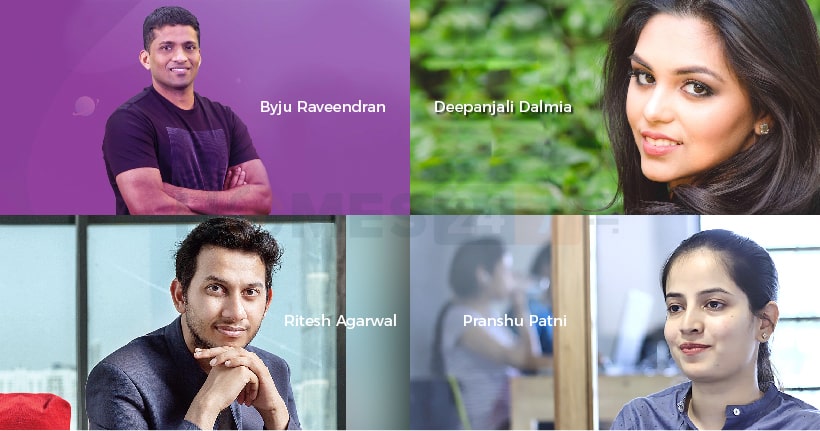 1. Byju Raveendran
Byju Raveendran is a thriving entrepreneur in India. He was born in a village named Azhikode village in Kerala. He was a teacher before he became an entrepreneur. Byju was an engineering graduate; he started teaching maths and helped his friends prepare for exams such as CAT.
In 2011 he set up think and learn; after its success, in 2015, he launched the main app. Ever since then, his company has strived to become the most successful edu-tech business. It has over 33 million users, in addition to 2.2 million paid subscribers. Also, Byjus has made its way into the most-valuable internet companies in India.
The story of Byju Raveendran is that of a successful entrepreneur in India. The company has investors such as Tencent, Tiger Global, and Mark Zuckerberg. Also, Byju Raveendran was featured in Forbes 40 under 40 in Tech in the year 2020.
2. Deepanjali Dalmia
Deepanjali Dalmia is one of the prominent women entrepreneurs in India. She is not only the founder and CEO of a successful company, Heyday Care, and she is also making a change.
She was a financial consultant at Ernst & Young in New York, and she quit her job to return to India in 2015. She chose a personal hygiene product after extensive research. The sanitary napkins produced by Heyday are one hundred percent bio-degradable, made of corn and bamboo fibers. In addition, they are chemical-free and cheap, which has made healthy sanitary products accessible to many women in India.
In 2017, Deepanjali Dalmia was featured in the Forbes India's 30 Under 30 list that lists exceptional people under 30 years of age whose contribution to the country is extraordinary. She is a young entrepreneur in India whose work has impacted thousands of people positively. She is also one of the top inspiring women in the country.
3. Ritesh Agarwal
Ritesh Agarwal is not only a successful entrepreneur in India; he is also one of the young entrepreneurs in India who has an extraordinarily successful and inspirational story.
Ritesh Agarwal dropped out of College, later launched a start-up. It was initially named Oravel Stays. In the year 2012, he launched a website to facilitate listing and booking of budget accommodations that provided Bed and Breakfast. Later this business was renamed OYO rooms.
This infamous company and this young entrepreneur have revolutionized travel accommodations in India. This venture that was started with a mere 11 rooms hotel in Gurgaon, now OYO rooms is a hub for hotels with 65,000 plus rooms. Also, they have expanded into countries like Malaysia, UAE, Mexico, Saudi Arabia, Sri Lanka, Vietnam, Japan, Mexico, Indonesia, the Philippines, and the United States.
4. Pranshu Patni
Prashnu Bhandari Patni is the Co-Founder of CultureAlley. She is an important woman entrepreneur in India. The app has developed the interactive mobile app Hello English. This app helps people who speak sixteen different languages to learn English on their phones easily.
She has traveled extensively, and while traveling, she realized the importance of an interactive linguistic app. It was launched in October 2014 in Jaipur, Rajasthan. Since the early stages have proven that she is a successful entrepreneur in India. The app became the Number One app in the category of English learning and speaking and was rated 4.5 to 5 on the Google Playstore.
Prashnu Bhandari Patni was featured on Forbes 30 under 30 achievers of India. The app was lauded for its offline features and its contextualization of the language. Hello English is a popular educational app in Bangladesh, Nepal, and numerous countries in the Middle East.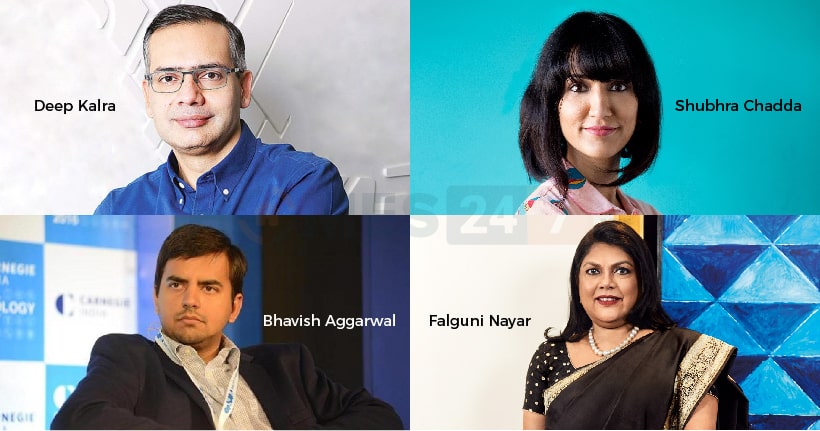 5. Deep Kalra
Deep Kalra is the chairman of one of the widely used travel booking portal of India, MakeMyTrip. He is an alumnus St Stephen's College and of IIM-Ahmedabad. In 2000, he first launched it in the US market to cater primarily to the overseas Indian community for the US to India travel requirements.
In 2011 KPMG ranked Deep Kalra Number one in the list of most powerful digital influencers in India. He believes that brand name in investors is irrelevant, and his hard-working and humble nature has made him a truly successful entrepreneur in India.
MakeMyTrip is headquartered in Gurugram, Haryana. The company provides online travel services, including domestic and international flight tickets, holiday packages, reservations for hotels and bed and breakfast, and tickets for trains and buses. This successful company has offices in New York, Bangkok, Kuala Lumpur, Singapore, and Dubai.
6. Shubhra Chadda
Shubhra Chadda is one of the most successful entrepreneurs in India. She is the brain behind the quirky and quick-selling lifestyle brand The Chumbak. Based in Bangalore, Chumbak is a leading lifestyle brand in India with more than 70 large-format stores in eleven cities, providing numerous home decor items, personal care, and fashion.
Chumbak was incepted in the year 2010; since then, it has come a long way, with Shubhra Chadda spearheading design and sourcing for the products. Shubra Chadda is one of the most inspiring women Entrepreneurs in India who has encouraged thousands of people to follow their entrepreneurial dreams.
From selling souvenirs and accessories at pop-up stores in niche design stores, airports, theatres to launching apparel and personal care products, Chumbak has become successful into a fully grown lifestyle brand. They are also now a leading e-commerce site chumbak.com.
7. Bhavish Aggarwal
Bhavish Aggarwal is an alumnus of IIT Bombay. He landed an internship in Microsoft Research India and later got the profile of Assistant Researcher. Bhavish Aggarwal is one of the most influential entrepreneurs in India.
He started OLA, India's most popular online cab aggregator. He decided to start it after a bitter incident, that is when he refused a cab driver to pay a massive amount. The cab driver abandoned Bhavish en route on the road at night. The bad experience made Bhavish work on something that would prevent these experiences for people who take cabs. Later, Ola incorporated auto-rickshaws, and it was successful too.
Incepted in the year 2010, OLA, which is now headquartered in Bangalore, has more than 1.5 million drivers across 250 cities. It is now operational in London, New Zealand, and Australia.
8. Falguni Nayar
Falguni Nayar is one of the most successful women entrepreneurs in India. She is an alumnus of IIM Ahmedabad. She was also a managing director at Kotak Mahindra Capital Company before quitting her job to start Nykaa. It is the country's leading e-commerce portal curating a wide range of beauty and wellness products.
She started Nykaa after realizing the lack of a reliable beauty sale experience in India. Nykaa revolutionized the beauty industry in the country with technology. It also offers product curation and systematization. Nykaa now influences a massive majority of the country.
Business Today recognized her as one of the top 25 women in business. Falguni Nayar is also on numerous boards, such as Dabur India, Aviva Insurance Board, and an Independent Member on the Tata Motors Board.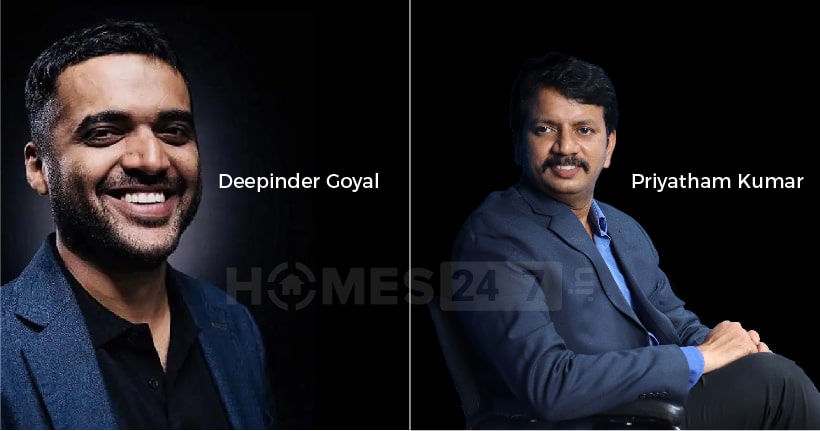 9. Deepinder Goyal
The founder and CEO of Zomato make our list of the best entrepreneurs in India. His brainchild has revolutionized the food and beverages industry. His idea of a food delivery system saved both the customer's time and gave employment to thousands. Ever since its inception in 2008, Zomato has turned out to be one of the biggest names in the Indian Business Sphere.
10.Priyatham Kumar
Priyatham Kumar is one of the most important entrepreneurs in India. He is a veteran in Real Estate; Priyatham Kumar has a combined experience of two decades across the major investment industries, including Real Estate, Banking, and Insurance.
Many of the country's realty innovations were the brainchild of Priyatham Kumar. He is the founder and CEO of Homes247.in, a Real Estate aggregator website. This website has helped countless homebuyers to navigate through the complexities of finding and settling into a new home in major cities of India.
During his career spanning over 20 years, he had mentored some of the top-ranking executives of the leading companies of India. He also occasionally imparts his time-tested philosophies and experience to many of the youngsters through webinars.
These entrepreneurs are making changes in the business world of India with their innovation and their groundbreaking ideas.
Was it inspiring to learn about these important entrepreneurs in India?