We have entered the age where little or lite means luxury, class, and the personification of a simple person. Minimalistic designs have taken over from space saving furniture to home decor. The idea of being one with little to nothing has been accepted as a way of the ideal human. We will show you 7 types of foldable furniture for your home so that even you can make more space for what you want.
Foldable furniture has been there since the early 90s', It was born with the increasing necessity for functionality that is limited to a small place. In recent times, this idea has caught much steam, causing companies to make innovative designs of these space saving and elegant furniture that we are going to show you today.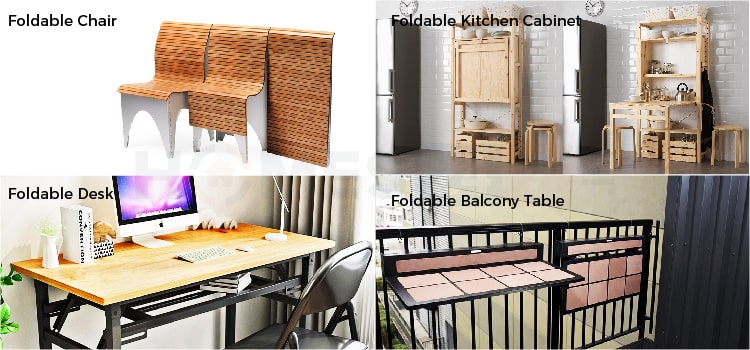 1. Classic folding chair:
Probably the most common style of foldable furniture out there. This, however, has not stopped companies from innovating. From cup holders to makeshift workbenches that come folded with the chair. The classic foldable chair has become the icon for a space saving furniture.
The folding chair comes in a variety of materials from metal, plastic, and wood to padded mesh and resin. Each of these materials has its own pros and cons, the perfect fit can only come with some personal time spent with the chair. If you do end up in a spot to buy one, just for yourself, then we recommend the camping or outdoor foldable chairs as they are durable without compromise on comfort.
Minimalism is but one of the major trends of Living Room Styles. Explore further the Quintessential list of Living Room Design Ideas!
2. Kitchen folds:
With the recent love towards furniture for small spaces, innovation has taken the driver seat to take this love up and beyond. Kitchen stands and stores are now available in a smaller format. From storing knives and plates all the way to veggies and fruits, coming in wood, metal, and plastic to the right buyer.
They small pieces of furniture come now with wheels that can easily be moved all over the place. Hence making our list for the 7 types of foldable furniture for your home. As they fold and roll right into place.
3. Folding desks:
This is a rather modern take on the "small desk" cult following that was going around. Simply put, these desks fold into a wall cabinet like piece. A unique addition to the folding furniture design. When one needs to work, they need to release the cabinet wall to fall right down, becoming a desk of sorts.
These tend to be a little small for many people, but certainly do work as a piece of perfect space saver furniture. Their folding nature can also be something satisfying to see, props to the excellent engineering.
4. Balcony tables:
This is a little new to the Indian market. They are essentially tablets that hang onto the bars of your balcony. A lovely sunset, but those champagne glasses are annoying you. This is what you need. Making our list of 7 types of foldable furniture for your home due to its ingenuity, style, and simplicity. The hunt for the right piece will be hard, but it should not be a problem with the internet.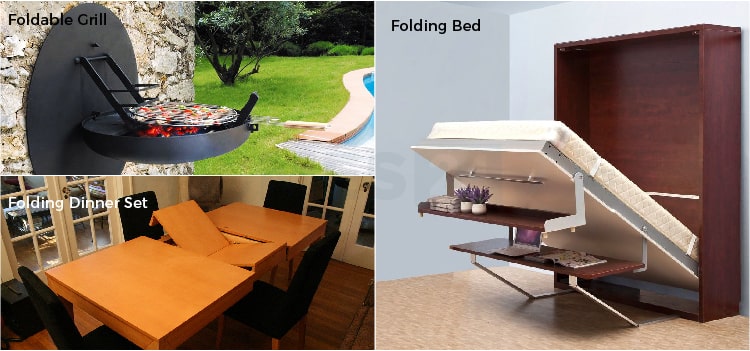 5. Folding grill:
Another new addition to the space saving furniture is the folding grill. The name suggests everything. This is a grill that s attached to an outdoor wall that can be pulled into place when needed. This will not be able to hold the amount of coal that you would see regular grills holding. However, you do not have the hassle of moving a large iron box all over the place. That is probably not going to be easy to clean up anyways.
Plus, these look incredibly fancy, so your guests will have all the conversation starters too. This makes it eligible for our list of 7 kinds of furniture for your home.
6. Folding diners:
Folding dining table and chairs has been a living favorite of campers and minimalists everywhere. From the simple designs of just a folding table to tables with small compartments to hold the spoon, forks, and your favourite bottle opener, which checks all your essentials. These days, these sets come along with their chairs in many designs to match your home or in simpler styles for the simple camper.
The materials vary; however, plastic comes in with all the basics while wood and metal are something a little higher up. Cup holders, ergonomic designs, and unique styling have become the norm. So, finding the right one will not be that hard. An essential among the 7 types of foldable furniture for your home.
7. Folding beds:
We had to end this with the best example of the 7 foldable furniture for your home. The folding bed is one of the most innovative that came in a time when nobody expected it. They came apart with the furniture sofa piece, the bed could be pulled out in seconds to become one queen bed. The comfort, however, can be questioned
Most of these furniture can be made wood or timber. Check out the different types of wood used for furniture, to bring in that elegant look back to our homes!
The modern-day tells a different story, with the different types of folding beds with attached lamp lights, clothes, drawers, etc. Functionality has wholly taken over, which can be seen in black and white throughout our current age. Increased functionality with space-saving characteristics, the folding bed is probably among the best innovations in the information age.
Space saving furniture has caught big steam in modern generations, as people are shifting to a minimalistic lifestyle. 7 types of foldable furniture for your home, a list we compiled for you to know that you are not far off from that kind of lifestyle if it does fancy you as such.