Irrespective of whether you are a Bangalorean or not, if you are planning to relocate, then your search engines are surely loaded with queries like the best place to live in Bangalore or residential areas in Bangalore. If that is the case, then this blog is for you!
But before that, let's talk about the good side of choosing Bangalore.
Either you are a student, a working professional, or a family man, Bangalore has the best opportunities to pave the way to make your dreams come true!
Although the cosmopolitan city accommodates everyone despite their origins and can happily co-exist in Bangalore. To examine and deem an area to be the best, it must meet specific parameters such as locality, lifestyle, cost of living, connectivity, etc.
Here we are with a list of the best places to live in Bangalore:
East Bangalore
North Bangalore

Sarjapur Road
Old Madras Road
Whitefield
South Bangalore
West Bangalore

Kanakapura Road
Mysore Road
Bannerghatta Road
Electronic City
East Bangalore-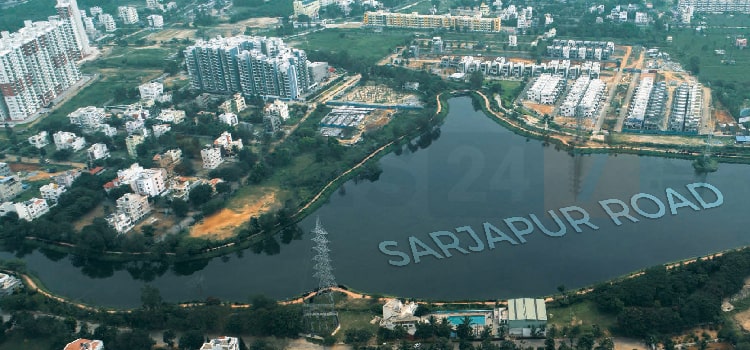 1. Sarjapur Road:
The stories of success have begun from the time it was a small town. Today you can see this area with a flow of IT hubs in each nook and corner. Definitely the hottest destination for Techies! This area is bound to excellent health care and educational facilities in and around. Also, it's an undisputed fact that Sarjapur Road houses some of the best flats in Bangalore.
Apart from being one of the most liveable areas in the city, it is also one of the best prime locations to invest in Bangalore!
Locality:
With the construction and settling of significant IT hubs, this area is feasible for IT professionals and anyone from the technological background. Be it a family or an individual. This area is also considered as one of the safest localities and the best residential areas in Bangalore.
2. Old Madras Road:
With the touch of metropolitan today, properties in the Old Madras Road are selling like hotcakes, and not only that, many commercial units and industries have established their base here as well! All these features make Old Madras Road the best place to live in Bangalore
Locality:
With a balance of modernization and the traditional, we have malls like Phoenix and Gopalan, respectively! Well recognized Educational Institutions and Hospitals are near to the location, and with emerging Namma metro services, this area has gained popularity and fame.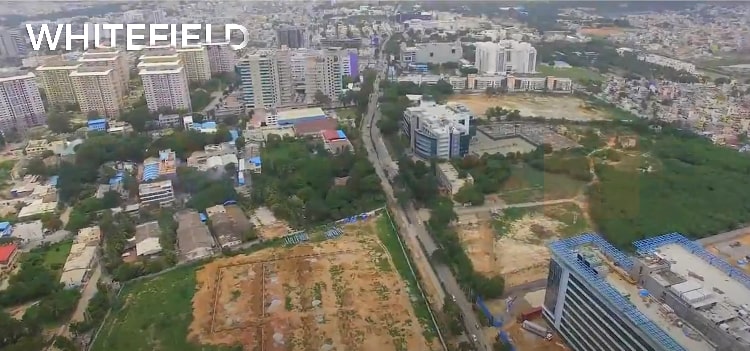 3. Whitefield:
Who doesn't know about Whitefield? The area is synonymous with famous IT parks, tech companies. It is also one of the leading hubs in Bangalore for the employment sector as a whole. It's the best place to live in Bangalore as it fulfills the requirements of both employment and fun life. The locale has a substantial number of places for entertainment from Theatres to art galleries. And also considered to have some of the best apartments in Bangalore. Everything is one of a kind!
Locality:
Companies like Wipro, Mind tree, etc., and Brindavan Ashram is located in the poshest area of Whitefield. Anyone who is planning to relocate to Bangalore would surely have a thought for once to move to Whitefield.
North Bangalore-
4. Thanisandra:
With a boom in the real estate market, Thanisandra is one of the potential hotbeds, investors are looking for because of the construction and other commercial spaces. The connectivity from Airport to Thanisandra is toll-free. It is one of the best place to live in Bangalore for family.
Locality:
From Shopping malls like the Lulu Value Market, Elements mall to educational centers as well as hospitals like
Presidency College, International Institute of Business Studies (IIBS)

Columbia Asia Hospital and Aster CMI hospital
South Bangalore-
5. Kanakapura Road:
You don't have to go to Cubbon Park and Lal bagh if you are a resident of Kanakapura Road. The reason's rather simple, its vast green lands and farms are situated around it. Located on the outskirts of Bangalore, yet a convenient place to travel! There is also a highway that is being constructed to connect to all major highways. Wanderers, this place is for you!
Locality:
From Music gigs to Moon meditation, you have it all! This area has immensely gained value for Realtors, and today, it's in high demand for infrastructure, people, food, schools, entertainment, etc. This is also ranked among the best residential areas in Bangalore.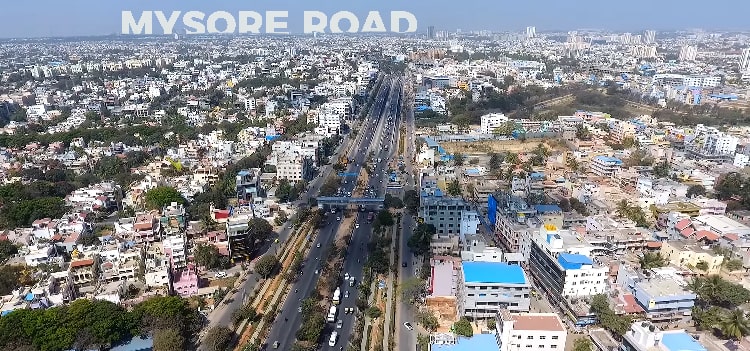 6. Mysore Road:
Bangalore has witnessed a lot of changes in Mysore Road. The investors are riding high on the forthcoming projects here. It is a perfect balance of both a productive and peaceful area.
Locality:
Located in South Bangalore. It can still connect to the core areas of Bangalore. It is a peaceful environment with decent roads, schools, colleges, and companies around. Thus one of the best place to live in Bangalore.
7. Bannerghatta Road:
This area, with its pool of options ranging from 1BHK to 4 BHK, have it all for you! It offers good social infrastructure and is convenient to many offices nearby. By prioritizing the safety of commuters, the municipal department has reconstructed roads to make it a safe place for residents to live in.
Locality:
Bannerghatta Road is fuelled with loads of tourist places like Bannerghatta zoo, Lalbagh, Cubbon Park, Pyramid Valley, and many temples. The properties here are surrounded by excellent schools, offices, decent roads, etc. to make it convenient for any age group to shift here. Undoubtedly one of the best residential areas in Bangalore.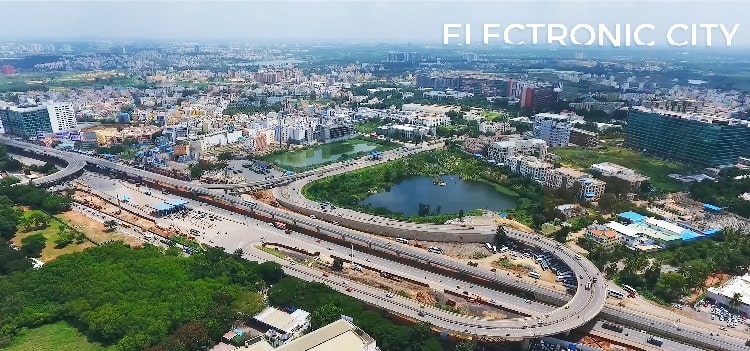 8. Electronic City:
Electronic city is the biggest Hub for IT and BT sector, housing companies like Biocon and Infosys. Bangalore is known as the Silicon Valley of India nationwide, mainly because of the region. With the increased re-location of the populace, the demand for properties in this area is just inclining.
Locality:
It is divided into 4 different phases and residential areas within 3 km, like Neeladri, Doddathugu, etc. With reputed hospitals and colleges like Springleaf, Srujana Hospital, etc. and IIIT Bangalore, Azim Premji University, etc. Some of the best international schools and undoubtedly the best companies are located in this area. For Working professionals and those who seek employment, this is the best place to live in Bangalore.
West Bangalore-
9. Tumkur Road:
It is also known as the new West Bangalore because of today's infrastructure of that area. It is set to be a key driver for the growth of the state. Every aspect of this locale has the essence of a smart city.
Locality:
This area has the best in class infrastructure in terms of school, colleges, companies, industries, hospitals, etc.
Aerokids, Sacred Heart Education Society, Don Bosco School, and Maruthi International School, Vidyavahini Education Society, Sarvodaya Education Society, etc. to name a few.

Healthcare facilities like H S Super Speciality Hospital, Vijaya Hospital, etc.

Malls like Shankar Mall, Mega Bazar, and Metro Bazar, etc. are serving in this area.
Thus making it one of the best place to live in Bangalore!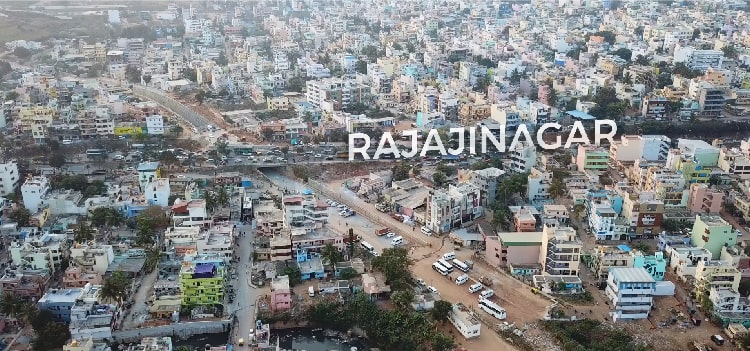 10. Rajajinagar:
Earlier started as a residential locality and slowing transforming into a business hub. Rajajinagar is one such area of Bangalore, which is again famed and nostalgic infrastructure and today's modern construction with a perfect comfort to Families and business professionals.
Locality:
From food to clothing, every single outlet or company here has its one of a kind. From Temples to Malls, the flavor of the real Bangalore lies here.
Rajajinagar is bound to areas like Malleshwaram, Shrirampura, etc. with tourist attractions like Iskon temple, Mantri Square, Sankey tank, etc. This area involves world-class colleges, schools, and hospitals at a small distance.
These are some of the best residential Projects of Bangalore. Check our list of Best Residential Projects of Bangalore.
And to conclude, the best part about Bangalore is the fantastic people who are welcoming and friendly. Bangalore in itself is a home away from home!
You would surely love to explore every inch of Bangalore, be it anywhere you reside in. If you still find it challenging to decide what is right for you, you can get in touch with us to avail consultation on the best place to live in Bangalore for you today!