In today's time, we all want to protect the things we love the most. Number one is our family and home.

Providing safety for the family should always be the top priority. This is where the idea of Home securities comes into the picture. Home security is both secure hardware in place on a property as well as personal safety.

A home is where we feel comfortable, and most importantly, we feel protected.
Its time to forget about days of locking doors with big chains and latches. The nights should be as safe as the day. Home security is not a piece of external equipment that fits into your home, but moreover, it gives us the comfort of protection, which is a privilege in today's time.

Some would agree on the fact that all their house would require a sound home security system, and the others don't.

When looking for a house, the crucial factors that need to be considered are
Neighborhood- To make sure that it is a safe area that you have selected your home in, and that there is no crime in the community.
Install a security system – One of the most important factors today as we live in a generation that is entirely based on the technology. We can incorporate a security camera system around the house so that at all times, we can monitor what's happening around the premises of our home.
Security Guard – The most basic home security that we can get is a professional guard who will be guarding the property.
Fire Protection- A safety regulation that needs to be in every property villa/apartment. Which has to be a fire exit and a fire extinguisher.
Gated doors and Windows –When you are buying your house, you have to take a look at the doors and windows to make sure that they are all well protected and made off suitable quality materials.
These are the few factors that we should all take into consideration before buying a home.The next step would be to invest in a good security system that covers the whole radius of the house.
There are different types of home security system like: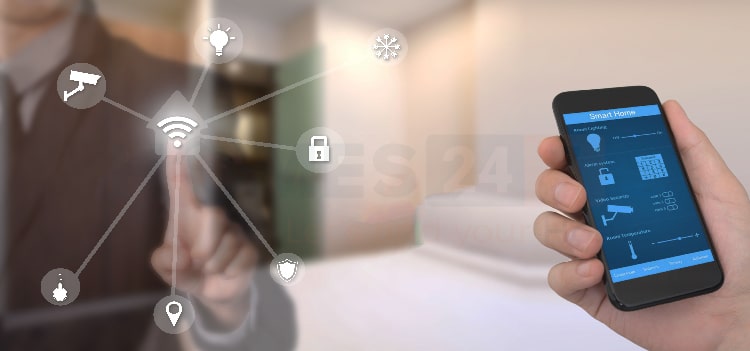 1) Monitored System
A Monitored system alarm is one of the most commonly used alarm systems. The system will alert a call center when the alarm gets triggered, and then the call center will inform the police. The downside to this type of alarm is that it goes through your outdoor phone line, and a burglar can cut those lines before breaking in.
2) Unmonitored system
Another type of security system is an unmonitored system. This alarm system sets off a loud siren inside and outside the house when the alarm is tripped.
Read our Blog to learn more about Home Automation Systems
A significant advantage of this system is you will not have to pay monitoring fees, making it much more affordable. The system can also be fitted with flashing lights so that people can know where the alarm is triggered. Mostly the loud sirens will be enough to scare burglars away since there will be a lot of attention drawn to the house.
3) Doorbell Camera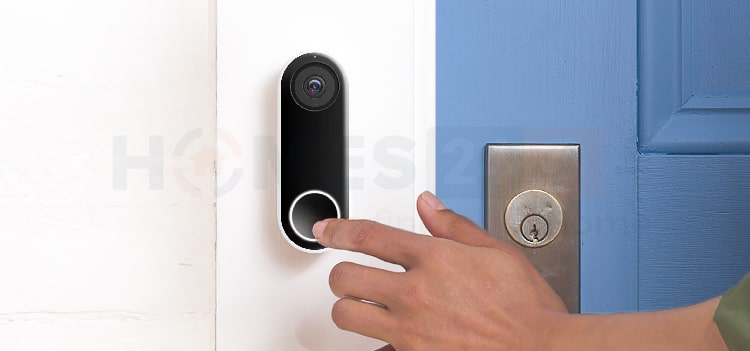 It is a small camera that is placed on the doorbell, and it does the job of recording.It records who stops in your front yard. It also lets you talk to them wirelessly.It is suitable for talking to the postman, welcoming guests, and catching thieves.
4) Wireless Home Security Cameras
Wireless cameras can be installed almost anywhere around the inside or outside of the home. They are tiny and often undetectable to home invaders.They can be installed in outdoor light fixtures, landscaping, stereo speakers, clocks, or pinhole locations around your home.
5) Wired Home Security Systems
The home security systems can connect to the alarm panel that has very low-voltage wiring
All the entry points of your house will be wired back to the primary control panel along with various gadgets like motion detectors, keypads, etc.
These are hard-wired alarm systems provide a more trustworthy connection than wireless networks because the primary panel understands the real-time status of each device within the system
These are the five basic types of home security systems that I have explained.
The real challenge is to choose the right system for the right house.If you are living in an apartment, you will find that the wireless systems are the best option.
That's because they are easier to install.
Those who live in apartments won't be able to drill holes in the walls for a security system.
The local alarms are a last resort. Of course, in a small apartment, they are going to be more feasible to use than a wired system.If you own a home, or if you are renting a house, then you will likely want to choose a wireless security system. It's the most comfortable option in most cases.However, if the home is not wired for a system, you might find that it's a quicker and easier solution to go wired instead. You will want to stay away from the local alarms.
I hope this blog has given you an idea about the importance of Home Security Systems and how it is required for every household. The crime rate in INDIA is rising every. Based on NCRB data in twenty nineteen, there was a twenty-two percent increase in home invasions. Due to the high crime rate, we would advise that most of us start installing home security.
Read our other Trending Blogs