We have often heard that "the core must be strong." For a building, the core is often the bricks that are used. So, are you using the right brick for your dream house? Here we have a list of the 10 different types of bricks used in construction and which one is the best for your dream house.
But Before that
What are the advantages and disadvantages of bricks used for construction?
Advantages:
Brick is a durable material and is long-lasting.
Brick is fireproof and can withstand exposure to high temperatures.
Brick does not require the application of paints for protection against the environment.
Issues with individual bricks can be addressed without the need to bring down and rebuild the entire structure.
Readily available clay helps in bricks being able for local creation, eliminating the costs of their shipment. This can mean that construction using brick as a material may be less expensive than using stone, concrete, or steel.
Disadvantages:
Time-consuming construction.
Can break under high seismic pressure
Since bricks absorb water readily, it may cause a lack of airflow
Less tensile strength.
Cleaning brick surfaces is a hard job.
Bricks are the most vital for construction, and they are often the bedrock of most of the construction. In these modern days, types of bricks used in building construction have become more refined, with better strength and stability, all at a lower cost.
So, what are the best types of bricks used in construction?

Unburnt bricks or sundried bricks are the first and most basic example of bricks. The process of making these bricks lies in the name itself. Not burnt but dried in the sun for hardening, often used in rural areas or temporary constructions. They are not as strong, have reduced fire and water resistance, and hence is best when left to temporary structures in our list for types of bricks used on construction.
2. Burnt clay bricks:
The most widely used among the types of bricks used in construction, gaining it the name 'common brick.' Used in the construction of important structures such as columns, walls, and the foundation of the building. They come mainly of four types:
First-class bricks (best quality bricks)
Second class bricks (moderate quality)
Third class bricks (poor quality)
Fourth class bricks (over-burnt and in irregular shape)
Specifically used for masonry, it contains class C or class F fly ash, which is a by-product that we get from burning coal mixed with water, which is then fired at a 1000 degree Celsius. The high amount of calcium oxide makes class C fly ash make it the best among the types of bricks used in construction for pillars, foundation, and walls. Often referred to as "self-cementing" brick.
Which are the main Fly Ash Bricks Advantages?
High Fire Insulation
High Strength
Uniform Sizes for Better Joints and Plaster
Lower Water Penetration.
They do not require soaking before use in construction. Thus fly ash bricks make one of the best types of bricks used in India.
The Construction Industry has grown far beyond Bricks and Mortar. Explore the new age of Construction Technology here
4. Concrete Bricks:
Manufactured using concrete with ingredients as cement, sand, and water. They can be manufactured into bricks of all types and sizes. Using concrete bricks over clay bricks is that they can be readily manufactured at a construction site. This can also help in the reduction of the amount of mortar required for the construction itself. Another common and rather popular type of brick used in construction.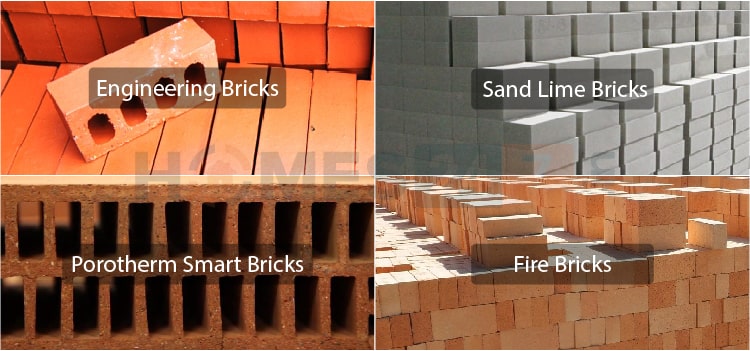 5. Engineering Bricks:
Used for especially for its strength, cold resistance, and fire resistance, is the engineering bricks. Most used for basements, where chemical and water resistance is required more than average. They are also known for their low porosity. The strength option among the types of bricks used in construction.
6. Sand lime or calcium silicate Bricks:
Made using sand and lime, popularly knows as sand-lime bricks. These bricks are used in the construction sector for several purposes and one of the primary types of bricks used in India. Artistic works, including ornamental works in buildings, are incorporate the sand-lime or calcium silicate bricks.
These bricks are chemically-set bricks, which means that the process is completed using heat and pressure elements to accelerate the chemical reaction. They have a smooth finish, acoustic insulation, and have excellent fire resistance are primarily used by artists to make their art shine.
7. Porotherm Smart Bricks:
Hollow bricks, often referred to as the 'eco brick,' are an intelligent way of using natural clay to make hollow bricks. These hollow bricks can either be horizontally or vertically perforated. Perforated means "pierce and make a hole or holes in."
They are more modern, used in many residential and commercial projects. High strength, thermal insulation, and a 100% eco-friendly nature all for a lower than regular cost make it the best among the different types of bricks used for houses.
8. Fire Bricks:
Also knows as the refractory bricks. Manufactured from a specially designed earthing process. After it is burned, it can withstand extremely high temperatures through its fire resistance properties. This is all done without affecting the desires, shape, size, and compromising strength. Thus it is one of the common types of bricks used in India, especially in the rural and dry regions.
This is used for the lining of chimney and furnaces where the temperature rates are usually extremely high.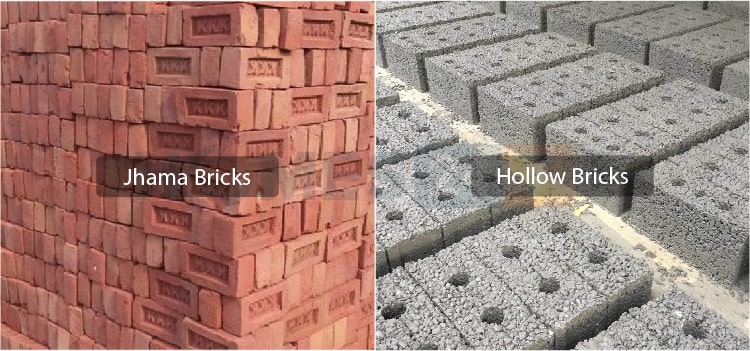 9. Jhama Bricks:
Jhama Bricks are also known as 'overburnt bricks" or the 'vitrified brick as it is fired at a high temperature and for a longer duration of time compared to conventional bricks. The shape is distorted but has a higher absorption capacity, and the strength is considerably higher or equal to a first-class brick. Often used in slab and beam construction using concrete where it does not encounter water normally.
10. Hollow Bricks:
Around one-third of the weight of the normal bricks, as the name suggests, are hollow inside, these bricks are also called cellular or cavity bricks. These bricks are used extensively for quick construction as they can be laid much quicker than the normal ones. These bricks are also used in partitioning in the construction process.
Now as we gave you an overview of bricks, explore these 10 steps to be followed before Constructing a House!
These are the different types of bricks used in India, often alternating between them; civil engineers have a broader base to use to construct buildings of all shapes and sizes. We hope that we have helped to step closer to your dream home with different properties and types of bricks used in construction.
Other Trending Blogs