"Which are the different types of indoor lighting?" is one of the questions that arise when we go through the pretty, bright shops and see the beautiful lights dazzling and reflecting through the glass.
But don't worry about that, we are here to tell you about the different types of lights for home. It will help you make your personal space appealing and lovely for all but also brings a positive vibe at your home.
Proper lighting can make a great impact in your house. It should be bright enough to illuminate the home at every corner, but it should not give the residents a headache!
TYPES OF INDOOR LIGHTING - ILLUMINATE YOUR HOUSE THE RIGHT WAY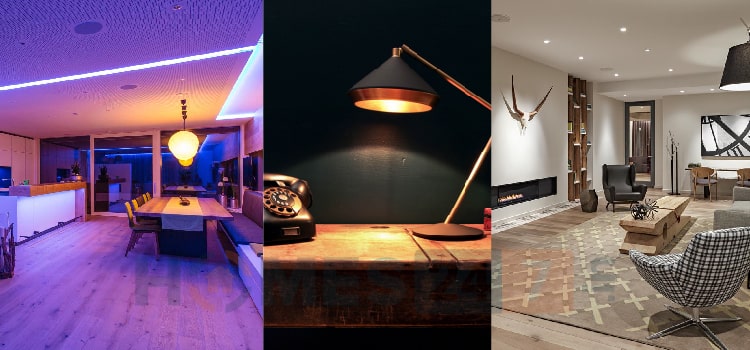 When it comes to home lighting, it is vital to keep in mind three types of indoor lights- Ambient, Task, and Accent. Let us tell you about the types of lights used at home in detail.
AMBIENT LIGHTING:
Ambient lights are also known as natural or mood lights. They add a slight glow to your house, making it pleasurable in events and occasions. This type of lighting can be found in chandeliers and ceiling, which gives the room a warm glow, just what you need after a busy day at work!
TASK LIGHTING:
Task lighting, as the name suggests, creates an environment with enhanced brightness and makes the brain more alert to do the job. Whether you have to submit an assignment before the deadline crosses, or you have to clean the room before the party starts- task lighting is the one for you. It helps you to concentrate on getting the task done!
ACCENT LIGHTING:
Accent lighting gives focus to certain parts of your house. Do you have a painting for which you want special attention? Accent lighting is right for the job. The nooks and corners of your home will no more be dark, ambient light on the walls will grasp the eyes and enhance all your wall displays and oil paintings. Accent lighting is often used in pooja rooms.
LIGHTS USED AT HOME:
The different types of lighting can be presented in your homes in various ways. There are different kinds of lights that can be used.
Lamps
Floor lights
Chandeliers
Track lighting
Pendant lighting
These three types of lighting can give your house a beautiful environment if used correctly in different parts of the house. Let's explore them!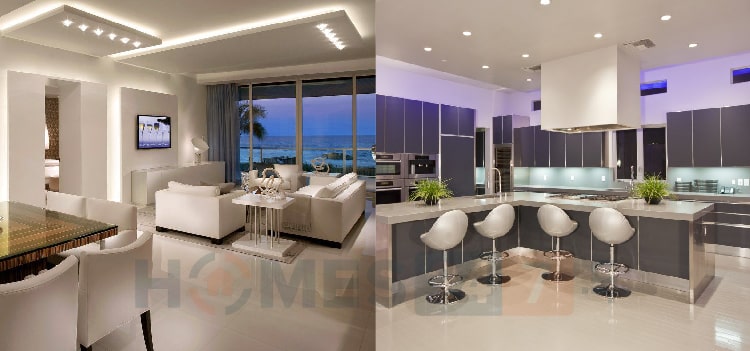 TYPES OF LIGHTING FOR LIVING ROOM
The living room space at home is one of the most important places in the house. Everyone spends a considerable amount of time in the living room, be it the kids who fight for the television remote. The adults catch up with their old friends or the family sitting together and talk about their lives.
It is essential that the living room's lighting suits all these conditions and fulfills every aspect of it. The type of lights used in the living room should be there, considering all the activities. It is well when all three types of indoor lighting (Ambient, Task, and Accent) are used wisely throughout the living room.
The chandeliers can provide good lighting along with lights that can be dimmed as per the preference. It allows an option to the owner to set it according to the wallpaper designs, the mood or the occasion.
Lighting on the special artworks can provide an aesthetic surrounding can give it a luxurious feature. Table lights and floor lights can beautify the living room and can even work as task lights.
Did you know it's rather easy to go green while lighting up your home! Explore these Eco- Friendly lighting tips!
BEST TYPES OF LIGHTING IN THE KITCHEN:
Let us move towards the best type of lighting for kitchen. Kitchen- the place where food is cooked for everyone; however, the definition doesn't do much justice, does it?
Kitchen can be considered a place where the family bonds and even eats breakfast on the kitchen table. It is required that the kitchen has lights that suit every condition that the people want to fulfill.
Lighting under the kitchen cabinets and shelves gives a good effect and can be visually appealing.
The kitchen can be decorated by pendant lightings as it would focus on the table there.
The ceiling lights can be helpful along with dimming lights, which can work well during the night.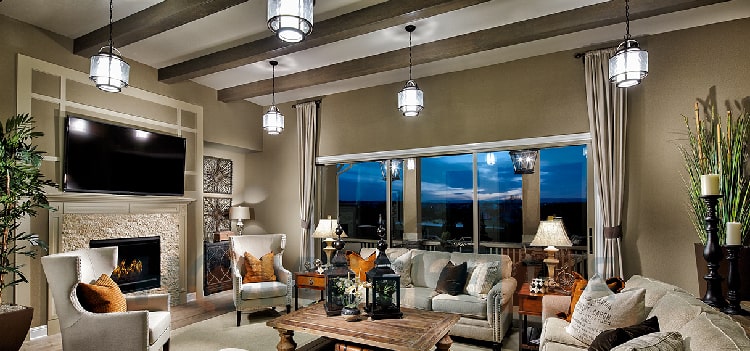 USE OF LEDs- HOW IT CAN BE USEFUL?
When we talk about lights, it is difficult to place where LED lights can come into play. Various questions like where it should be used and how it should be used always are at the forefront. We will help you understand it better, so your house can be incorporate LEDs in the right direction.
What are the advantages of Led Lights?
LED lights came as a massive change in the world. Adding it to your homes can help you save energy and be considered your part to keep the environment safe and healthy. The types of LED lights for home can have different impacts as you need.
LED lights can also be used under kitchen cabinets for task lighting or to enhance a display as ambient lighting.
LEDs have a variety of sizes; they are durable and even free from harmful emissions.
A mixed source of lighting would give the homeowner options to change it as per their own needs. The different types of indoor lighting or the types of lights at your home play an essential role in determining what your house would be like.
How your home should look like when people come over for a party, when there is an occasion to celebrate, when you have to brainstorm for a new job task, or just to be alone and write in your journal- the lighting in different rooms supports you in all what you want.
Though we are talking about the different types of lights for home. Did you know that there are many indoor plants that can survive in very low lighting conditions.
Whenever you want to illuminate your house with the right kind of lights, always ask yourself questions to help you place them as per your requirements. You can have a mixed set of lights, which allows you to have a new perspective about your wants, and make sure that you taste everything.
The correct placements of different types of indoor lighting and the different types of lights at home can make a difference. They can make your experience at home more pleasant with your loved ones. So, we wish you a very illuminated and very happy abode!