Looking for Classy Dining room ideas?
Say no more and read on...
All of us desire to have a beautiful, mirthful home waiting for us when we get back! A quaint little corner to call our own as we return from the toils and travails of the world. A plush cushion to rest our head, comfortable sofas to jump on and sprawl our legs out.
A gorgeous kitchen to treat ourselves with culinary delights and last but not the least – a wonderful dining room! No home is complete without a well-furnished, resplendent dining room. In fact, many people see their dining room as their happy place, and to be fair, why not!
Sitting down with family and friends in a beautiful dining room only embellishes the love that comes with sharing a meal. Safe to say, a modern dining room is the cornerstone of a ravishing home.
Accentuating the splendor of your modern home with creative and innovative dining room ideas is so rewarding and dare we say, crucial!
However, there are tons of ideas and designs out there, which capture your fancy, and rummaging through them to find the right one is tedious, to say the least. Going through pages of dining room designs will have you weary before anything. Ranging from convenient to outright spectacular, dining room ideas and designs have gone through countless innovations thanks to modernization and globalization.
In the current landscape, we are spoiled for choices in everything! And having an amazing dining room is one of them.
But fret not for we are here! We've collated a few ideas and designs which will tick all your boxes and leave you with a splendid, modern dining room!
Whether you're holding an extravagant party or a quaint family dinner, going for a sleek, modern aesthetic, or something rustic in mold, we have got you covered. So get your notebook out to jot down some notes.
1. Embracing Minimalism
This one's for the classics. It's hard to go wrong with a simple, rustic aesthetic; there is no reason to crowd your room with elements of grandeur. A simple approach doesn't leave you lacking anywhere.
Combine efficient and refined rudiments in the form of sleek wood standing on iron legs offering a sturdy yet quaint look. Throw in a few accented chairs and industrial lighting to offer a visually pleasing aesthetic. The lighting also makes the room seem bigger, so that's a win as well!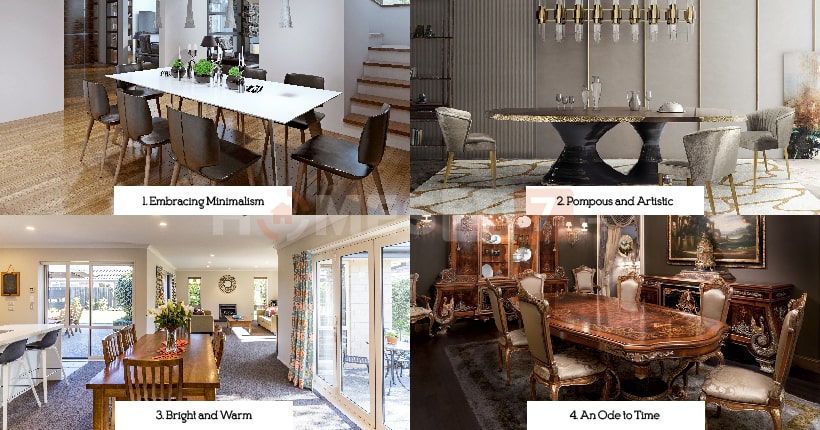 2. Pompous and Artistic
Grab the attention with this emphatic ice-breaker! An eclectic mix of buoyant colors and artworks. This one belongs to the extravagant set of dining room ideas. Throw in eye-popping abstract on the wall to evoke conversations coupled with soft grey tufted chairs to finish it off. All above a dusky rug to bring out all the colors. Flamboyance has its perks!
3. Bright and Warm
Now when it comes to dining room décor, it's easy to outright garish with our choices! Mashing in bright hues in chairs and glossy vignettes on walls is more common than we might think, especially with the plethora of options available.
Here we go for a warm tone in pink, comfy chairs to complement the fresh white design on the tables. Let the colors invite your guests in for a mirthful meal. Dining room designs come in plenty, but it's crucial to not be overwhelmed!
4. An Ode to Time
This one's for the connoisseurs! Entrenched in deep history where the affinity for magnificence and splendor ran amuck. Carefully embellish your room with antiques collected across time – embedded chairs, rustic carved table pieces, artistic engravings on the table. Top all of this off with a grand chandelier hanging above the table! Dining room ideas don't get any more lavish than this.
There are many nuances to dining room designs, but none is more steeped in antique aesthetic than this one. Pull out all stops!
5. All About Comfort
Sitting back on a plush, cushioned chair is almost heavenly, especially if you have wonderful company and a delectable meal in front of you! If your home is all about comfort and quiet, then carry it with you to the dining room as well.
Don't shy away from choosing that lush, cream tufted over a grand, engraved one. Pair it with a warm-toned oak, table with a matte finish and mellow Prussian blue on the walls! Comfortable and beautiful.
6. Sleek And Sound
Now this one's all about keeping it tight, and you guessed it – sleek. Bring it in with an asymmetrical foundation with a jet black table, smoothed to perfection, surrounded by metallic seating to top it off. Dining room designs reward your eyes with symmetry and style.
Offering a touch of sophistication and ditching all the garish elements. You can soften the settings with cream coating on the walls and a set of lush plants as the dining table centerpiece. It exudes modernity by keeping it taut and real, and that's something you can't say for every dining room design out there.
7. Surrounded By Knowledge
Oh yes, you read it right! Only a few other designs can exude class and grace as much as this one. A dining room enveloped in bookshelves with all the supplements in the middle is just brimming with elegance and will serve as the perfect place to share a meal and start conversations!
With a library serving as the backdrop for a sumptuous dinner, it whisks you into an intellectual landscape. Pour yourself a glass of wine on that fine piece of striped velvet table. With a warm shade of red coating on the walls and a mellow tone of blue on the drapes, it oozes poise.
Accentuate the beauty and grandeur by setting up a chandelier, and you've got yourself a dining room which is the true embodiment of charm and culture. Seems like a good dining room idea, right!
Collating and choosing out of an eclectic choice of dining room designs is an arduous task, one consuming a lot of time and effort. A home reflects your essence and is colored by your personality. The same holds true for your dining room. Be creative in selecting dining room ideas and plan it out!