All about K RERA Registration & Complaints
RERA has brought amazing stability and transparency to Indian Real Estate. The Real Estate Regulatory Authority has taken the entire industry under its wing. It boosted the trust factor and helped the home buyers steer away from fraud and scamsters in the realty industry.
RERA also made sure that there every project in the country, be it ongoing, under construction, newly launched, or ready to move categories, is brought under it's single authority by registering under the individual state RERA body.
Bangalore is one of India's biggest real estate markets, too, embraced the change for the better. Karnataka RERA or KRERA has seen some of the largest numbers of registrations ever since its inception.
Every residential project in Bangalore has to undergo the RERA Registration process before officially being sold to the residents. Besides, not just the projects but the promoters of the project should also be registered under RERA. The builders, too, have to submit an affidavit stating all the project details. Thus everything real estate came under one roof - RERA! This has severely brought down the inaccuracies and illegal scams.
Thus, it is changing the country's largest asset class sector into a properly organized sector that'll benefit one and all while keeping away the unwanted elements altogether.
Now let's move onto the important questions at hand-
Which are the major Documents required for RERA Registration online?
Project photo.
Approved Plan of Building
Approved Layout Plan
Sectional Drawing - Apartments.
Existing layout plan. (if any)
Brochure of the current project.
The area development plan of the project area.
Existing section plan and specification. (if any)
Project specification.
NOC /Approval under Section 109 of the KLR Act 1961.
Conversion certificate - Section 95 of KLR Act 1961.
Approval/NOC - Section 109 of the KLR Act 1961.
Approval /NOC - Section 14 of the KTCP Act.
NOC from Airport Authority of India
NOC from Fire department
NOC from BESCOM
NOC from SEIAA
NOC from KSPCB
NOC from BWSSB
NOC from BSNL
NOC from BMRCL
Urban land ceiling NOC
Documentation from Bangalore Urban Arts Commission
Documentation from Inspector of Factories
Documentation from Controller Railways and Explosives
Documentation from Coastal Regulation Zone Authority
Approval from District magistrate.
PAN card
Income tax returns certificates
Auditor's report.
Encumbrance Certificate
Commencement Certificate
Directors' report for the last 3 years.
Audited profit and loss statement of the last 3 years
3 years - Balance sheet
3 years - Cash flow statement
Joint development agreement.
RTC & Sale deed
Approved section plan of the building.
Proforma of the agreement for sale.
Change of land use.
Proforma of allotment letter.
Permission from Lift authorities
Advocate search report
Declaration (FORM B)
Relinquishment deed.
Transfer of development rights (certificate)
Certificate from a registered engineer(structural safety of the building).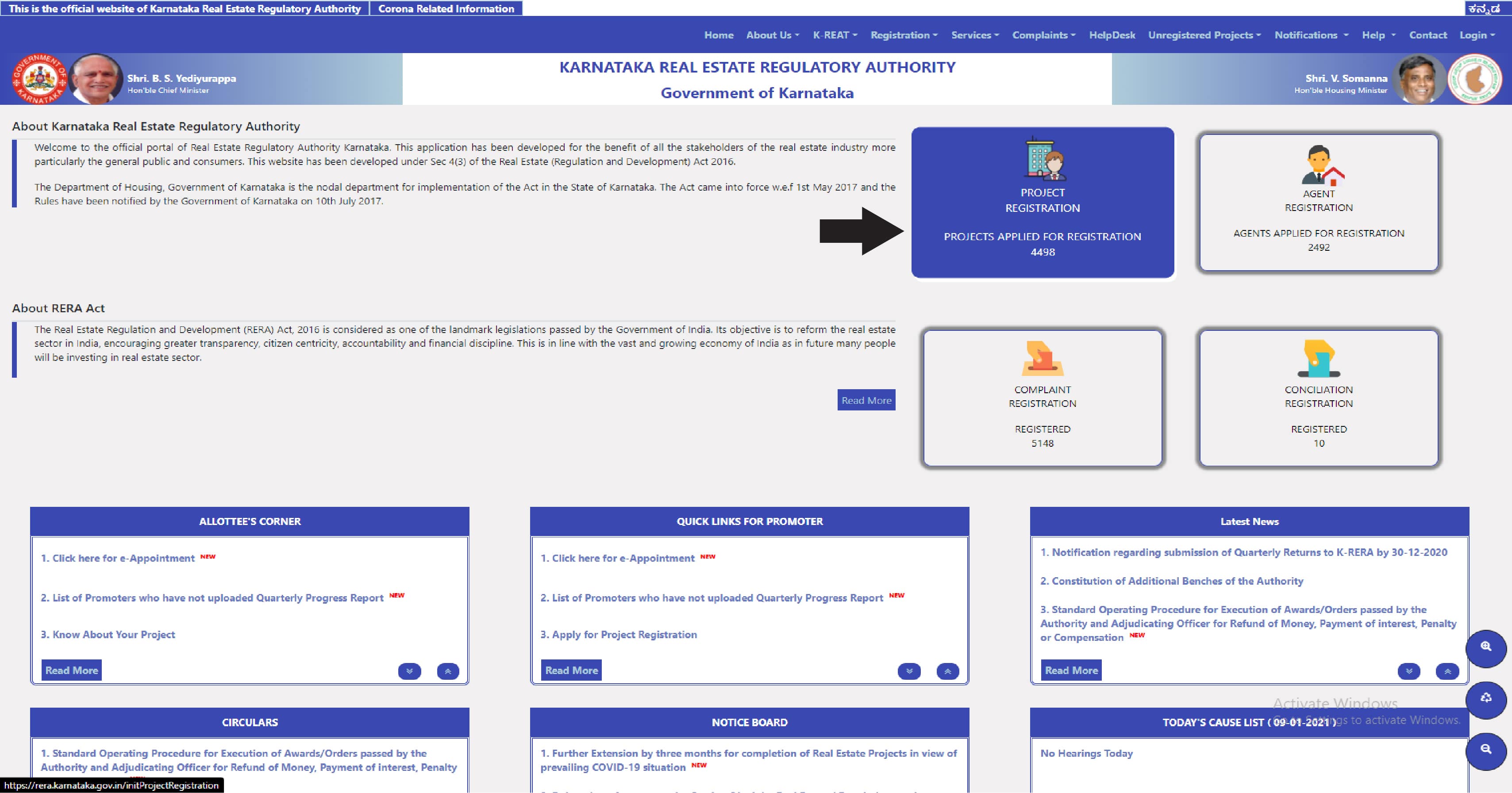 How to apply or do the RERA Registration online?
These are the procedures for registering a project in Karnataka RERA.
Step 1 - Go to Karnataka RERA's official website - rera.karnataka.gov.in and click on Project Registration.
Step 2 - Choose the type of registration, either individual or society, and enter your mail ID.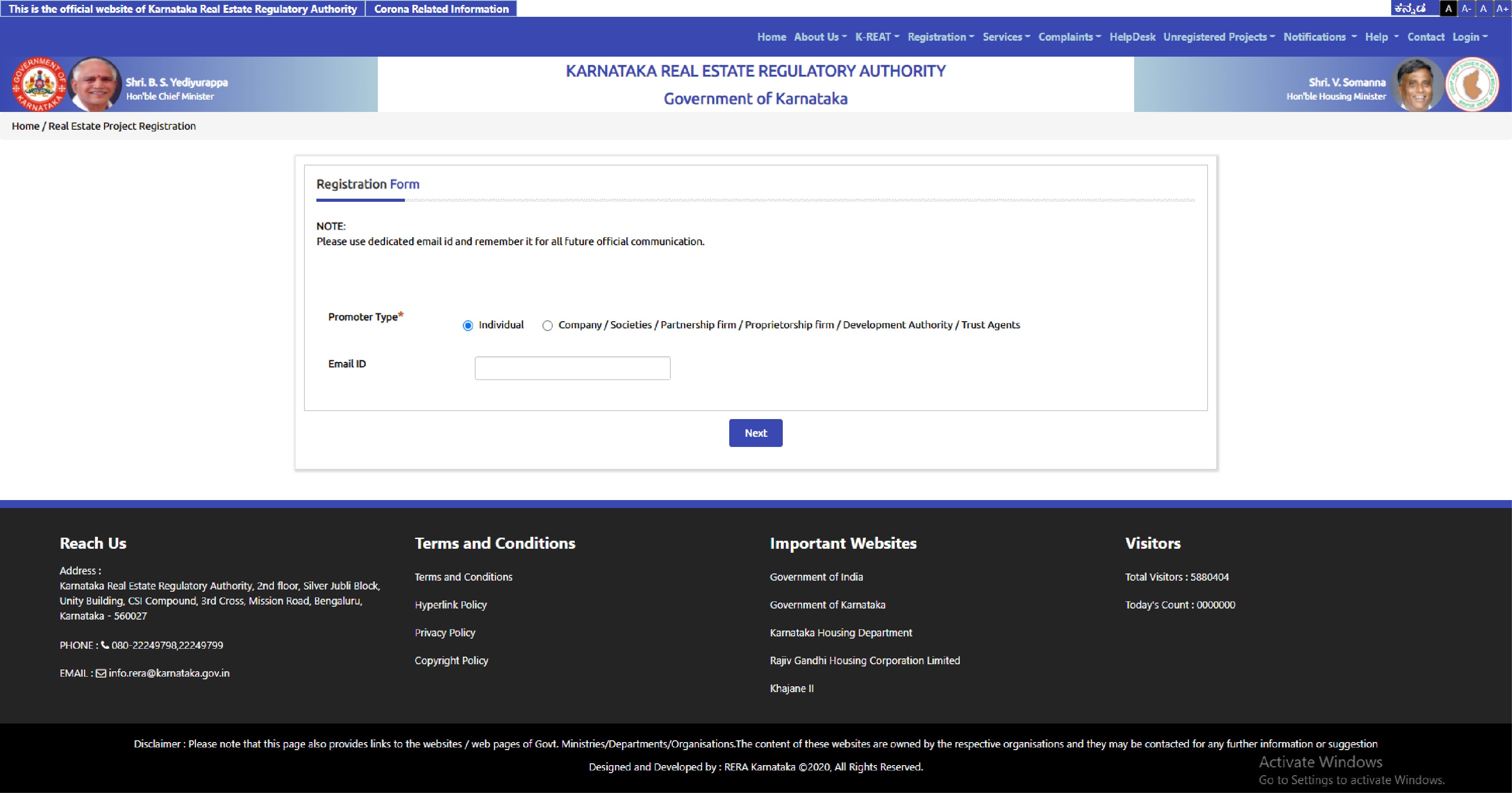 Step 3 - Fill out the promoter details, including Adhaar number, PAN number, etc., and project details.
Step 4 - Upload the necessary documents - refer to the list above.
Step 5 - Finally, proceed with the payment & confirmation of the same.
What is a RERA number?
After the project is officially registered under RERA, it is given a unique identification number. This acts as a proof or validity of the building.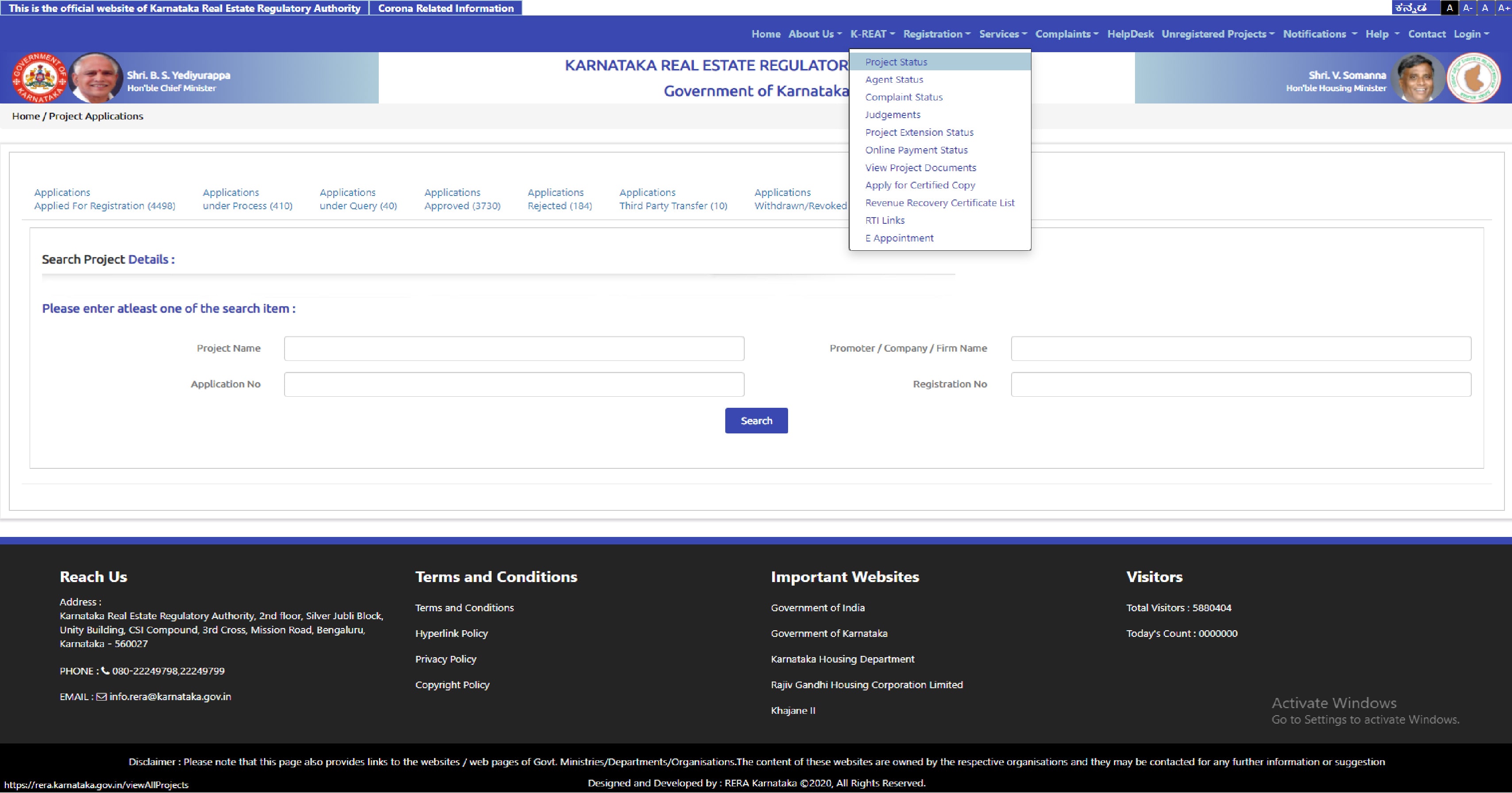 How to Check RERA Number?
It's very easy to check the RERA Registration number online, all you have to do is,
Step 1 - Go to K RERA official website and click on the services tab
Step 2 - Select Project Status
Step 3 - Add either Project Name or Builder Name
Step 4 - You'll get information regarding the project, including the application status and RERA Registration Number.
What are the major benefits of RERA Act?
RERA has also brought about many advantages for Buyers and Builders; a few of them are as follows-
Buyers are protected from Delays & Defects
Grievance Redressals
Builders are protected from Disolvancy
Standardized Carpet Area
Right to information and many more.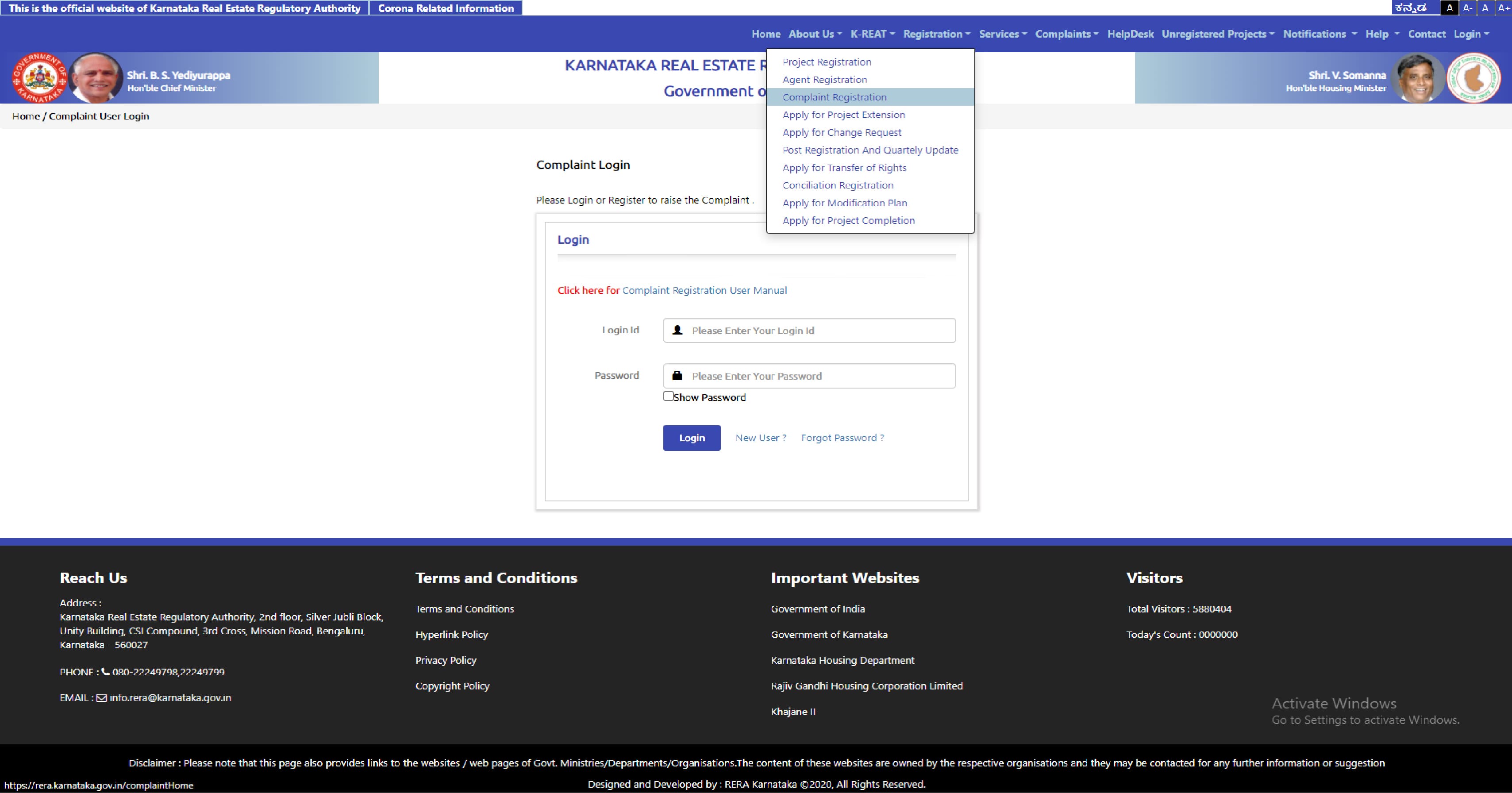 How to file a RERA Complaint Online?
It's now very easy to file a complaint on K RERA online portal. All you have to do is the following steps.
Step 1 - Go to the K RERA website - rera.karnataka.gov.in.
Step 2 - If you are a new user, then create an account.
Step 3 - Click on the Register Complaint option.
Step 4 - Upload the right information regarding the complaint and documents supporting the same.
Step 5 - Once the details are entered, make an online payment, and publish an acknowledgment slip.
In July of 2017, Karnataka RERA was approved by the cabinet. Since then, the realty sector of Karnataka, especially Bangalore, has been very welcoming. This is major because all the major players, be it Home Buyers, Realtors, or Developers are benefitted from this act.
As of January 2021, 4498 projects have applied for RERA Registration. Also, 5145 RERA Complaints & 2490 Agents have been registered in Karnataka RERA. These numbers clearly indicate that as each day passes, the Indian Real Estate Sector is becoming or getting ahead into an organized sector, where it shall benefit the buyer, the middle man, and the seller all.
So, folks, we hope to give you a clearer picture of K RERA Registration and RERA Complaint filing procedures.
We will be back with more information in our "Realty Facts Series," shedding light on more topics.