While building your house, one crucial question that arises is the different types of flooring available to complete your masterpiece living space and which one is the best for your home.
From wood to marble, there is a plethora of materials that one can get from the market for the right price. The real questions come in when you must pick one from the different flooring options best suited for you.
The word 'flooring' refers to the lower enclosing surface of spaces with the building. Usually, the permanent covering laid over the actual floor of concrete. The process of laying is called flooring. The flooring material is vital because it gives character to the overall floor designs for home.
Here are the different types of flooring that are popular in the country.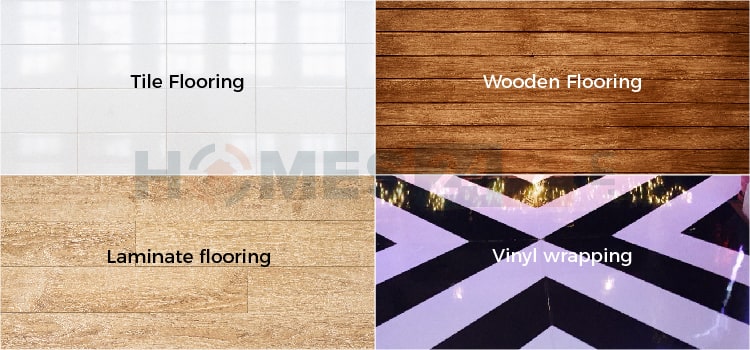 1. Tile Flooring:
The most common and vibrant of the bunch is the tile floor material coming in all sorts of colors and sizes. Among the different types of floor tiles, natural stone to porcelain, and even ceramic are the best in their class. They are also looked for their heavy durability, as it is quite hard to scratch or dent them and are very well suited for wet environments, among the best different types of flooring materials.
2. Wooden Flooring:
This one is a no brainer; the wooden flooring has been there since age-old. Using thin sheets of wood to cover the floor to create the earthly presence in one's home is seen with a lot of character and class. Quite expensive among the materials readily available, and they are not all that suited for wet conditions. However, they do give your home the natural earthly feel that nothing else can provide you with more heat and cold resistance. Your winters will not be all about hoping in your house instead of walking. The different types of wood flooring are:
Solid hardwood: The plank floor where each board is crafted from a single piece of timber, typically thick 20mm, usually fitted using tongue-and-groove.

Engineered: Each plank or board has 3 or4 layers of laminated timber, held together at right angles by an adhesive material to create a piece of 14mm thickness.
Imagine a complete wooden indoor style! Along with wooden flooring, classy wooden furniture gives a sense of class to the space right? Explore the different types of wood used for furniture!
3. Laminate flooring:
Laminate flooring is made of a compressed fibreboard piece mimicking materials through a cover image of timber or tiles! This piece is coated with a protective layer. Laminate flooring is said to go best with minimalist interior designs. It's best suited for rooms that benefit from the aesthetics of a 'natural' floor style but at a lower cost and easier installation while avoiding the risk of being damaged by scratching. Quality laminates are highly durable and often come up with a 20-year warranty. Minimal maintenance is yet another attractive feature. An unusual entry among different types of flooring materials but one that is quite famous.
4. Vinyl wrapping:
One of the underrated among the different flooring options! It can be manufactured in an extensive range of colors and profiles. Just like laminate flooring, it too simulates other materials.
The advantages of Vinyl tiles and flooring include:
Among the more unknown of the bunch, vinyl flooring has become an underappreciated flooring material among the different types of flooring materials that are available in the market and are a definite check out for the artsy.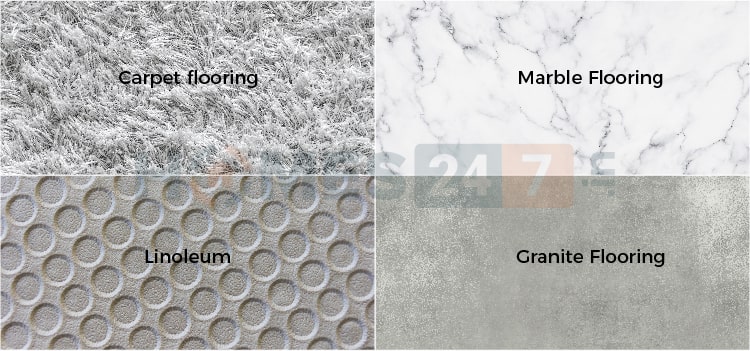 5. Carpet Flooring:
Carpet is made of an upper layer of pile attached to a backing. The pile is usually wool or other fibers such as nylon, polyester, or polypropylene that are heated after being twisted into or woven together. Carpets are one of the best, when it comes to living room designs. Many variants of texture, color & style are available. It is easy to maintain and durable. Carpets are also famous for their insulation properties that hinder both heat and sound. Defintely one of the best among different flooring options. However, they are easily damaged by water, and damp, carpet stains are a rather famous phrase, right?
6. Marble Flooring:
Marble has been a favorite of mankind since the ancient age. It has dominated the aesthetic realm from the marvelous statues and structures to the latest marble floor tile. The elegance it can bring to your living room is out of this world. However, the cons, such as expensive and easy staining, make it a second or third choice among the different types of flooring! Projects like Total Enviornment After the Rain has one of the most stylished designed green marble flooring.
7. Linoleum:
Linoleum is a relatively old-school western flooring material, that is making a reappearance in India. Linoleum usually comes with a sealing that makes it scratches and stain-resistant. It is also considered to be an eco-friendly material! It's an added bonus if you consider adding green lighting options and roofs, thus completing the set of nature-friendly home! One of the simplest amid the different types of flooring.
8. Granite Flooring:
Adding granite flooring to your home will give it a poised and regal look, like the castles of yesteryears! However, it is one of the most expensive stone tile in the flooring options, just like marble. One of the most haunting questions every homeowner is to choose which flooring option? Granite or Marble? While Granite has more variants of shades and textures, Marble often has vein-like patterns in a consistent hue. Though in the end, it comes to individual choices, granite is more durable wins the hearts of practical homeowners!
Among the different flooring options is available for our homes, these are the different types of flooring materials that are readily accessible in the market that come at the right price with their characteristics. Selecting the best one is easy, once you have got your research right.