Vastu Trees for home are yet another way to imbibe positivity to your lives!
Indian Culture is incredibly entwined with nature! Trees and Greenery are an inevitable part of our lives. From shade,fruits and even wood for crafting furniture, trees are a multifaceted asset to our homes. Many trees can bring balance and harmony to your home.
Vastu Shastra tells of certain trees and plants that share the same cosmic energy as the directions and elements that ascertain the key power hidden in nature!
Tapping into these Vastu plants and Vastu trees around house will bring an aura of positivity and happiness to our lives! So this the perfect time to game up your gardening skills!
Here are our top 5 picks for the Best Vastu Trees for Home.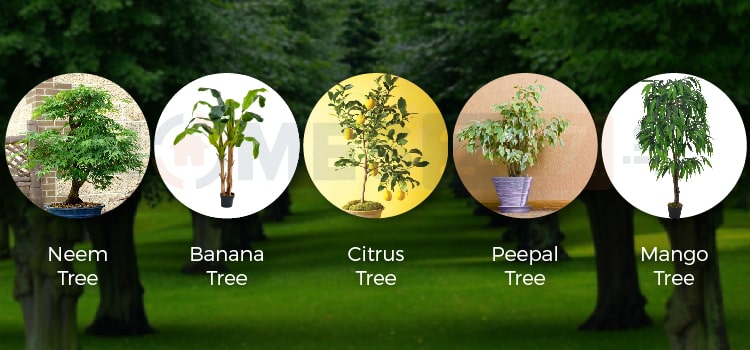 1) Neem Tree:
Neem Tree (Azadirachta indica), as per Vastu, is one of the best trees to grow in our home. It has very strong medicinal properties, and it's used as a cure for many diseases.
2)Banana Tree:
Did you know that Banana Trees(Musaceae) are basically gigantic plants and not trees! Nonetheless, Banana Tree in the House Vastu is considered very auspicious. The Fruit Crop Banana Tree is said to symbolize Lord Krishna, according to mythology.
3) Citrus Tree:
Citrus trees(Rutaceae) grow according to the soil in which it is planted! According to Eastern Mythology, citrus fruits are known as buddha's hands. And As per lemon tree Vastu, they bring an aura of positivity!
4) Peepal Tree:
Peepal Tree is another holy Vastu trees Known as "Ashwatha," it is considered sacred, but because of it's strong roots, it should not be planted very near the home! It's best for those homes with more plot space!
5) Mango Tree:
Mango Trees (Mangifera indica) are part of every Indian's Nostalgia! The tree is considered auspicious as per Vastu! It's one of the best vastu trees around the house. Its leaves are used for pooja and can be seen adorning almost every pooja room in Indian homes.
Bonus Tips:
Greenary, whether it's Normal Trees or always brings in us a sense of calm, composure, and balance! Then why not Vastu Trees for home and rope in the power of positivity!