Types of Houses and Properties in India
What are the types of houses usually found in India?
When you go house hunting, looking for a place to rent or even book a stay through Airbnb, terms about housing such as Studio apartments, duplex or penthouse gets casually thrown around.
Of course, these are casual terms but, sometimes they are used interchangeably when they should not be. Each word means different and are specific to the types of houses or certain types of real estate property. Lets understand what exactly we mean when we use these terms.
1. RK or Studio Room
RK is simply a short form for Room and Kitchen. They do not have a separate bedroom or a living room, rather everything is compartmentalised in the same space. These kinds are usually compact and efficient, preferred by students or working individuals who like to have more features and fewer things to take care of.
Also, RK is known by different names such as studio room, studio apartment or bachelor's room in India as well as around the world.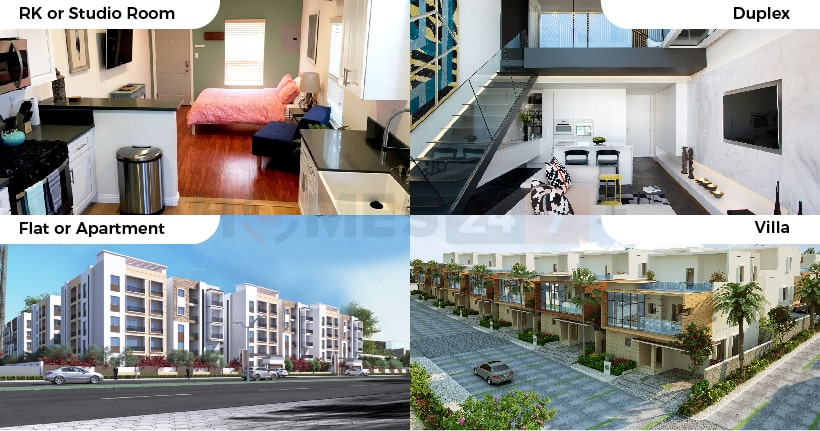 2. 1, 2, 3, and 4... BHKs
BHK stands for Bedroom, Hall and Kitchen, as the name denotes 1 BHK means a house has one bedroom, a living room and a kitchen. 2 BHK and 3 BHK has two bedrooms and three bedrooms respectively alongside a living room and a kitchen. It's the same for four or any number of BHK's.
When people use these terms, say 2 BHK they can be referring to any of the numerous kinds of houses such as an apartment or a villa with 2 bedrooms, a living room and a kitchen.
3. Duplex
Duplex simply means a two floors house. It can be an apartment or an independent house. Any of the types of houses with two floors can be called duplex, if there are more than two floors its called a multiplex.
A Duplex House typically has a living room, a kitchen with dining area, and a sitting room/ area in the lower floor, while the bedrooms are found in the higher floor. However, it could vary according to the availability of space, architecture and design.
4. Flats or Apartments
Apartments are housing units in a large building, usually occupying only one storey, although it can occupy more than one storey. The apartment can be 1, 2 3 or many BHKs or just a studio room. There are furthermore kinds such as penthouses, villaments, and basement suites.
In India, the terms apartment and flats can be used interchangeably. Among the types of properties usually purchased in India apartments are the most preferred ones these days.
5. Villas
Villas are large standalone houses that derive their name from the ancient Roman upper-class country house. Villas have a large backyard and/ or a verandah. Villas have usually been associated with upper-class dwellers.
These are usually located in areas where there are other villas. Also, villas give a sense of privacy more than other types of houses. Although, in recent times numerous builders have been trying and often succeeding in making it reachable to upper-middle-class dwellers as well.
6. Independent Houses
Among all the types of houses in India, Independent houses are the most commonly found ones. Independent houses can have any number of rooms and usually has only the ground floor However, one and two storey houses are also common. They are located on an independent plot with a surrounding boundary wall of its own. The plot and the house always belong to the same person(s).
Independent houses are usually owned by middle-class urban dwellers and most of the village dwellers. Independent houses are commonly chosen among other types of properties as an investment. In recent times, with the increasing influx of population into cities like Mumbai, Bangalore, and Chennai independent houses are being chosen second to apartments.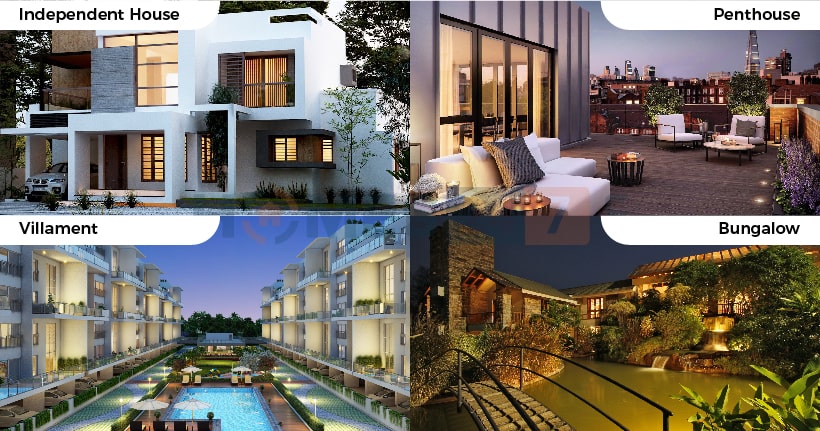 7. Penthouses
Pent Houses are units that are located on the highest floor of an apartment building, they are distinguished by the luxury features that are not present in the other apartment units. Exceptional Panoramic views are intrinsic in the architecture of penthouses. Penthouses are seen as the epitome of luxury among the available types of homes in India.
Although penthouses are located in a multi-residential complex, it gives a sense of independence that is found in Villas or Independent Houses. Traditionally a penthouse meant a house on the top floor.
However, recent developments have built penthouses on floors other than the last floor. Modern architecture has paved the way for builders to provide all the quality of a penthouse including a terrace on the many levels. Also, Penthouses are valued more among most of the other types of properties.
8. Villaments
Villaments are a modern phenomenon that is garnering more and more appreciation every passing day. Villaments are among some of the new types of houses, as the name suggests, they are an amalgamation of Villas and Apartments.
Due to the rise of popularity of Villaments in the contemporary housing style, the value of villaments are rising among the types of properties.
It combines the luxury and spatial availability of a Villa with the community structure of an apartment building. Among most of the types of homes, this is seen as the most efficient type, since it provides the safety, view, comfort, cost, and maintenance facilities of an apartment building and the luxury of a Villa.
9. Bungalows
Bungalows among the most expansive types of properties usually found in India. Bungalows are usually single storey independent houses. It can also be double or partially double storey independent houses too. They are usually characterised by the discernible sloped roofs.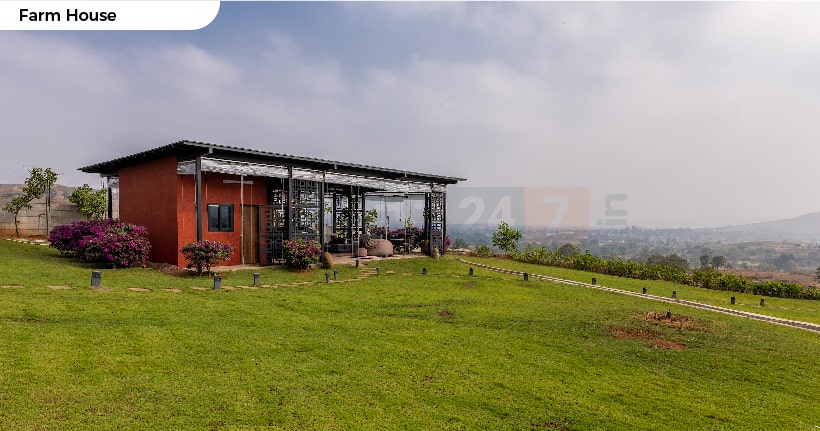 10. Farm Houses
Farm Houses are residential homes in an agricultural landscape. It is usually used as a second or additional dwelling for people to spend their vacation in. Earlier, farmhouses were only found in regions far away from the city. However, builders, these days are able to plan and construct in the outskirts of the city.
Farm Houses can be seen as both an investment and vacation setting. Farm Houses are intrinsically close to nature than any of the above-mentioned kinds of houses, surrounded by greenery or rather placed inside a lush green setting farm houses always enjoys high monetary value.
We hope this article on types of houses commonly found in India helped you understand better all the different kinds of dwelling we call home!