With the festival season fast approaching, the renovation of the home becomes a must. What better than starting with modern kitchen designs?
The kitchen is an integral part of the house, and yet, when it comes to designing, it is not given as much importance. Granted that a kitchen is a set place already, and that is how it has been for decades. We know where the platform and sink go. This leaves us wondering what more could be done to it. Here's the answer – there are plenty of ways to decorate and design your kitchen that will suit your taste. Whether the kitchen is small or large, there something for everyone with our list on modern kitchen designs.
This year, different types of modular kitchen trends are focused on storage and sustainability. Storage becomes an essential aspect for smaller kitchens, where space is a significant constraint. This is when concealed storage come at play. It gives the kitchen a clean and clutter-free look and increases space. Apart from this, with growing concerns over the environment, demand for sustainable kitchen has grown over the years. Environment-friendly kitchens reflect homeowners' mindfulness towards a greener planet.
Here are some of the best modern kitchen designs-
1. Monochrome For Elegance
This one is for who prefers minimalistic look for their kitchen. Monochromatic shades such as white, black, grey, and charcoal, are fuss-free and kitchens with these colors do not need additional designing as the monochrome tone stands out.
The central aspect of such a kitchen is it conceals any dirt or dust – thanks to its dark tones. Houses or apartments with modern interior can opt for monochromatic look for their kitchen, thus continuing the flow of an elegant and sleek home.
2. Smarten Up Your Kitchen
We cannot deny the impact technology has on our lives. Without limiting itself to computers, mobile phones, and televisions, technology has ventured into making smart homes and, particularly, smart kitchens.
A smart kitchen has technology incorporated in its every aspect – be it the lighting, taps, or any other kitchen appliances. Sensors and advanced gadgets are fixed in the kitchens to make it smart. This can be a great addition to a modern modular kitchen.
Some refrigerators remind you about stocking up on groceries. Motion-sensors are used in taps so that they can detect the hands underneath and turn it on the water automatically. The lighting system, too, has sensors so that homeowners can control it through remote or their smartphones from any part of the house.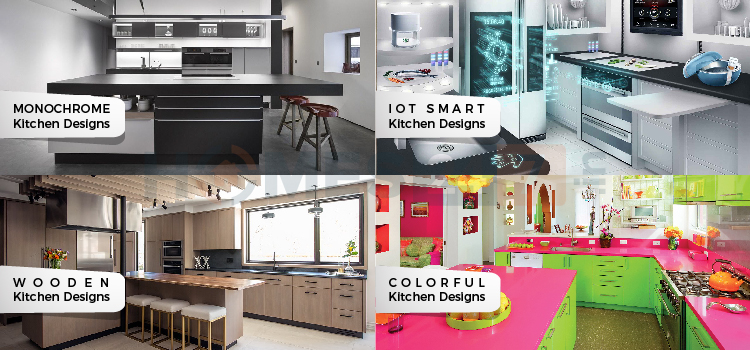 3. A Woody Affair
Such types of modern kitchen designs give out positive vibes due to its nature-inspired look. You can opt for a weathered or distressed look giving it more real effect. Add wooden flooring to your kitchen and style the kitchen with a wooden dining table, which will go great with stools rather than chairs for a natural, "picnic-y" look to the kitchen.
Complementing the wooden décor, you can paint the kitchen walls white and add a touch of earthy shades. Wrap up the look by placing pots of plants by the windows and let the natural lighting do its magic. Your kitchen will be like an oasis – a calm and relaxing area. Plus, this is an excellent option for nature lovers and who want to use sustainable items for their kitchen.
A Wood Themed Kitchen would surely grab attention, but did you know about the types of woods used in India for Furniture? Check it out Now!
4. Go Crazy With Colours
Liven up your kitchen by adding tasteful and bold colors. Vibrant shades instantly lift your mood, so why not use them in your kitchen? Bright green, dark purples are a great addition to your kitchen. You can select from the same colour palette or use contrast shades. Colours such as pastel pink, light grey, and light green give it a refreshing look. If you want to give an eclectic look for your kitchen, choose wine shades that warm and bold.
5. Brownie Points For Your Brown Kitchen
Brown has always been viewed as a vibrant shade, and no modern kitchen designs list is complete without one. Combining it with stainless steel hardware will give the kitchen a vintage look. Take it up a notch by adding a marble platform and hanging chandelier. The lighting from the chandelier will give the kitchen an elegant and luxurious look. Further, adorn the kitchen with accentuated lights in the corners or in the middle of the room to give it a great look.
A brown kitchen looks great as a backdrop while hosting a family get together or calling your friends over for a hearty dinner.
6. Tiles From Ceiling to Floor
Another aesthetic addition to a modern modular kitchen is tiled wall. Use the tiles to cover the walls from ceiling to flooring. Choose a light shade for the tiles and then for flooring, select black and white checkerboard floors. This look is perfect for those who want their kitchen to be different than traditional kitchens. No wonder it has made it to our modern kitchen designs list.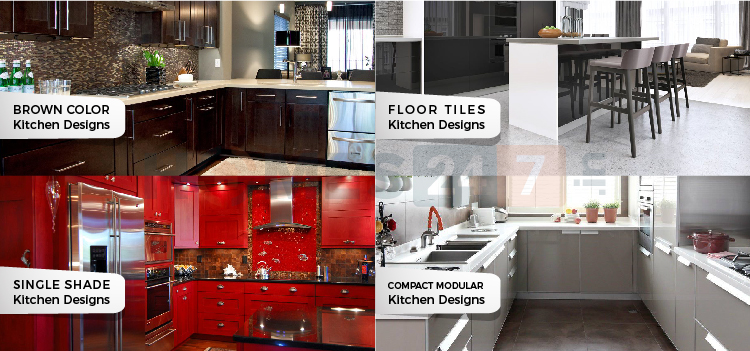 7. Pop Of Colour
If you want to create a straight-out-of-magazine look for your kitchen, then look no further than adding a pop of colour. Be mindful of using a single shade here. Coloured cabinets with white background give the kitchen a clean, clutter-free look.
Apart from these designs, if we look deeper to the past and our future , the traditional vastu holds a tremendous presence in the picture. Explore Vastu Tips for Kitchens
Select from a sea blue shade, muted Fuschia, or even vintage green shade to add a pop of colour to your kitchen. This is a nice modern kitchen design trend you can opt this year for the kitchen.
8. Hide And Seek Kitchen
No, we don't mean you should play hide and seek in your kitchen. Upgrade your modern modular kitchen by adding concealed storages in the kitchen.
Concealed storages come in handy for houses or apartments with smaller kitchens. With people wanting to declutter their homes, this type of storage solution makes kitchens appear cleaner and larger. You can add corner cabinets that are high up to the kitchen ceiling.
Moreover, you can integrate kitchen appliances such as a large oven or stove. This will render a decluttered countertop, and you will get a lot of space to keep other kitchen essentials. That is why a concealed kitchen is a nice modern kitchen designs idea.