Here's something on 'bathroom renovation' hacks for you today!
A home is one place we all look forward to being in; many of us spend a fortune of our lives to build and dwell in that safest cocoon we have found for ourselves!
Quoting Michael S. Smith, "Good houses take work." And that is when you ponder about changes you would like to bring into the setting where you live. Because ordinary is boring, they say! Also, functionality and character alteration can obviously happen for all rooms in your house.
So, while you are hooked to thoughts of remodelling the house segments, we thought we would come up with some hacks on "Bathroom Renovation" that can help you root ideas!
Why renovation?
The leaking bathroom faucets you almost carelessly shook head to in disapproval, the blister of paints, cracked and missing tiles and rusted bathtubs that added up to your dismay – Wouldn't you like to rectify them all and for once take that relaxing shower with all elements in the bathroom in place and fitting?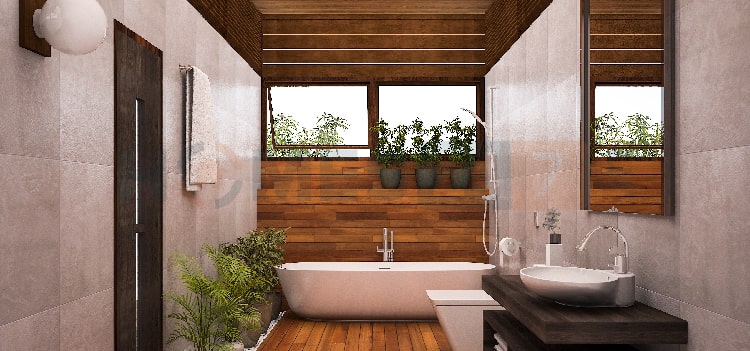 Well, while you are it, let us also spring up some hacks to give the bathroom a fresh look, providing it with much-needed attention!
The three vitals: Plan – Design – Purchase
The initial step is to have a clear picture as in what to retain and what not to, what new to add and what not to necessarily. While you plan, generate ideas on space utilization, storage space occupancies etc.
Designing the elements comes next! For which, you can take help of the skilled. The plumbing segments, the dry area wet area separation – there are a bunch of things to attend to even within a small bathroom!
Then comes the purchasing bit. Once you have finalized the plan and designed the unit, do have market research on the items you intend to purchase and go forward with what fits you best!
Pro tip: Items can be bought both online and offline, and there can be discounts and voucher purchase benefits if you plan to buy things in bulk. The market research is henceforth very important, and the cost comparison is a key but doesn't compromise on quality!
Now let us plunge into some hacks on bathroom remodelling/renovation that can save your pockets as well as space!
1. The Styling
a) Colour Palette:
2020 has seen some ultra-modern design ideas in this domain. Be it the bold or the pastel. Changing the colour of the bathroom has a spell of its own to cast while remodelling is concerned.
While most people liked to stick to the classy tan and white or the calming blues, there are also others who might opt for a complete makeover with colour ranges of – Deep forest greens, Nautical navy blues and Charcoal greys.
Floor and wall tiles also have a greater say in completing the look! Wallpaper tiles for powder rooms, shaped geometric tiles and half tiled settings are on the go.
Pro tip: Check for waterproof for bathrooms, specially designed for damp moisture environments. These are mostly vinyl coated, and you can pick the designs of your interest in this domain. The prices of adhesive wallpapers come under Rs. 3000. Bathroom tiles of about 10 mm thickness have a maximum price range that comes under Rs.100/Square Feet.
b) Fixtures:
The fixtures, alcoves, vanity, bathtubs all mould the appeal! Brass finishes, limestone and marble paving, selective lighting, wall hook installations, framed mirrors, intricately designed countertops, replacing the acrylic tubs with porcelain and ceramic finishes – options are open!
You can customize your bathroom segments like – the addition of shelves for utilities, patterned glass wall partitions, indoor plants for fresh green appearance, flexible makeup mirror provisions, Scone and loft lighting etc.
Pro tip: If you are going to upscale the character and add more drama to your bathrooms, you can give it the right royalty feels by adding chandelier types of lightings!
Bathroom renovation costs: It costs about Rs 12,000 in approx. However, if you are looking for cost-effective options while staying grounded to the idea of beautification, you can hand on trust waterproof led strips available under a price range of Rs.2000! You can also refer to recessed lighting for bathroom shower stalls.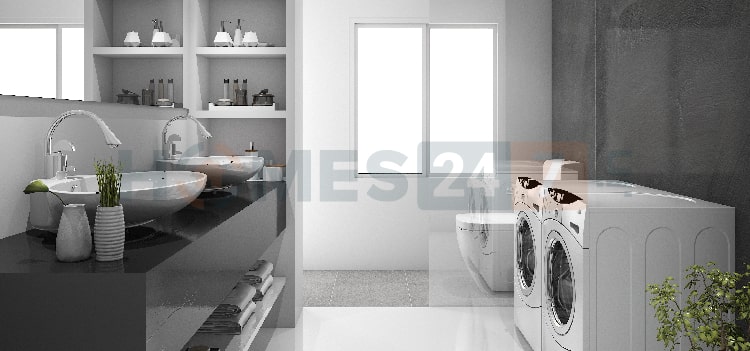 2. Use/ Utility
a) Layout:
The prime task is layout picturization. Developing blueprints in the planning stage with detailed regard for efficient space utilization.
Over the top cabinets making use of the wall space is a greater consideration. But ideas such as this can be put into action, only if it is paid heed during the initial planning stage itself.
You can also consider accommodating makeshift racks for drying and built-in cabinets to house laundry machines in the bathroom cum laundry rooms if you feel like it! Also, you can explore on closet space hacks for these rooms.
Bathroom renovation costs: High-grade stainless-steel shelves ranges from Rs. 500-2000 and small drizzle shelves which are unbreakable within a price spectrum of Rs.500.
Pro tip: To reduce clutter, you can also give a thought about the following items:
Racks for over-the-toilet storage (From Rs. 5000 -Rs. 12000)

Smart storage cubical organizer for bathrooms - with both horizontal and vertical displays (Within a price range of Rs.3000)

Cabinet bathroom doors in the absence of space for shelves (Starting from Rs. 6000)

Easily mountable open floating shelves (Available under a price range of Rs.5000)

Wheeled carts for easy accessibility of toiletries (Starting from Rs.1000)

Foldable Towel Bar Holder - multifunctional with wall hooks which can fix to doors (Within a price range of Rs.3000)
So that was about styling and functionality of bathrooms if you are thinking about re-fixing them at your houses! The above-mentioned clutter-free options are economical as well as highly recommendable when space occupancy is the question.
As Jeff Lincoln, a renowned interior designer in New York City, stated – "The ultimate luxury is being able to relax and enjoy your home". It is very true to its essence and each and every room in the household, no matter small or big contributes, it's best to deliver the fact of the statement.
That's why we keep telling you to not close eyes terming 'it's just a bathroom', turning deaf ears to its design possibilities to make it all better!
That's all about 'Stylish bathroom renovation hacks for your home'. While you enjoy a peaceful shower in your beautifully remodelled bathroom, thank the whole plan!
We hope that the bathroom renovation ideas bear fruitful for you!