Since all of you are meddling the blues of unexpected quarantine, here's a little something on home library designs to boost your spirits. Give it a read, and thank us later!
It is a period of isolation, and suddenly, there is ample of time, out of our everyday cat and mouse race. Everybody is settling slow and seeking ways to make use of this time to rejuvenate their lost tastes and refresh the newly budded interests.
The book lovers are undoubtedly having the perks of time to indulge in their favourite activity of reading and systemizing their collections. So why not have a checklist that makes it easy for you to do the same at home? Here are a few things to look onto while setting home library designs
After all a library at home spreaks volumes for you!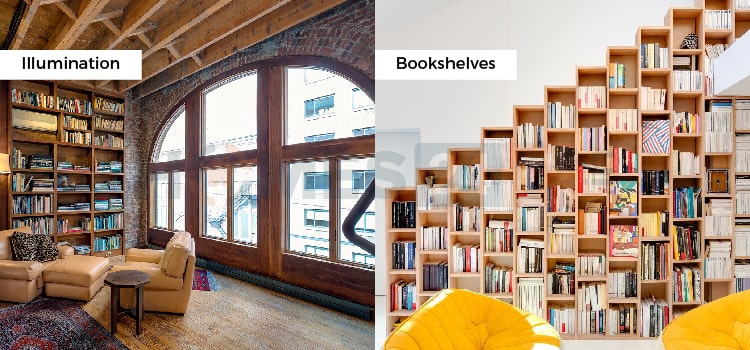 1. Illumination:
It all starts with light. While you begin to set up a home library, make sure you chose a space where there is enough room for natural lighting (facing windows, for instance). one of the pro home library ideas, that is perfect for every home!
This helps cut the lighting costs, which is another plus. Talking of illumination for the house library, there are these little ideas that could be of use to you.
A reading lamp - While you are in the mood to pick up a book at night before bed, make sure there is enough light flooding, or else it can take a heavy toll on your vision.

Fairy lights and LED strips – for that camp reading experience or to accent the mood, prompting you to sit down to have one fine read!

Overhanging light fixtures – There are so many varieties in shapes, sizes and use specifics that you can choose from. (Say, Lights in the shape of books, that team with your book racks!) Thus giving out a wonderful home library designs!
Pro tip: Recycled and upcycled lamps can be made out of cardboards, globes horizontally cut and fixed with bulbs inside, paper cup, and jar lighting. (Save your pockets while you beautify the setup! Killing two birds with one stone!) Also, bay windows or library corners benefitting from natural light is a win-win! A rather good one among home library ideas right!
Speaking of lights in home library designs, you can also go for eco friendly lighting as well.
2. Bookshelves:
Now that we have dealt with light let's get into the prime business of stacking the books we have rather than stashing them out of sight untidily.This is one of the major tasks to take care of while crafting out the perfect home library designs. Building a roomy home for books is more interesting than the mere thought of effort spending on its arrangement.
With even scant storage and a wee bit space availability, let's see how we can put the books to place with these beautiful storage ideas.
Built-in bookcases/cabinets – Among Home library ideas, nothing saves space more than built-in units. Add on, if you have ideas of setting a day bed in the built-in nook/cabinet set up, there's nothing cozier, one can bet!

Revolving bookcases – Setting up shelf ideas is now turning out of the box with arrangements in revolving doors, say like behind the door shelf set up in children's rooms.

Modular set up – Cubes essentially used as room dividers are now found handy to make horizontal or vertical shelves to organize books.

Foldable bookcases – Which is definitely a space-saving option alongside the wrap round type shelves and penthouse library designs.

Freestanding type – Open consoles can be eye-catching with sleek designs, and freestanding, display type bookshelves are also a valuable option.
Pro tip: While choosing on bookshelves, always go for the adaptable types. Ladder bookcases are also in the trend, which helps save space a great deal!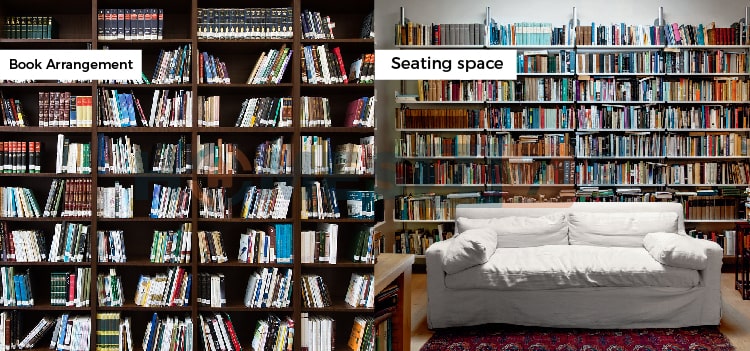 3. Book Arrangement:
How can you let Edgar Allan Poe's short stories, Shelly's romantics or Agatha Christie's mysteries, lay crumbled in a mess when they can be beautifully arranged in order that tempts a person's attention to take a peek? Here are the things that might be of use to you –
End table arrangement - Arranging the books into an end table is creatively satisfying. Even people are beginning to make Christmas book trees, saving on pines or fir!

Ledge wall shelves with vintages – Vintage books as art pieces can also be of showcase value. Built-in library ladders can help with the organizing.

Saying a story – Minimalistic arrangement of books in order with their titles spelling a story of its own. Sounds artistically wonderful that you want to try?

Colour scheming and size – Throw in a color splash with book covers while you do the placing, in order of their sizes.
Pro tip: Suspender book hangers can save up space and can act themselves as artifacts to bring effect to the room!
4. Seating space:
To sit back and relax, with soothing music and a book to take you places! Why that is the power of books! Letting you travel lands without stirring from the space you are in.
So make sure the seating helps cater that dream travel well. A well defined reading space make some of the best home library designs
Fireside seating – Fireside seating near book walls or a room with a view is poetic. Isn't it?

Chic interiors – Pieces of Furniture with cocoon-like seating to cuddle up and read! Perfect hideouts or den to immerse yourself into words and be in a world of your own!

Multi-purpose arrangement – home libraries have the potential to act as office space and also be a private area to read with a bean bag or hammock setting.
Pro tip: Keep a note of staircase seating for libraries. I will be of help later!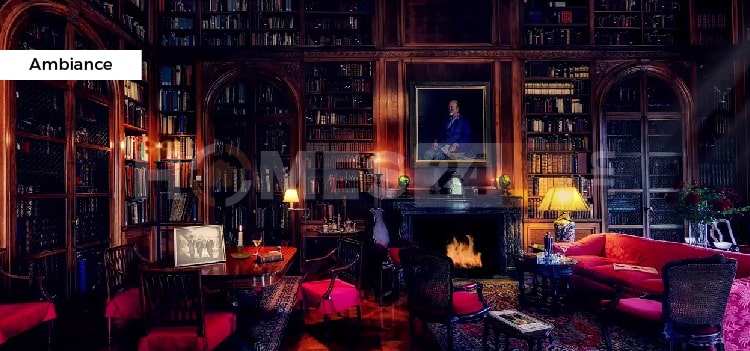 5. Ambiance:
You have it all – enough lighting, proper shelf arrangement, furniture – everything! Now all you have to do is the setting of the ambiance. The reading room is a sacred space that can promise to level your head or take you to worlds of romance, adventure – you name it!
Afterall well crafted out Home Library designs makes us motivated to read as well!
Go with subtle music or rustic cedar settings to get the proper feels. Also, make a note of the warm hues you are trying to play with the carpets, walls, curtains – to make space your safe place. When that too is set, plonk yourself down and let out a big breath of satisfaction!
That was some fresh ideas on 'home library designs' for you, hope it comes to use!