Every house is reflective of the tastes of the people who live in it. The challenge lies in creating an innovative look that is a mix of colours, textures and design. Every house interior design idea therefore should keep up with the changing decoration ideas while trying to thoughtfully portray the interior design choices of the people living in it.
Whether it is an ultra-modern apartment in a metropolitan city or a country style house in the suburb, one can put their vibrant idea on the table while receiving assistance from professional interior experts to make your dream home a reality.
Popular interior design ideas
Every room in the house doesn't have to be designed to create a unified look, rather should exude brilliance and elegance. You should also make sure that the house makes you comfortable, because a house is the place where you spend a considerable amount of time after work.
1. Scandinavian interior design style
While implementing the Scandinavian style, one should make sure that bright contrasting hues are used while bringing into picture carefully chosen pieces of furniture that are functional and will add to the style quotient of the room.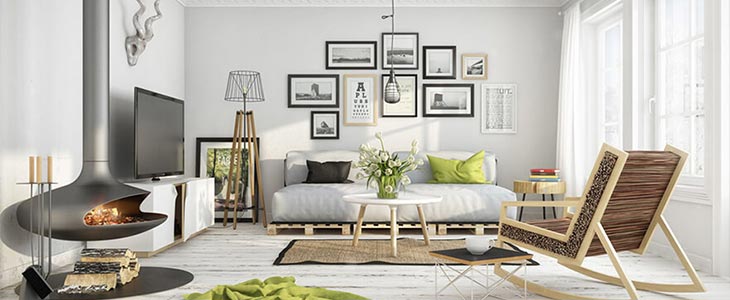 Source:https://bit.ly/2LSOZ47
2. Modern Interior Design Style
Most apartments in the cities use this design feature which employs white and neutral shades. This house interior design style might not be for everyone since the usage of glass and sharp edges might be a safety hazard for families comprising of senior citizens or children.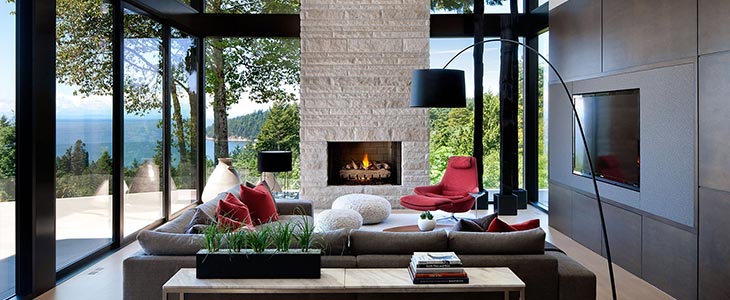 Source: https://bit.ly/2iqrql1
3. Eclectic Interior Design Style
This decoration idea portrays the tastes of the older and the younger members of the family which can be executed with the careful choice of colours, patterns and even furniture styles. Classic accessories can find a place in the same room which has modern paintings.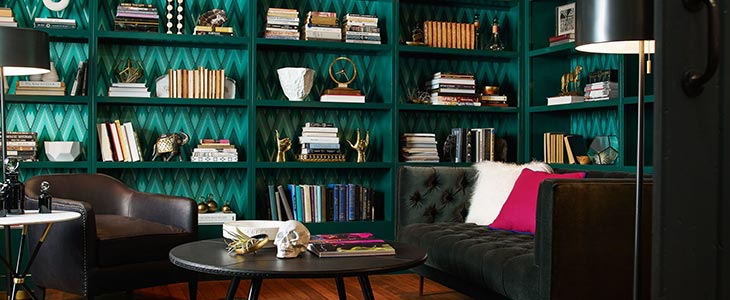 Source: https://bit.ly/20fC6Ok
4. Classic Interior Design Style
Light colours and accessories with exquisite furnishings, elegant accessories and stunning pictures to create a highlight in the room. Picture lights with focus on artworks or spotlights on accessories are the features of this luxury interior design style.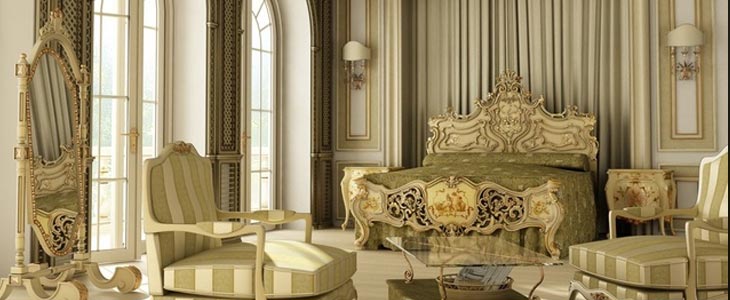 Source: https://bit.ly/2Kv52lB
Whether it is a baby room or an elder's room, you should make sure that every detail is carefully thought of before it is put to practice. It is also imperative that affordable interior design ideas are put in place if you have a budget for designing your home.
5. Choosing the right colours for a Room
The colours of the room should blend with the overall look of the house or apartment because it can influence the mood and feel of the room. Smaller rooms can be amplified by using lighter shades for the walls. Similarly, dark coloured walls can make a big room appear cosy by making the walls appear closer. A bedroom should be done in softer tones while a kitchen should be painted in brighter hues. You can put in your own ideas while trying to work with a professional before creating a room. For bathrooms and kitchens, easy to clean and moisture-resistant ceramic tiles should be the best bet while for living rooms and bedrooms, wood or natural stone can bring in a cosier or earthy feeling.
6. Living room Design Idea
While designing your living room, one should be sure of the key features that go into designing this space. Selection of clever colour schemes, texturing with the tiles or bricks and balanced use of furnishings will create a harmonic atmosphere. In smaller living rooms white or pastel tones are appropriate while in large rooms darker colours can be used to paint the walls. A rug or carpet flooring will create a soft and comfortable surface for the winter months while a wooden floor will give the impression of a classy and elegant room.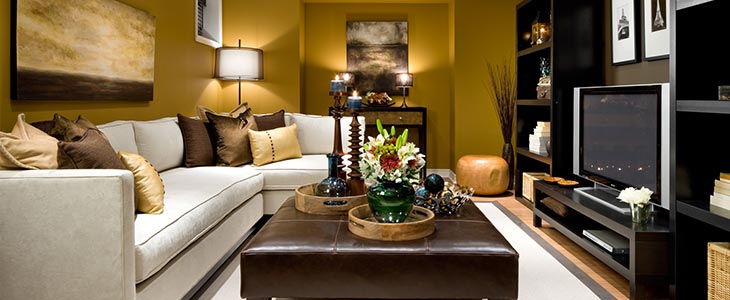 Source: https://bit.ly/2n4jUwA/
You can put flower pots to create an organic styled room while a mirror or painting will create a decorative focal point in the room. In smaller living rooms, a television should be installed in a wall-mounted cabinet to save space. A larger living room shouldn't be stuffed with accessories and furniture while bold colours can make the room look cosy.
7. Bed room Interior Design Idea
A bedroom wall colour that will create calm atmosphere and compliment well with the bedroom furniture should be carefully chosen. Soothing lighting should be used and the need for bedtime reading should also be accommodated. Soft furnishings add comfort, style and colour while wallpapers can be carefully chosen as per the size of the room. For example, striped wallpapers can make the bedroom look taller which would work well for small rooms.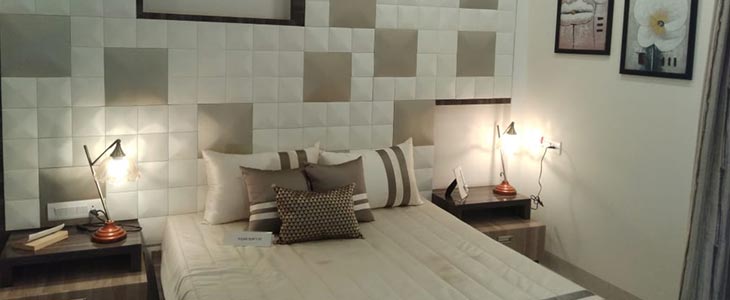 Source:https://bit.ly/2YjKHcw
Green and blue are the perfect colour choices for a bedroom while muted hues like white and lilac have a stress busting effect. Although plush carpets add comfort and luxury to the room they are dust traps and need to be cleaned regularly. In rooms with hardwood flooring, rugs would add warmth to the room. Tiles are a great choice for bedrooms located in warmer climates. Beds with storage space are a wise space-saving choice for a smaller bedroom.
8. Bath room Interior Design Idea
While designing a bathroom, features like size, colours and location of accessories like sink, shower and the source of lighting need to be kept in mind. For a smaller bathroom the bath and shower can be combined, while a corner sink can be installed to conserve space. Reflective ceramic tiles can make a small bathroom look larger. Darker colours like red and blue can make a bathroom look luxurious while lighter colours can be used for smaller bathrooms.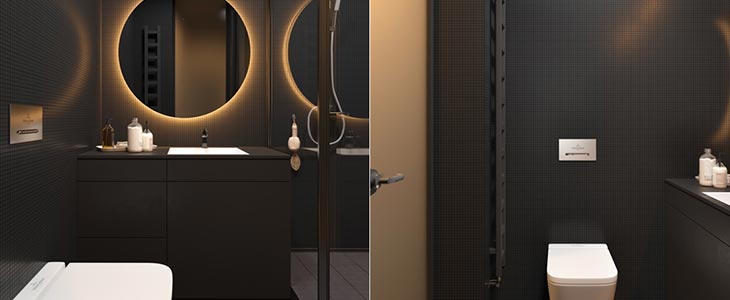 Source:https://bit.ly/2CnxscZ
One can use marble flooring to increase the aesthetic value, with tiles that are waterproof, easy to clean and cheaper. Smaller spaces will feel brighter with strategically placed lights while ceiling mounted lighting is a wise option for bigger bathrooms.
9. Dining room Interior Design Idea
Bold colours work well for a dining room while lighting in subdued colours is also an excellent option. The room should be an inviting space much like the food which is why it is important to plan the placement of furniture carefully. Dining furniture needs to look good and should be durable. Red and blue, combined with muted colours on the ceilings is the perfect minimalist choice for the walls of the dining room. Porcelain and plate sets should be displayed in cabinets while the right mix of colours, flowers and artwork can make the space look classy.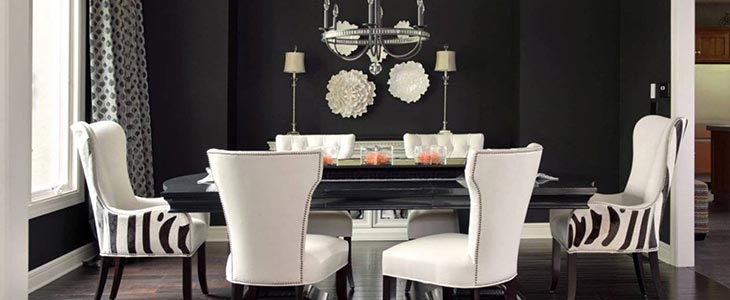 Source:https://bit.ly/2Nd2Cv2
10. Dressing Room Interior Design Idea
Many homeowners are turning unused bedrooms into dressing rooms to indulge in a moment of "me" time and create a well-planned space for their clothing and shoes. The space should exude style and confidence which is why it is imperative to choose the interiors of the room attentively. Soft carpets in neutral and pastel tones are the best bet for a dressing room. For a fashion lover it is essential to design a dressing room to save space and put on display their best clothing and footwear.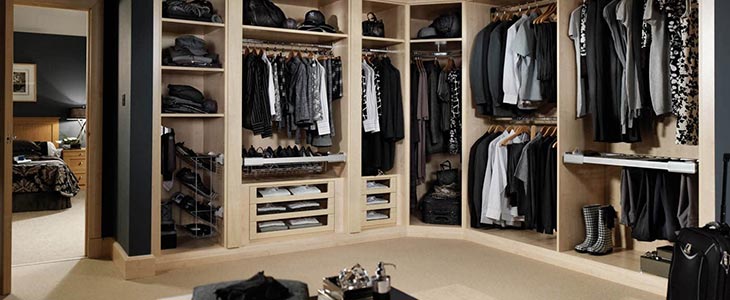 Source:https://bit.ly/2Yl6NLO
It is important to include a dressing table, a full-length mirror, and some versatile and compact seating for trying on shoes. A vintage chandelier will provide sympathetic lighting to the room so will a central island create a focal point to create grandeur.
11. Kitchen Interior Design Idea
A tastefully decorated kitchen will appeal to many. Spicy, warm kitchen colours like red, orange and yellow are the ideal wall colour options for the heart of the house. Cooler serene colours like green, blue and violet, create a soothing aura in the kitchen if you don't intend to add drama to this important space in your home. White will make a smaller kitchen space look larger while for a larger kitchen subdued colours with the right mix of accessories and furniture will do the trick.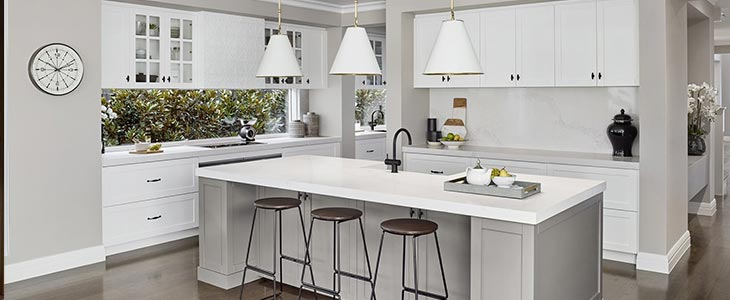 Source:https://bit.ly/2YlkkTu
Ceramic tiles are easy and durable to use and easy to clean. Ideally ceramic floor will be easy to clean for a kitchen space that takes a lot of abuse. To incorporate a modern look, one can invest in making the appliances look built-in. The countertops should ideally be large to include enough space for work and the material should be easy to clean and durable. .
It is a wise decision to invest your ideas and opinions in designing your home but taking professional help from the best interior design professionals will allow you to bring their experience to the table.
At homes247.in we make sure that you meet professionals who will help you to add taste and elegance to your house, making designing your home a creative and fun-filled experience for you.