Being the Crown Jewel of South India and one among the world's best cosmopolitan cities, there's no dearth for Luxury Apartments in Bangalore!
The Metropolis is considered to be a hub for the elite of the entire country as well as one of the best places to live in India.
Imagine waking up to watch the brilliant hues of the sun's first rays that adorn the cityscapes furbished with the best of what the nation has to offer! Enriched with world-class amenities and infrastructure, our Bangalore is indeed one of the premium centres catering to high-end customers. But the question remains, which among the top apartments in Bangalore can gratify the actual requirements as well as the wellbeing of those explorers of splendour?
Look no further, as we have compiled a list of the trending luxury apartments in Bangalore for you based on the amenities provided and the quality of structures.
*However, keep in mind the below numbers are only for reference and in no way related to the ranking of these projects.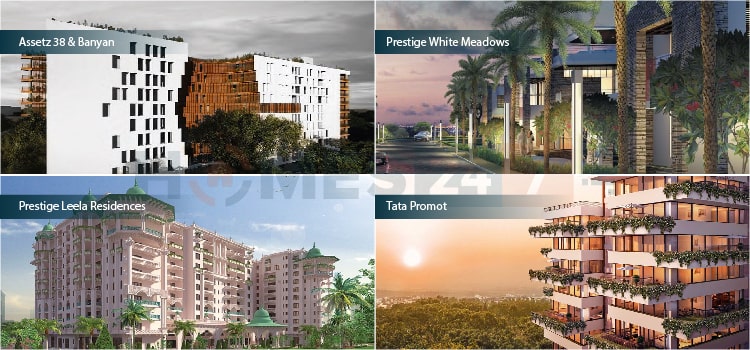 1. Assetz 38 & Banyan
Assetz Group has remained one of the top-rated developers of the nation ever since it's inception back in 2006. Their innovative strides in construction quality, as well as architecture, is said to have revolutionized the industry. The Assetz 38 & Banyan is one of their premium luxury residential projects located near Old Madras Road, East Bangalore. The design of Assetz 38 & Banyan is far beyond the mere realm of the vertical and lateral lines, it's simply art incarnate. In their own words, nothing about the project is average, the amenities themselves the best in class.
Assetz 38 & Banyan
1.1 Acres
38 units
29 -3BHKs & 9- 4BHKs
Prestige Group is one of the most reputed builders in the country. Their decades' long industry experience has made them a force to reckon with. Prestige White Meadows is a luxury venture from Prestige Group. Prestige White Meadows at Whitefield, East Bangalore comprises of four Skyrise towers and sixty six independent villas/bungalows at one of the most picturesque and scenic hillocks in Bangalore. Enriched with ample amenities built on international standards, Prestige White Meadows is simply one of the best among the luxury residencies of Bangalore.
Prestige White Meadows
Spans over 28.5 Acres
288 sky villas & 66 independent villas
4 & 5 BHKs
Prestige Group's ultra-luxury apartments at HAL Old Airport Road, Kodihalli Prestige Leela Residences is one among the elite top tier projects in East Bangalore. Designed elegantly in the semblance of Mysore Royal Palace, Prestige Leela Residences brings forth the elements of grandeur and grace throughout. It also provides the best in class 4 bhk luxury apartments as well as amenities for the residents.
Prestige Leela Residences
Spans over 3 Acres
88 units
4 BHKs
The name Tata needs no introduction in India. One of the most trusted and oldest brands in the country, Tata Group has ventured into Real Estate under the title Tata Housing crafting out wonderous structures across the nation. Tata Promont is one of the luxury residences from Tata Housing is built upon Banashankari hill, Hosakerehalli in South Bangalore. Constructed with ultra comfort in mind, the Tata Promont is considered to be one of the best Luxury Apartments in Bangalore.
TATA PROMONT
Spread over 14 acres
312 Units
3 & 4 BHKs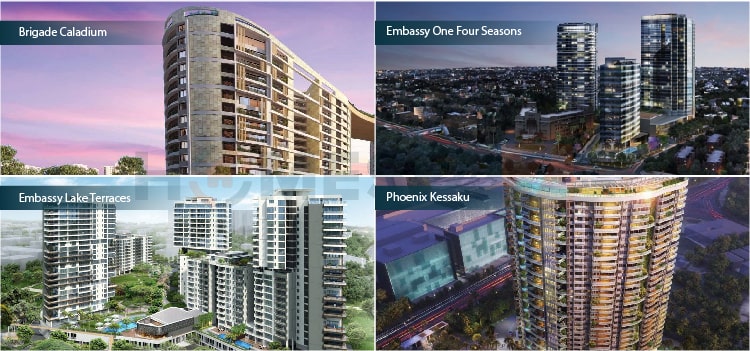 Brigade Caladium at Hebbal, North Bangalore is one of the upscale luxury residential complexes in the city. Its architecture was framed on the likes of a water droplet, thus infusing the structure with its rich fluidic element that blends it onto the cosmopolitan cityscape like a surreal painting. It is laden with exquisite amenities and is also considered to be one among the top apartments in Bangalore.
Brigade Caladium
Spread over 2 Acres
60 Units
3 & 4 BHKs
6. Embassy One Four Seasons
Embassy Group is one of the biggest developer groups in terms of operation, with 54 million sq ft of real estate developments across the various cities in India as well as in Europe and Far East Asia. The Embassy One Four Seasons is one of Embassy Group's ultra-luxury residential complexes catering specifically to the elite clientele. Rich with international features such as A' La Carte Services, Limousine service, butterfly gardens, pools & Saloon services, the Embassy One Four Seasons stands tall apart from the rest. Divided into two, the North Tower has large 1 & 2 BHK layouts and South Tower has 3 & 4 BHKs. Among the Top-End 2 BHK luxury flats in Bangalore, Embassy One Four Seasons is the most sought after.
Embassy One Four Seasons
109 Ultra Luxury Units
Spread over 2.96 Acres
1,2,3,4 & 5 BHKs
Another Luxury venture from Embassy Group, the Embassy Lake Terrace is situated at Hebbal and overlooks the pristine Hebbal and Nagawara lakes. Embassy Lake Terraces has also won the prestigious CNBC- AWAAS Real Estate Award under the luxury segment. Embassy Lake Terraces boasts of some of the most sought after 3 BHK luxury apartments in Bangalore. The towers are designed in the latest contemporary designs and bringing out elegance and sophistication in each block. It also has state of the art amenities and is located at one of the most peaceful locales of North Bangalore.
Embassy Lake Terraces
Spans over 14. 5 acres
467 Units
3,4 & 5 BHKs
Phoenix Mills Ltd is one of India's Largest Retail led Mixed-Use Developers and is known throughout the land for their extraordinary and larger than life real estate projects. Perhaps after their successful mega commercial ventures, the Phoneix Kessaku is their most popular project to date. Phoenix Kessaku is located at Rajajinagar, West Bangalore. The premier residential project is designed along the lines of a tranquil Zen sphere and far east styled architecture which simply shouts out luxury. Phoenix Kessaku consists of 5 towers named Zora, Niwa, Mizu, Faia & Zefa. It is laden with ultra-rich facilities like the rooftop infinity pool, idyllic garden, mini theatre and many more. It is definitely counted among the top apartments in Bangalore.
Phoenix Kessaku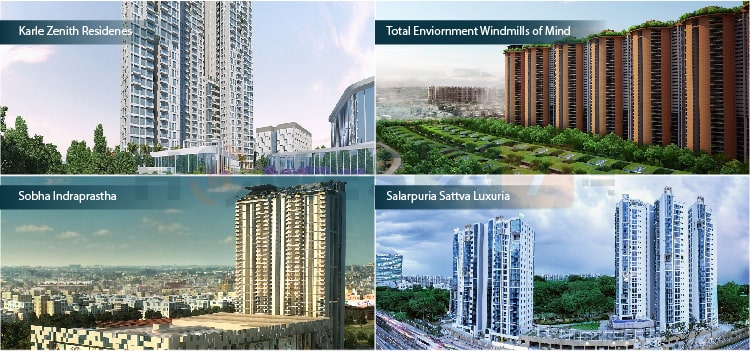 Karle Infra is well known for its amazing architectural designs as well as detail-oriented planning. They had made their presence known in Bengaluru, Mysore, and Goa. Karle Zenith at Nagawara, North Bangalore is counted as one of the best luxury apartments in Bangalore as it encompasses the perfect blend of high culture and premium living. Karle Zenith also has a plethora of prime facilities and best in class amenities.
Karle Zenith Residences
Spread across 4 acres
396 Units
3 & 4 BHKs
Total Windmills of the Mind is perhaps the most aesthetic apartment complexes in this list. Total Environment is famed for their out of the box approach in architecture often bringing in the elements of nature into play. Like many of its siblings, Total Environment Windmills of the Mind is a combination of luxury and serenity. The Premium apartment complex is located at Whitefield, East Bangalore. It consists of apartments in Simplex, Duplex and Triplex segments as well as villas. The well-crafted gardens, water zone, and the courtyard are a sight to behold.
Total Environment Windmills of Mind
Spread over 24 acres
4 BHK Villas
Sobha Limited is one of the most reputed developers in the country who are renowned for its sustainable development approach towards building an urbanscape. Sobha Indraprastha is one of their major luxury apartment complexes located at Rajajinagar, West Bangalore. The 37 floored wonder of a building has become a landmark in the region and also equipped with the state of the art amenities.
Sobha Indraprastha
Covers 9.37 Acres
356 Units
3 & 4 BHKs
Salarpuria Sattva Group is a brand that has been long associated with Trust and Transparency. Salarpuria Sattva Luxuria at Malleshwaram, West Bangalore is considered a landmark in premium luxury apartment complexes in the City. Its well-crafted design that blends into an iconic concrete and glass layout has captured the hearts of Bangalore's denizens.
Salarpuria Sattva Luxuria
Spread over 4 Acres
197 Units
4 BHKs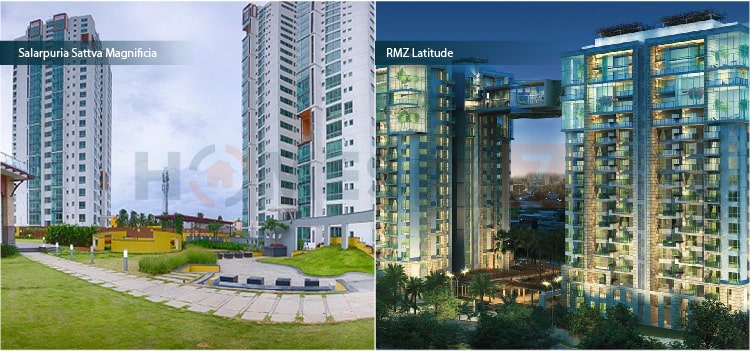 Salarpuria Sattva Magnificia located at Old Madras Road, East Bangalore is yet another major luxury venture from Salarpuria Sattva Group. As Salarpuria Sattva Magnificia is located near tech parks, the design of the structure is similar to the sophisticated IT Infrastructure so that it fuses well with the cityscapes. The high rise buildings are laden with Ultra Luxurious and Premium amenities, Salarpuria Sattva Magnificia is counted among the top apartments in Bangalore and very best of what the metropolis has to offer.
Salarpuria Sattva Magnificia
Spread over 6.5 Acres
244 Units
3 & 4 BHKs
14. RMZ Latitude
RMZ Homes is known for its innovative stride in development as well as the exquisite designs in architecture. The RMZ Lattitude at Hebbal, Bangalore is one among the top tier luxury apartments in Bangalore. The residential complex brings forth greenery into the urbanscape with green lined boulevards and gardens. The rich and classy designs along with the amenities on par with international standards deliver the element of high-end living.
RMZ Latitude
Spread over 3.92 acres
122 Units
3 & 4 BHKs
These are some of the Top Tier Luxury Apartments in Bangalore which provides an elite living-end experience. Who doesn't want to own a luxury home in one of the most luxurious cities in the country? These towers of splendour are apt for crafting out a home full of luxury and leisure. So which out of these has caught your eye?
Want to check out other options rather than Luxury Apartments in Bangalore?