This New Year festivities are going to be different, so will be the New Year resolutions!
2020 has been an exhausting year for all of us, we are spending the most part at home, and we are living in a sort of loop. Hence it is vital to tread a balanced line, a change in a lifestyle, albeit the size. And, the Global Pandemic has taught us the importance of our health and thereby a healthy lifestyle.
Human beings tend to procrastinate a lot! That is why we always say, "I'll start from Monday," and Monday always becomes the next Monday. However, a New Year has a different vibe to it. With the New Year comes a chance for change and the prospect of hope.
So, let's dive into the options!
New Year's Resolution List:
Maintain a healthy sleep-wake cycle

Become a more responsible person

Become more social

Spend less time on Social Media

Take care of your body
1. Maintain a healthy sleep-wake cycle
Your behavior during the daytime, and especially before going to bed, can have a significant impact on your sleep. Also, your sleep has a significant effect on your performance and intelligence during the daytime.
So, make going to bed at the right time and rising early will be your first New Year resolution idea. Set an early bedtime at night and an alarm to wake up early in the morning. Make sure you always get enough sleep, at least seven to eight hours.
Make a habit of turning off your phones, laptops, tablets, and TV at least 30 minutes before bedtime. Avoid drinking caffeine beverages in the evening; also, try reading a book before you go to bed. These things will help you fall asleep better, which in turn will help you wake up early.
2. Become a more responsible person
You can change many things on the outside, but what you do makes you the person you are! Hence, being a more responsible person will be another cool New Year's resolution. Responsibility is not an inherent quality, and it is cultivated over the years.
Your sense of responsibility can be influenced by your family members, friends, and what you read and see on TV. However, the final call is always yours. Hence, starting from 2021, be the one who is the most responsible in the room.
The most efficient way to do it is by not looking for excuses. Recognize what went wrong; if you are the person to blame, be the first to accept and apologize. And get to the work of cleaning up the mess. Make promises that you know for sure you can keep up.
3. Become more social
It is time to remove media from social media. Make a New Year resolution to become more socially active. Being social does not necessarily mean going to all the invites on Facebook or going to a pub every night. It means spending time with your circle of people, no matter how small or big the circle is.
Reach out to your close friends, colleagues, partners, and family members who you think might need a good listener by their side, reach out to people who can count on you and also the ones who are not so sure if they count on you. Get involved by finding a social hobby, maybe joining a book club, or considering volunteering for a non-profit organization. Host lunch or dinner for your family and friends, or just a sleepover with your best friends.
As human beings, we crave connections with other humans the most; it does not matter if you are an introvert, ambivert, or a party animal. So, be the one to start a conversation; you never know where a strong friendship or a loving family member can take you.
Enjoy the Lush Greenary at Iconest 5
4. Spend less time on Social Media
Social media provides an effortless platform that helps us stay connected to our loved ones, network in our field, and stay updated with the latest information about our favorite brands, celebrities, and publications.
However, we are aware by now that social media is a double-edged sword. We are sure you have experienced being stuck in your favorite social app, going through the infinite scroll. So, this new year's resolution is the best way to start spending less time on social media. The primary step to avoid spending too much time on social media is by being aware of how much time you spend, and you can check your screen time in your settings.
Once you are aware of the timing, ask yourself if you really want to spend all the valuable time scrolling away? Then put a cap on how much time you want to use a social media app, uninstall the app if you are addicted, and turn on greyscale on your screen an hour before you go to sleep. Most importantly, do not forget to turn off notifications on your apps because you really do not need a reminder every time someone likes an old picture of yours!
This can be the best New Year resolution idea for students since less time on social media equates to more time for productive things and time with family and friends. Also, studies have indicated that lesser time on social media equates to better mental health.
5. Take care of your body
Take care of your body; make it a priority in this New Year's resolution. Eat healthy foods and ensure that most of your meals contain lots of vegetables and fruits. A balanced diet helps combat diseases, including high depression, anxiety, blood pressure, several types of cancer, stroke, heart illness, and type 2 diabetes.
Avoid the consumption of tobacco, nicotine, vape products, and alcohol. Make 2021 a dry year, also work on quitting smoking (if you have the habit).
Most people think of exercise as something one does to lose weight, but it is much more than that. It is a way to keep yourself healthy and active, both physically and mentally. Hence, start exercise as much as you can. Choose whatever works for you, yoga or Zumba, gym, or a mix of it all.
Your mental health is as valuable as your physical one. The pandemic, lockdown, and everything has added to our stress. Take a few steps to decrease your body's stress response and by caring about yourself.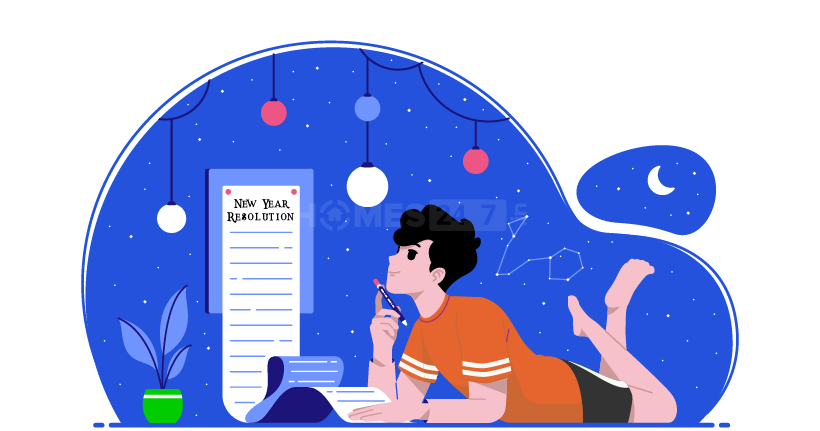 Hope our ideas for new year's resolutions were useful. But, it is easy to make a new year resolution, and we understand it is exceptionally hard to follow it! So below are a few tips for maintaining consistency in your New Year resolutions:
Start small, show up consistently, and compensate for it the next day if you miss one day.

Instead of choosing an ambiguous goal, focus on something very tangible and very realistic goal that is achievable.

If you achieve even a small goal, it can boost your confidence in yourself. For big goals, consider dividing them into manageable sections to work toward one thing at a time.

Formulate a detailed written plan that can help you stick to your goal and help you understand where you are failing and where you are doing well. Journal your growth to understand your change better.
Remember to be patient, positive, and flexible with yourself. Celebrate even the little progress that you make. As they say, It's not only the destination that matters, and the journey matters too.
Reinvent yourself with these ideas for New Year's resolution! Go, be the best version of yourself!
Curious about Grand La Casa Luxury Villa