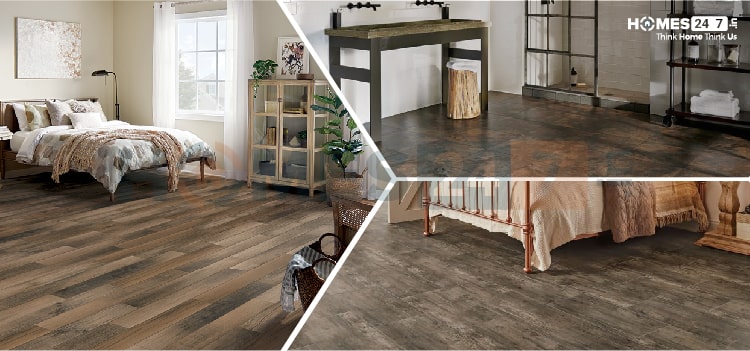 All about Wooden Flooring for your home
Date: 3-October,2020
Last Updated: 8-October,2020
Wooden flooring has now become an aesthetic and the dream of many home enthusiasts. It is as important as the other part of your home, and it not only elevates the look of your home but formulates a strong statement of your taste. Among all the types of flooring options, Wooden flooring is trendy and is famous for its functionality and feasibility.
Although many are apprehensive about the cost of installing wooden flooring in their homes, its benefits cannot be ignored.
Wooden flooring is perfect for anyone who is allergic to dust or pollen because it doesn't trap dust, pollutants and odour as carpets do.
With quality wooden flooring, You do not have to worry about environmental hazards like moulds or termites.
It is easy to maintain and you can still retain the shine by using normal means of cleaning; sweeping, vacuuming and mopping!
Wooden flooring is suitable for any decors and easily blends to any shape and size of homes. Many believe that it also makes the home look bigger.
One secret of wooden flooring is that it adds quality to your home or some kind of value because of the standard it holds in the market. Quality wood flooring only gets better and lustrous with time. Old is gold, right?
Another perk you can't miss is the fact that it serves to be an investment in the long run. Because of the ease in cleaning and maintenance, it rarely needs to be replaced.
Thinking of replenishing your floor? That can be done with simple sandpaper and seal.
The floor is the major part of your home, as mentioned earlier. It endures a lot of foot traffic, drinks spills, scratches and dents. So it's important to choose the right type of flooring. Even in this niche, there is a sea of options for different types of wooden flooring that it becomes highly essential for you to choose the correct type of wooden flooring. After all, it is an integral part of your home and a long term investment.
Types of Wooden Flooring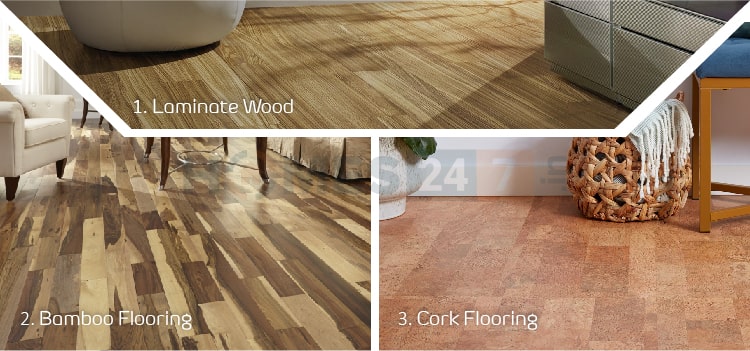 1. Laminate Wood for high traffic areas
Laminate wood is composed of layers of synthetic material that are compressed and can be given an impression of wood, stone or tile and are laminated as a protective covering.
This type of wooden flooring is suitable for high traffic areas like living rooms and playrooms and even a workplace. The flooring along with a complete set of wooden furniture brings out an extraordinary ethereal feel! Some products are also waterproof and can be installed in the kitchen and bathroom. It resists mould and bacteria, creating a safer environment for you to live or work.
| | |
| --- | --- |
| Pros | Cons |
| Easy installation | Difficult to repair |
| Cost-effective | Prone to constant moisture |
| Colour variations and patterns | Doesn't have an original look and feel of wood |
| Stable even in humid | Cannot be refinished |

If you're an environmentalist by heart and lives an organic lifestyle, bamboo flooring is one fine choice for you!
2. Go Green with Bamboo Flooring
Bamboo flooring is a type of wooden flooring that technically comes from grass stalks rather than the actual wood. It is sustainable because bamboo only takes a quarter of the time of hardwood trees to grow.
It is naturally resistant to moisture but cannot be recommended for use in bathrooms.
| | |
| --- | --- |
| Pros | Cons |
| Softer to stand on; noise reduction | Prone to scratches |
| Durable than oak flooring | The adhesive may contain chemicals |
| Resists dust and pollen | Not waterproof; floor may warp |
| Finesse look and DIY-friendly | Unsuitable for all decor |
3. Pet-friendly Cork Flooring
Cork flooring is microbial. This is one highlight for cork flooring as it is resistant to mould, allergens and development of bacteria.
It is less likely to receive scratches easily, and it also reduces noises. It is made of the bark of the cork oak tree and is eco-friendly along with being pet- friendly.
It is formed into sheets by hard compress and soldered with resins.
| | |
| --- | --- |
| Pros | Cons |
| Shockproof and suitable for foot traffic | Not as lasting as hardwood floors |
| Biodegradable | May curl and discolour |
| Good insulator for colder climate | Durability depends on the good subfloor |
| Can be refinished | Complex installation |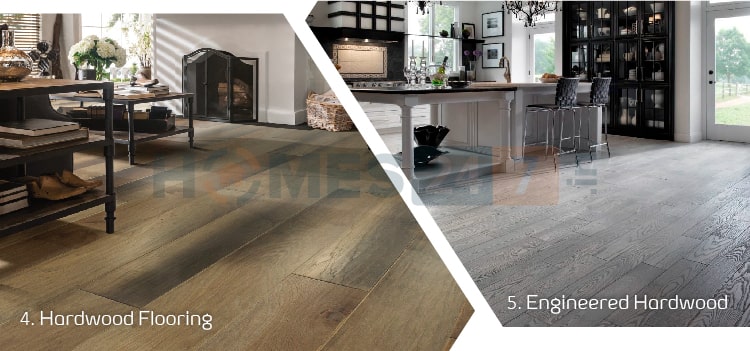 4. Hardwood Flooring for the Common Folk
Hardwood is the type of wooden flooring that is quite famously preferred in general. Oak, walnut, hickory, maple and cherry trees are furnished to make a solid hardwood floor.
It is high in demand because of its durability and can be refurbished several times. This type of wooden floor comes with a price because dealers take the quality of wood into account. The better the quality, the more benefits you can reap.
| | |
| --- | --- |
| Pros | Cons |
| Durable and attractive | Expensive |
| Perennial quality; does not go out of style | Complex installation |
| Comes with a protective layer | Amplify sounds |
| Add value to the home in the market | Susceptible to wear and will show wear |

5. Budget-Friendly Engineered Hardwood
If you want a type of wood flooring that retains an authentic and natural look of wood yet budget-friendly, then an Engineered hardwood flooring can be suitable for your choice because it is a layer of real wood and plywood. These planks are hard enough to handle foot traffic areas like living rooms, dining rooms, bedrooms and kitchens. It is also resistant to heat and moisture, therefore, will not warp or shrink.
| | |
| --- | --- |
| Pros | Cons |
| Moisture resistant than hardwood | Hard to install |
| Suitable for warm areas | Comparatively not scratch resistant |
| Cheaper than Hardwood flooring | Expensive than laminate flooring |
| Easier to clean | Hard to repair |

Tips for maintaining wooden flooring at home
Although there is a range of different types of wooden flooring, it is always good to take into account what your family needs. Quality is something you shouldn't compromise on and always look out for guaranteed products.
Weighing out the pros and cons, the durability depends on how well you maintain your wooden flooring. Here are some tips for maintaining the elegance of your wooden floor at home:
Clean drink spills immediately
Use furniture pads to prevent any scratches
Use wood floor cleaners
Do not use steam mops or wet mops
Vacuum the floor
Polish the floor once in two to three months
Do not drag heavy objects
Trim the nails of your pets
You can remove sticky debris with ice!