Looking for the best kids room designs?
If you are wondering how to make your children's room look really cute and exciting, you have come to the right page! There are indeed several kids room decoration ideas that every parent should know.
Every room at your house will mean something to you, it may give you some sort of a vibe or bring you special memories. It is really important to make your kid's rooms as spectacular and lovable as possible in a way that elevates their mood in the morning and calms their mood at night! Let's look at a few of the several simple yet unique kids room designs that your kid would love for his or her room.
While designing every kid's room, few elements can add up to the beauty of it and make it more lively!
Here are some ideas to bring out the best kids room designs:
It is very important to keep in mind to place things at a lower height in the kids' rooms. Right from the cot till the study table, make sure they are short and convenient for your kids to use. Placing things at a lower height will avoid your kids from breaking a lot of things or hurting themselves!
While thinking about kids room decoration ideas, remember to never use any sharp or pointed objects for the decoration. Always move towards choosing soft and delicate stuff that is fragile for your kid to use. Consider baby proofing your kids rooms for extra bit of safety.
Also remember to not place any fancy, breakable objects in their room. This will save you from fixing things up when they often tend to break items.
How to decorate your kid's room? The best kids room decoration ideas?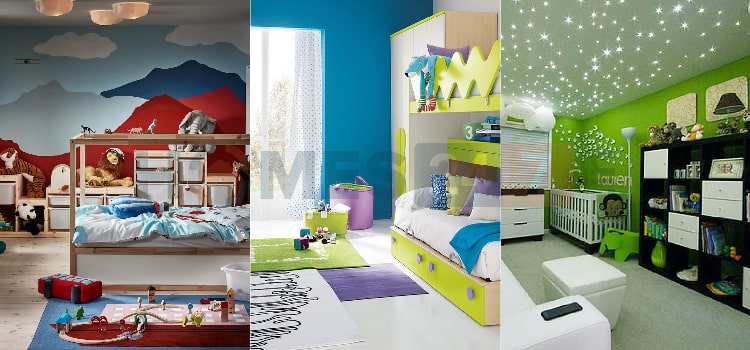 Colors and Paints:
Colors are all that children are fascinated about. While girls are passionate about colors like pink, purple, and green boys on the other hand love colors like black, red, and white. Add a splash of colors on the walls of your kid's room according to the colors they love.
The walls need not be necessarily painted! There are a lot of wallpapers based on many themes that your kids will love. Themed wallpapers of cartoon characters, animals, scenery, underwater world, and space are few in the list that can be used for kids room designs.
Wallpaper and Decals:
Nowadays there are a variety of wall decals for kids' rooms that are like temporary wall tattoos and wallpapers. This is one of the most popular kids room designs. They come in a range of colors and styles which are removable and easy to maintain. So, choose the ones your kids like and put them up on their walls.
Well, all kids' rooms should have a display space where they can put up all the art and craft that they have done. Setting up something like a magnetic board can encourage kids to do creative art and display them. You can also put up certain responsibilities or tasks that you would like your kid to do by the end of the day. This will help them become disciplined and smart.
Lights:
They are one important thing that falls under kids room decoration ideas. The lights in the kids' room decide the ambiance of that entire place. Make sure you put the correct light with appropriate brightness that is never too bright that hurts the eye or too dim to use them when kids are reading. Also, little and cute bed lamps can be mounted to help kids make their way to use the washrooms at night.
Explore Eco-Friendly lighting tips which will help to save electricity and environment!
While designing your kid's room, don't forget to add a short table and chair for them to do their work. A kid's room should have a workspace because kids come up with innumerable, creative ideas. They would love to try and execute them when they have a convenient workspace. A room with a study table and chair bring in an air of motivation to explore their talents. Especially foldable furniture, will do the trick! A neatly organized table with a comfortable chair is all that you need to get your kid to do his or her work and keep them engaged!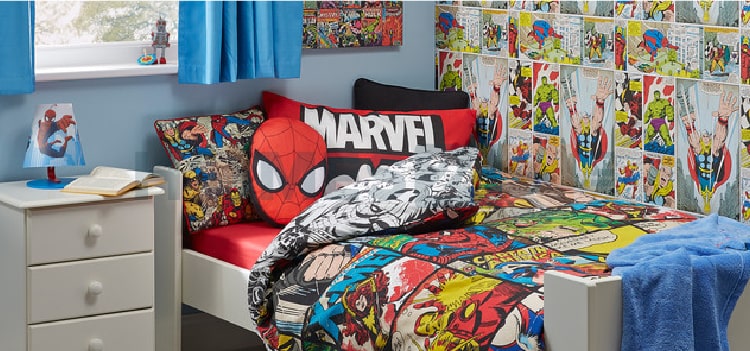 Boys bedroom ideas:
Boys are crazy about a few things from a very young age, aren't they? Cars, bikes, superheroes, and such things. Customizing your room based on such themes is one of the best kids room designs. Once you choose a particular theme that your boy loves, start changing all things suiting that theme. Paint your wall with those specific colors. Use bedspreads related to your theme. Get a few wall decors matching your theme and change the whole look!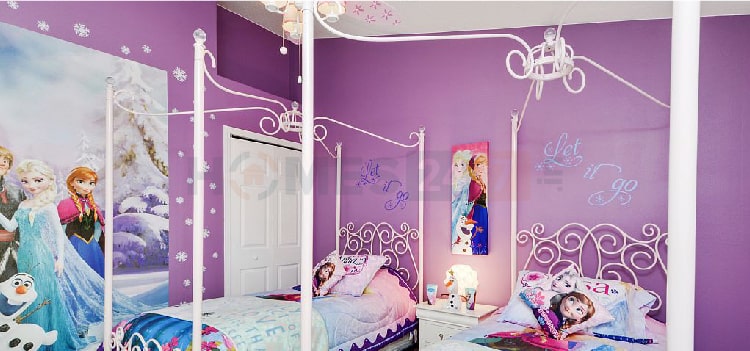 Baby Girl Room Decor:
If you want to design your little girl's room, you can personalize all things in her room. Add the most attractive colors on the walls. Add wall hangings and pictures. Use beautiful fairy lights that adorn the wall. Get pretty and creative wall art of fairies, barbies, and anything girls like, done on their walls.
While thinking of kids room decoration ideas, it is important to include all things your kid loves to have in his or her room. You can stick glow stickers in the room ceilings that glow in the dark. Little creative ideas like these will get your kids excited to sleep. You can decorate their rooms with bookshelves having books which have interesting covers. Add creative patterns by painting the walls according to their preferences. This stimulates their creativity. You can design your kid's room according to their aspirations.
There are also other kids room designs like - Space themes for aspiring astronauts, popstar themes for aspiring singers, and more. Add as many simple yet creative things like wall stickers and wall hangings which makes their room a happy place with a good vibe. Always allow your kids to do what they want. If they love to scribble on the walls, let them do it.
Use chalkboard paint to your walls and provide your kids their freedom. Constantly give a changeover for their rooms. Keep shifting furniture and changing their toys to give it a fresh look. A kid's room should be a space where they can learn a lot of things as well as enjoy and relax. Fit in all the necessary things in their room and give them the room they would love to spend time in!
There are many kids room designs and decoration ideas that can be followed as per your child's wish!