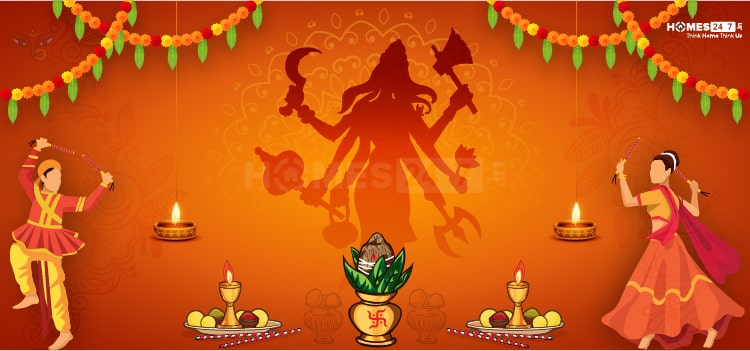 Top 10 Durga Puja Decoration Tips - Celebrate Durga Puja at Home
Date: 14-October,2020
Last Updated: 16-October,2020
With Navratri approaching, Durga pooja is on everyone's mind. Durga pooja decorations can be somewhat of a difficult task for most people during these testing times. So, we have gathered 10 Easy Durga Pooja Decoration Ideas for your Durga pooja at home.
Durga pooja is celebrated during the seventh month of the Hindu calendar and particularly celebrated in Bengal, Eastern Indian states. Durga Pooja celebrates the victory of the great Goddess Durga over the Asura king Mahishasura.
It starts on the same day as Navratri, a nine-night festival celebrating the divine Goddess.
Durga Pooja's first day is Mahalaya, which heralds the auspicious advent of the Goddess. The worship and celebration begin on Sasthi, the sixth day. During the next 3 days, the Goddess is worshipped in her various forms as Durga, Lakshmi and Sarasvati. The festivities end with Vijaya Dashami when amid chants and drumbeats, the idols are carried in huge processions to local rivers, where they are immersed.
So, without further ado, here are 10 easy Durga pooja decorations for your home this year:
1) Deepaks or Diyas: The most basic decoration that can be done, one that is quite easy to accomplish is using Deepaks. Little clay pots that hold oil with a cotton thread that sticks into the air. This cotton thread is lit to make a small light source. This little fire is believed to guard the house against evil spirits and provide warmth to those that dwell close. It also looks incredibly pretty in the dark.
2) Lanterns: This is a detour from a regular Deepak. Another amazing Durga pooja decoration using pre-made lanterns or DIY lanterns to act as intricate light sources just hanging around. Lanterns are quite easy to make, the directions for which are found all over the internet. This can develop into one addictive hobby. You have been warned!
3) Flowers: Durga pooja at home will not be complete without flowers. The use of flowers is in every aspect of the Hindu way of worship and devotion. From the beauty and unique fragrance, each flower brings to some even acting as disinfectants for water and air. Some of these flowers and plants can even bring luck according to Vastu Shastra. Flowers can cover Deepak and even be spread around central parts of the house. The lotus flower is the most important flower for the Bengali Durga Pooja.
4) Rangoli: No Durga pooja at home is completed with the art through rangoli. It is a traditional and addictive method of art practised very widely. Using different coloured powders to make complex characters and signatures from the Hindu lore. Many Durga pooja designs can be made, and some much simpler than others, all within a few practise sessions. Just make sure you do not celebrate Holi twice a year.
5) Decorations using Fabric: A more difficult decoration compared but with some thought can be the game-changer. Using already owned fabric materials, from curtains clothes to bed covers etc. can be used to match the colour of this festival. Give some orange here and some red there, make the place come to life with simple fabric decorations. The limit is your imagination.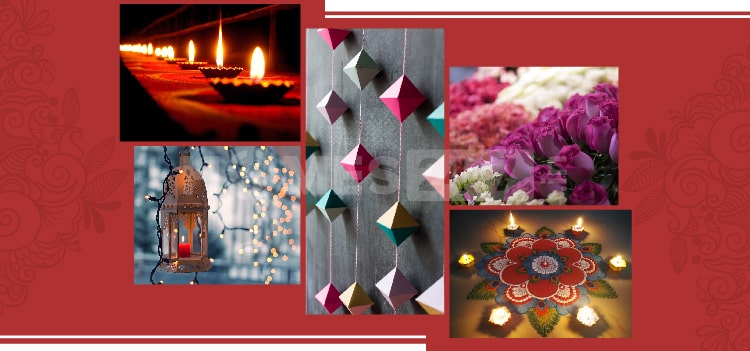 6) Paper DIY: Another addictive hobby, courtesy of paper. Durga pooja designs are quite fun and have various difficulty levels for those requiring that extra challenge. Colourful paper DIY decoration stuff is exciting to make, reusable & biodegradable. You can easily make wonderful creations out of paper like paper lanterns, pigeon door chimes, fans etc.
7) Balloons: Another simple Durga pooja decoration, some balloons around can make all the difference. This is a small decoration, quite a modern take on the traditional festival. This can be done in multiple ways. With marking larger sculptures using balloons to just simply hanging them around. The limit is the air and the amount its popped for fun. A good hint would be to follow a certain colour pattern.
8) Colourful pots: Durga pooja decoration must include this décor. A rather rare take on décor, the use of earth pots, mud vessels and other clay made materials. Make them look as eccentric as you want only if you use them in the right way. Earth pots can be used as containers for candles, flower, lantern, etc. Hand painting them with intricate designs, filled with flowers, coloured water, or to store the stuff required during Pooja. You can also use them as incense stands or candle holders.
9) Painting: Durga pooja at home can be made one of a kind with painting. Indian art has always been expressed during times of festivities. With unique styles of Indian painting in pooja rooms. These art forms are even practised extensively in religious places in honour of the deities and the heroic acts. This is also among the easier Durga pooja decorations in our list. This works well because of recent innovations; paints have become more accessible for people who are mere beginners.
10) Cleaning up the place: The biggest decoration that one can have is cleaning up the place. Often with these times, people can become very lethargic. So, the biggest decoration one can do cleaning the place up. From the nooks and corners to the open places and corridors. They say, 'a clean house is the nearest to hosting the gods.'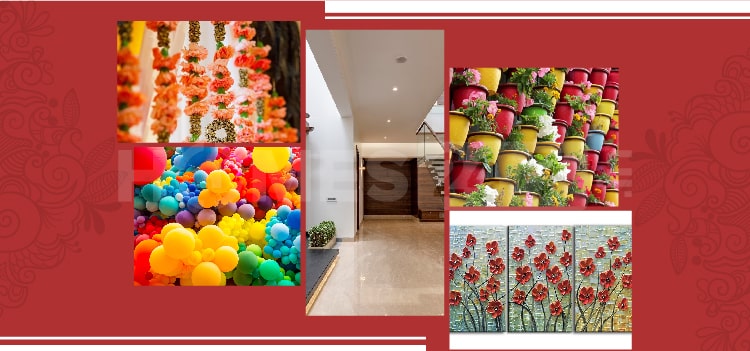 Durga pooja at home is a very auspicious festival, one that is looked forward to by everyone. Holidays, sweets and Dandiya night.
Durga pooja decorations are something that one should look forward too, they in their smaller ways create this amazing experience from inception to completion.
We wish this list helps you create that perfect set-up.