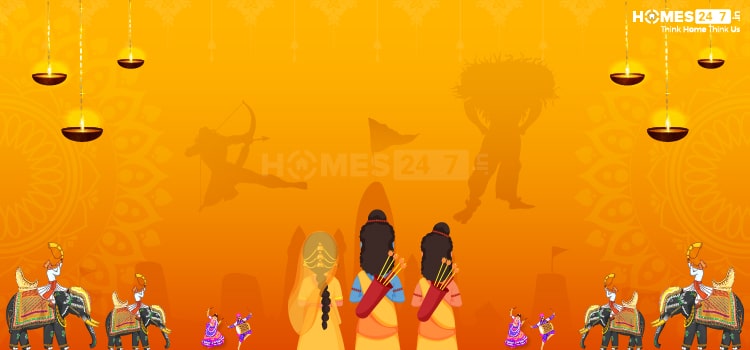 7 Best Dussehra Decoration ideas for your Home
Date: 10-October,2020
Last Updated:
Come Check out these Dussehra Decoration Ideas
Let us all bid adieu to iniquity that this very unfortunate 2020 has brought us and welcome the good and be hopeful for a much better and prosperous future ahead of this Dussehra!
Whichever part of the world you are presently rescinding at, whether you call it Dussehra or Dassara (North and South Indian Pronunciation respectively) a little hope is all we need to bring this rather inauspicious period the entire humankind is facing to an end. This can only happen if we stand united as one.
Whether you are a diligent Dussehra celebrator who always enjoys the annual Dasara doll decoration or you have decided to celebrate it this year for a change since all of you are at home during quarantine, we have some really exciting and unique Dussehra decoration ideas for you! Hopefully, you implement these ideas into your yearly celebrations henceforth.
1. De-Clutter The House De-Clutter The Mind!
Although this isn't a Dassara decoration idea per se, it is, in fact, the first step one must always take towards inviting positive vibes into the house, especially during any festival. It is said that your living space is a very well description of your mind within; therefore, a cluttered space means a cluttered head. It is also believed that spaces and objects in the room carry the energy and so to invite the positive energy and to get rid of the negative we must begin with de-cluttering the homes and finally getting rid of all those objects which do not belong in the house anymore; therefore, more room for the come up Dussehra Decoration Ideas we have for you.
2. To Fresh Green Beginnings!
This could be the paramount incorporation after decluttering your homes, is by adding in a bunch of fresh flowers in vases or maybe even place new pots with fresh indoor plants at all the empty space which is finally visible after getting rid of the old and unwanted things from home. Along with this, you can also one of the best Dussehra Decoration Ideas which will enhance the living space and bring in a lot of positive energy is by filling a large wide aesthetic bowl, preferably one made of either clear glass or terracotta with water and letting a few flowers float around on the surface. This idea will automatically give your home a refreshing feeling at the same time perfectly complement your neatly arranged Dasara doll decoration on a special day.
3. Light The Way To Goodness!
Although Diwali is known as THE festival of lights, why restrict it to just that? Keep your homes well lit with this Dassara Decoration Idea. Install LED lights and just like the classic way light some diyas in and around the house cause what better way to bring in the best fruitful vibes and into your house. With this Dussehra Decoration idea, there is no room for shadows in the house during this pleasurable time anymore. You could enhance your Dasara doll decoration stand with some flowers too!
Feel Free to Check up on Our Navratri Decoration Ideas as well!
4. Bliss of reusing!
Looking for a cool and classy Dussehra Decoration ideas to set up your perfect cozy spot which will leave all your family and friends speechless on a special day? This Dassara Decoration Idea will finally make you put your elegant vintage sarees to some use since the entire year it has been sitting in your wardrobe waiting to be draped. Use this to decorate your table where the pretty toys and dolls will be placed.
Complementing it with lights and flowers will enhance the beautiful saree even more. This will also help you save the time and money from looking for a nice piece of cloth for the same..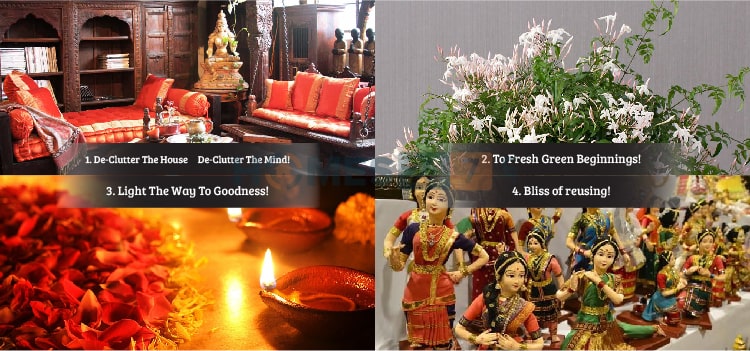 5. Luminous Levitate!
This Dussehra Decoration Idea can be used to light the hallways and enhance the dining table where the entire family will finally sit to have the deliciously cooked Navarathri feast. Simply fill your tall transparent wine glasses with water and fill it up with flowers and top it with a scented candle. Place the finished piece onto the dining table and watch how there is no room for shadows during this pleasant time with family. The scented candles will only add more coziness and freshness to wherever it is placed.
6. Assorted Dolls
Why stick to the plain old way of simply placing your dolls in rows? Get creative with your dassara doll arrangements ideas and make it appear fun and interesting to anyone who is looking at it. If you only have wooden dolls then creatively arrange them giving it a type of arrangement where the set up resembles a village setting. Get creative and make a miniature village with sand and twigs bring a minuscule world to life. If you have assorted dolls, then bring multiples words to life! With this Dassara Decoration Idea, you will make sure you make all your guests both young never take their eyes off the setup and look forward to coming back every year to see what you have up your sleeves this time.
7. Floral Path
Let the flowers lead the way with this Dassara Decoration ideas. Make every nook and corner of your house feel fresh and welcoming to all that's good to come! Decorate your entrance with drapes of floral garlands which can act as a lovely curtain and welcome family and friends as they enter your house. Wrap up your railings and grills with more flora and watch how refreshing the environment would feel and nothing but good will be welcomed this way.
Say goodbye to the tough and hard times 2020 has brought to us and lets together make way for a safe prosperous, healthy and purely blissful Dassara celebration and many more to come. Although the times may seem tough right now, a little hope this festive season will take us a long way.
So go ahead! This Dusshera makes way for more love and joy to come into your homes with these Dussehra Decoration Ideas.