Today we have come up with "Top 7 Onam decoration ideas for your home" for you!
Onam, a harvest festival rooting from the south of India, Kerala. India being culturally fluent, celebrates Onam festival at home in grandeur, irrespective of north or south.
'Thiruvonam' commonly called Onam commences by August and September every year. One can undoubtedly state that Onam is also the festival of flowers!
The spring in nature with beautiful blossoms greet you with a wide, warm smile! You could not fail to notice the significance of flowers amongst other Onam decoration items.
So, what are some of the others? Let us see some creative Onam decoration ideas to enhance the beauty of our space. Well, who does not like a little bounce of life and joy in arranging a beautiful setting at home?
Here you go!
Top 7 Onam decoration ideas and items:
1. Carpet of flowers: Pookalam
Most importantly, for Onam, you can decorate your front porch with a carpet of flowers. This can be done in many patterns and designs in the diameter of your choice.
You can scale it up with detailing if that's your choice! Cultural history calls out this gesture of making a flower carpet at home for welcoming king Mahabali home for abundant prosperity.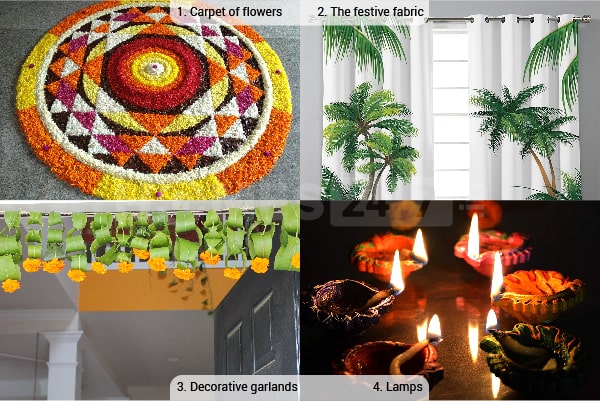 2. The festive fabric
Ever thought of adding some colours to your curtains? Onam season can be the right time to go with the trend! Maybe a mural painted Kathakali face print to showcase your innate interest in the traditional Kerala art form?
Both online and offline, there is a wide range of possibilities to make a choice from on these kinds of goodies! Onam themed window curtains, bedspread and sofa covers are gaining wide acceptance in the recent festival season!
3. Decorative garlands
Commonly termed 'thorans'. Flower garlands or mango leaves can be used for the purpose of decorating the main doors. To bring the zeal and spirit of Onam to your interiors, you can also adorn your windows and pillars at home with Onam festive decoration.
4. Lamps
Brighten your living space by throwing in some lights. As most people believe, lighted diya's help flood positivity into the house!
You can look out for options – Colourful scented candles, traditional lamps, plain fairy lights or contemporary chandeliers – Let your style speak! You can purchase these customized Onam decoration items in the market in ease. So, don't you fret!
5. Onam crafts
Why not indulge yourself in some artistic craft-making in the Onam season?
You can make tiger masks and elephant caparisons or 'Nettipattam' at home. The former to signify 'Pulikkali' (a folk art popularly termed tiger dance) and the latter to mark the gusto of elephant procession. Both of these are associated with the festivity of Onam.

Onam for Keralites is spelt synonymously with boat racing. So, if you can try making a boat craft in the Onam season, that would be wonderful!

You can also try making mini badges and brooches with an Onam theme. A traditional Kathakali themed brooch can go well with your Kerala Saree while adding style this Onam! This badge can also be used on your clutches if you are heading out to meet and greet your near ones during the celebrations!
If you can put your hands into making these crafts at home, that would be the best fit! You can decorate your wall shelves with these artefacts!
Well, you need not run out of ideas for the same. Online tutorials are available to aid you, just in case!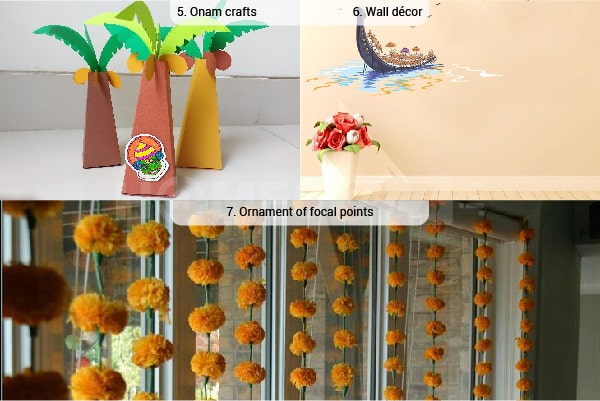 6. Wall décor
To soak yourselves in the vibrance of Onam, you can paint your walls with mandalas, designs or flower carpet patterns. Well, you can also hand down rely on painting a Kathakali face art in your living room on that account.
Onam synchronizes itself with robustness. So, make sure your wall palette has a pulse of life in it, to set the joy mood!
7. Ornament of focal points
Staircases, hallways and important corners of your house should not be left unattended. Make sure there is a statement piece that speaks volumes on Onam, in the focal points of your home.
You need not simply worry that it will cost you a big deal for the setup. You can spring up the exuberance while saving your pocket the same time. That is when you can rely on simple yet beautiful décor ideas like the arrangement of fresh flowers in a water bowl.
You can do the set up in the core area or centre of activity in your living rooms. You can also refer to Onam flower decoration ideas before you get into action!
Also, you can plug into some Onam songs and folk music to elevate the spirits! Why not play a cassette with traditional Onam pattu (music) in your house so that everybody can cheer to that?
Let it energize you while you cook the Onam delicacies and make flower carpets
So, that was a few pointers on Onam decoration ideas items and for you. With regard to all that is being said, there are also many other prospects for home décor that you can refer on!
While you take into confidence all the above-mentioned Onam decoration ideas, make sure you prep yourselves with a Kasavu dhoti or Kerala Saree and accessorize yourselves best to welcome Onam at home.
And very importantly, make room to cook and devour the mighty Sadhya or feast with a list of dishes! The Onam feast is famous for its own reasons, and we are sure it can leave your mouth's open and watering!
Generations that have witnessed Onam over the span say that very soon festivities like Onam will turn into a sweet nostalgia. But we are sure, the generations to come will not let go of their cultural roots, let not lose the spirits of celebrating a festival of joy like Onam!
Quoting Vladimir Nabokov, "Nostalgia in reverse, the longing for yet another strange land, grew especially strong in spring." Let the roots call you, spring beautify your days and vibes of Onam entice you
So that was some insights on Onam decoration ideas, and we hope this article on "Top 7 Onam decoration ideas for your home" prove useful to you!