The misty winter winds of December has finally brought us the spirit of the holidays. Look around, don't you feel the city slightly slowing down its pace? The scuttle and scurry of our everyday lives are taking us down to the memory lanes of those past Christmas promises' of fun, frolic, laughter, and love. A whole month filled with carols, gifts, and Secret Santas'. This is also the time for unleashing your innovative side with creative Christmas decoration ideas for your homes.
But with Christmas and New Year right around the corner its rather hard for working professionals to find enough time to bring about the Christmas charm to their homes. Then comes the lack of space as there's a limit to the decorations you can put inside an apartment and for those who own houses, you often end up with lesser props to decorate the entire space.
Next comes the question of spending, for most of the Christmas decorations turn more expensive as the days pass up to Eve.
But don't let these dishearten you, after all, it's Christmas. Before you blow off your Yule-tide spirit to show off your creative decoration skills or from hosting the best Christmas theme party ( or even better a "Themed Christmas party"), what if we told you that with a few simple decoration ideas you can bring the magic of the season into your home.
So whatever you want it to be, either to host an amazing Christmas theme party for your dear ones or to simply have an air of the season around, let us give you a few Christmas home decor ideas for you :
1. Placing the Christmas Lights:
From lighting up the candles in the old days to the contemporary fairy lights; illuminating your props such as the Christmas Tree has always been a Christmas tradition. It's impossible to imagine Christmas without the Lights, but that doesn't necessarily mean you have to fill up your home with scores of color bulbs and get trapped in a maze of wires in the process.
All you need are a few wires of Christmas lights and a few minutes to set the perfect mood for Christmas. Hang them along the edges of your picture frames or even around the frame of a mirror so that the lights reflected off their surface would double the effect and easily bring a Christmas theme.
With a few sets of Christmas lights and even fewer minutes, you can effortlessly decorate your home. Hanging the lights along with the picture frames and the mirrors is the easiest way to ensure that you get the desired effect with using as less as possible ( The frames and mirrors reflecting off the light would double the effect)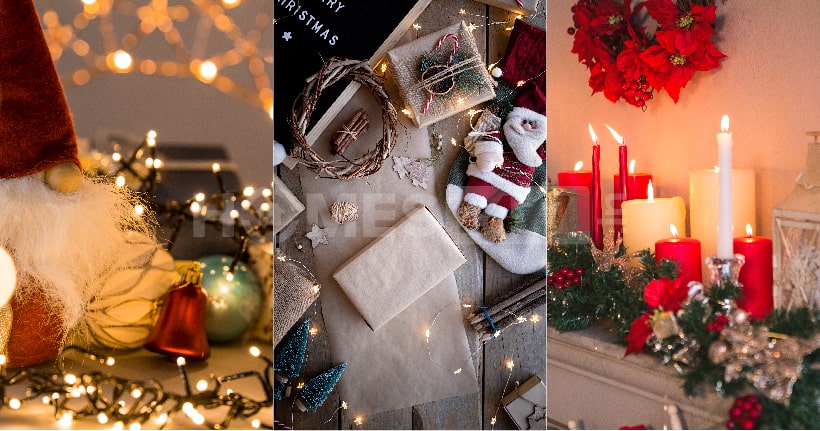 2. Crafting out Paper Decorations
This would be the cheapest and yet the most fun way to decorate your home for Christmas. It is one of the easiest Christmas decoration ideas you can try for your home. You can easily carve snowflakes out of color papers, just fold them down 2-4 times and cut out any random pattern within and 'presto' here's your custom snowflake.
Also, various kinds of bells, brooches, and wreaths can be made out of green and red colored paper. This can be a quick fun activity for the kids as well as adults. Handmade Christmas decorations also have an added benefit, for it gives you a sense of artistic or creative satisfaction since you have made it with your own hands.Hang the decorations outside the door or up in the ceiling for the effect you desire.
3. Christmas Colors and Candles
The tone of Christmas season has always been ruled over by four colors- Red, Green, White, and Gold. Red stands for the blood of Christ, Green for Salvation, Gold for Nobility and White for purity. Once you understand the general idea, then decorating your home for Christmas is a piece of cake (speaking of cakes, we'll get on it later this post).
Using everyday items or Christmas props of these same colors can easily bring on the mood of the season. Covering your beds, sofas, tabletops, and chairs with these colors would be the first step.
Candles have always been a part of Christmas. Lighting them on top of mantles, as centerpieces on tables or on the base of closed windows would help you get a genuine Christmasy feel. Setting the candles on glass bottles or lanterns would give them an old school charm and is one of the easiest Christmas decoration ideas you can try out.
4. Rethinking the Christmas Tree!
There's an old unspoken rule which says that "You can't celebrate Christmas without a Christmas tree" but whoever said that you have to follow the norm and choose between sawn-off pine or a dust-covered fake plastic one (which might've been handed down to you by your parents!). Just beat the norm with some creative christmas trees like these:
" Photo Christmas Tree" made with the photos of your family or friends by stacking them up in pyramidal style.
Christmas tree made of fairy lights hung up like a pine tree. Just arrange the lights in the shape of a pine tree on the wall. It would save up some space and your money.
Reusable Christmas Tree Wall Decor/Decal – The ultimate space saver ever!
These are but a few among the thousands of Christmas tree ideas, if you let your imagination run wild you can surely bring out, even more, creative Christmas tree ideas.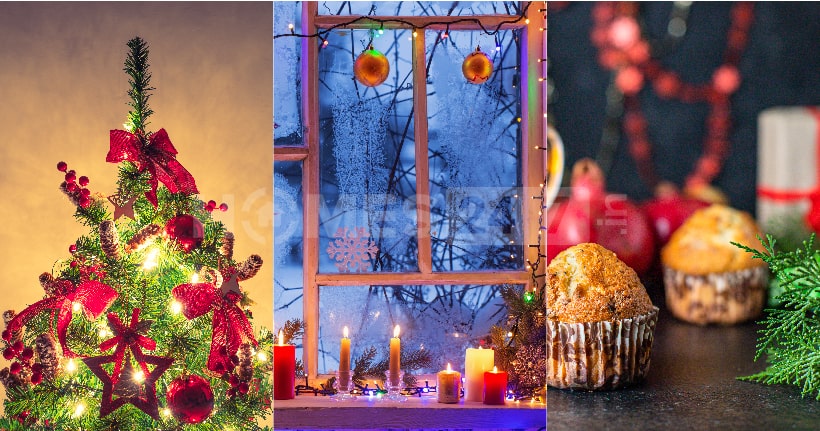 5. Christmas Decorations on the Doors, Windows, and Balconies
Doors, Windows, and Balconies are the three sweet spots that can gather the most attention during a party. Doors and windows can be seen from both sides and balconies attract the attention of the passersby.
The rails of the windows and balcony can be decorated with a few strands of Christmas lights. You can even add a few bells or trinkets on the window panes. The doors can be decorated with a wreath, brooch or a"Merry Christmas" board which you can easily make yourself with a few low-cost materials.
6. Cakes and Snacks
Cakes are yet another unavoidable part of Christmas. Food and Drinks are always the first concern of every party host, so when its a Christmas party how in the world can you skip the Christmas Cake? Besides they also work as great Christmas decorations too!
Cakes, chocolate darts, and candy canes all form another side of Christmas celebrations hence they too should be decorated according to the season. For those with poor cooking skills (well that makes most of us!), it can be a drag but there are quite a few easy ways to decorate them without making things worse.
Use of the colors red and white is the easiest way through which we can decorate a cake for Christmas. Using the same colors for creating a reindeer, a face of Santa or a Christmas tree are the easiset Christmas Cake Designs you can do on your own.
After buying a cake or baking one of your own even, you can decorate them with fruits like Strawberries and nuts and adding ribbons and trinkets( if they are edible, then all the merrier) will be an effortless task.
Decorating the platter on which they are served in the shape of a Christmas gift (again with ribbons) would surely make the guests come to the mood...
Well after decorating your home, it's time to throw the party! However, before calling up your colleagues and friends, you might consider adding a theme. Well along with our Christmas Home Decor Ideas it will be a breeze for you to host a party.
Well as a bonus, here are some of the best Christmas party themes :-
a) The Masquerade
The easiest and cheapest way to dress up: put on a mask! Most of the attention is diverted to the mask which means that you can dress up in whatever attire that seems fit for the theme. It is also said that a Mask helps us to open up to strangers, well imagine what would happen if you throw in a couple of drinks as well. The result: the Best Party Ever!
b) Game Night
As simple as it sounds, add as many indoor games as you can. Games like Bingo, Dumb Charades, foozball, pool or even arcade video games are proven to make even the most hardcore introverts to charge up. These games would lead up to several amazing interactions between the people who are gathered and the fun starts on its own.
c) A Movie Marathon
This might prove a bit hard to host and often entails a close group but the result is worth it. Try to get flicks or series that are the most popular among your buddies and add in the Christmas flavor with Cakes and snacks.
Well, then what are you waiting for?
With these Christmas decoration ideas you can easily transform your home into a christmas wonderland! Call up your friends, surprise them with your Christmas decoration skills and throw them the best Christmas theme Party !!!
And
We wish you a Merry Christmas!