Brain Games for Adults
Humans play numerous sports and games, and the games serve a lot of purposes. Some of them include an increase in physical strength, fitness, and just the fun of playing it.
However, certain games help us condition our brains to be sharper and better. They are called Brain Games. Playing these games can make our brain sharper because it improves virtues like memory retention, undivided attention, abstraction, and word memory.
Here's the list of Brain Games Online and Offline that are curated after strenuous research. They are as follows:
Online Brain Games:
Luminosity
Circles
Elevate
Clockwork Brain
Brainwell
Offline Brain Games:
Sudoku
Chess
Jigsaw Puzzle
Crossword Puzzle
Scrabble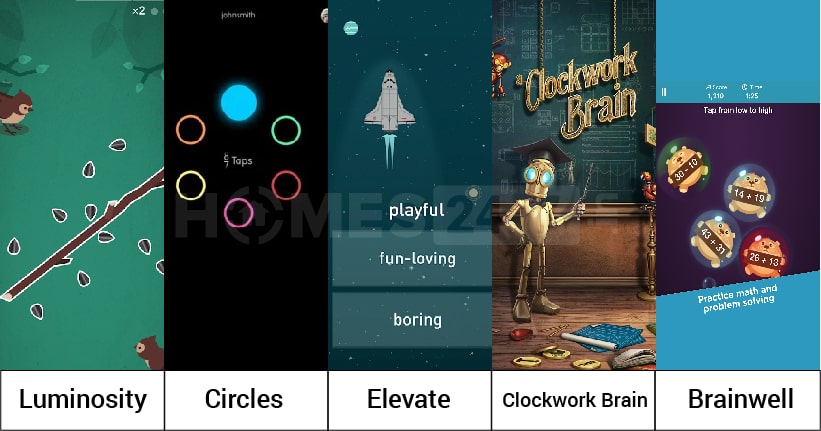 Details about the Online Brain Games are as follows:
Luminosity is one of the leading Brain Game apps that is used by 100 million people from around the world. Scientists work behind this app, where They take cognitive training activities developed by leading researchers and, after vigorous study, they are adapted into easy to learn brain games.
Luminosity games claim to sharpen memory, mental flexibility, processing speed, attention, and problem-solving skills. They also promise daily exercise for your brain.
This app has been in the market for over ten years, and they offer apps in both android and ios. They also offer a desktop version.
Circles is a unique, simplistic, and intuitive brain game for adults. It is a minimalist brain game app by Snowman. This game carries a single exercise in an uncluttered performance while offering compelling effects on your short and long-term memory.
The game challenges you to watch a series of numerous colored lights and atmospheric music. It then requires you to repeat the order in which it is played. It supports multiplayer, and hence you can play it with friends, which makes it more interesting.
It has more than 90 levels, extra challenges, and four different models for re-playable modes. A part of the returns from this game is funded for Alzheimer's research.
Elevate is always among the top list of brain games online because it's arrangement revolves around listening, reading, and writing. Elevate was awarded by Apple in 2014 as the App of the Year.
Elevate also provides a handy workout schedule to track your progress and tracks your performance in detail. This brain game has over 30 cognitive games that are fun and exciting. Nonetheless, all the information provided will be relevant enough to help you track and make tangible progress.
It is also quick enough to play on a lunch break or while waiting for someone. Games become faster and more difficult as the user becomes more adaptive to the platform.
Clock work brain is not actually a game. It is a set of challenging brain games, each individually designed to improve memory, concentration, dexterity, reasoning, and language.
Each mini-game comprises four activities picked at random. The players work to answer as many problems rightly as possible within a set time limit. The better you play, the more challenging the game becomes.
You can earn in-game currency to unlock extra activities and other benefits, or you can pay real money to unlock as well. Clock work brain is an adaptive difficulty game available on the Apple store, Google play store for Android and Microsoft store.
Brainwell is a brain gaming app that helps in problem-solving, decision-making, memory, attention, visual skills, and language, like most other brain game apps. This also provides daily exercise regimens, comprehensive progress reports, fun and exciting brain games.
What makes Brainwell unique is that it lets you challenge your friends, share each other's scores, and check out how they perform in the competition. Also, it has more than 50 games designed with the knowledge of neuroscience that are challenging exercises for the mind.
Brainwell is a brain game for kids as well as adults. It is available for free on both Apple and Android platforms.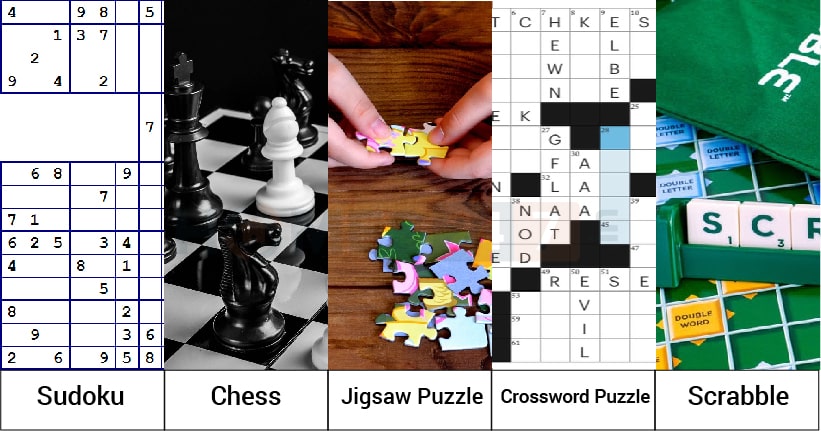 And, here's the details of offline Brain Games:
Sudoku is a very popular and widely played numbers game in which the players have to fill every blank box in a puzzle based on definite rules. The rules are simple and straightforward without any surprising pitfalls.
Sudoku demands a high level of concentration while playing. It needs logical thinking, and an interruption can mean breaking the chain of thoughts. This alone improves one's concentration.
The requirement to engage in logical thinking to fill the grid accurately and the process of trial and error applied will naturally help develop problem-solving skills. Like physical exercise can boost productivity, brain exercises can boost productivity too. You can play sudoku online as well.
Chess is a globally played board game, and most of us are aware that it is also a board game since it requires extreme concentration.
Playing Chess has a broader impact on the development of personality than just the brain. Besides, Chess is an excellent educational tool, it develops creativity, and with decision-making, it also teaches that there are always consequences for every decision we make.
Chess helps in becoming a better planner with the strategies that are required to win the game. Chess also prepares people for both win and loss. As mentioned earlier, Chess has a broader impact on personality development by helping people see things from different perspectives.
There is always a feeling of achievement attached to it, putting the final piece on the jigsaw puzzle. From little children, young adults to older people, the jigsaw puzzle game is something everyone finds intriguing.
Deciphering jigsaw puzzles is considered a comprehensive brain exercise because it exercises both the right and left sides. Doing jigsaw puzzles also improves our visual-spatial reasoning.
Doing jigsaw puzzles regularly can enhance our ability to provide greater attention to details. Jigsaw Puzzles require us to note small details that can help us in numerous other aspects of our lives. Some research studies have proven that spending about twenty minutes a day doing jigsaw puzzles can raise IQ levels.
A crossword puzzle is a puzzle game that consists of a grid with letters and blanks inside which words pass vertically and horizontally that are written according to given clues. Involving yourself in crossword puzzles heightens your logical and cognitive skills.
Crossword puzzles contribute to the advancement of memory, attention skills and improve fluency since it is a brilliant way to enhance your vocabulary. Because through crosswords, there are always new words to learn.
If you solve crossword puzzles regularly, you are involved in brain tasks that improve your memory skills for the long term, which can prevent you from diseases such as Dementia.
Scrabble is a board and tile game that is similar to the crossword puzzle. In Scrabble, two to four players compete in forming words with the lettered tiles while each tile carries a different score. And, the words spelled out by tiles interlock like words in a crossword puzzle. Playing Scrabble is sometimes described as playing a crossword puzzle in reverse.
Playing Scrabble is among the best ways to develop your vocabulary. It also enhances focus and strategic thinking. Playing scrabble regularly can help you develop a sharp ability to find the anagrams amidst a jumble of letters.
Scrabble helps develop word-derivation skills to such an extent that some people have applied completed Scrabble games to design crossword puzzles.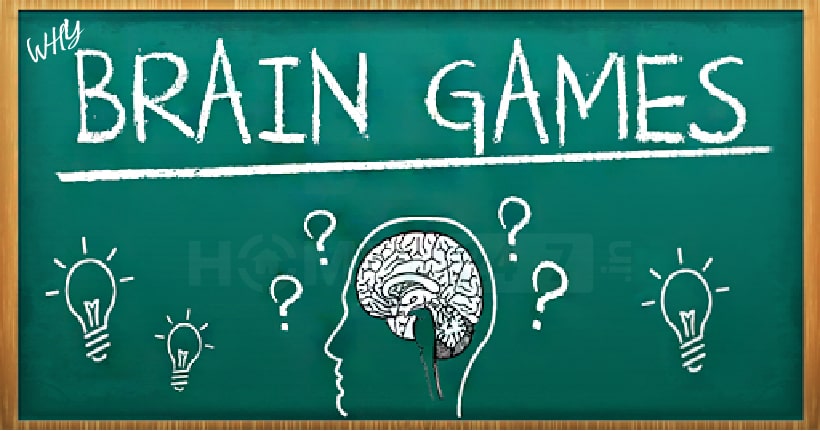 Why play Brain Games?
Brain games engage the brain intellectually and facilitate a feeling of well-being, fulfilment, and achievement. Brain games function as brain exercises. These games are fun to play, as well. Improving the core cognitive skills with the help of brain games can have a broader impact on mental agility.
Studies have been continuously stacking evidence that brain games can sharpen specific cognitive skills that tend to decline with age, such as processing rate, short-term recollection, planning abilities, decision-making, and response time.
Memory games enhance memory capacity, reasoning games enhance reasoning, and decision-making games help make better decisions. Hence, there will be a general enhancement in cognitive performance if one plays brain games regularly.
The idea that Brain Games improves cognitive ability is based on clear evidence backed by science that living in an enriched environment with loads of cerebral stimulation provides positive brain changes.
Moreover, numerous distinguished neuroscientists, in recent times, have assisted the designers of the largest brain games on the market.
Also, there is an enormous potential for tapping into the brain's capability to transform itself by remodelling nerve cell connections after an experience.
So, try out these Brain games online and offline. Also, click here to check out how to keep your body healthy.