Many of us do not have large balconies, but that does not mean it cannot be beautiful. We have come up with a collection of small balcony decoration ideas to give you a DIY balcony decor list for making your place look charming.
We will give you our top 5 ideas that you must try during this lockdown to make your home that much more special and resemble your beautiful self. Without further ado, here are the 5 ideas for small balcony decoration.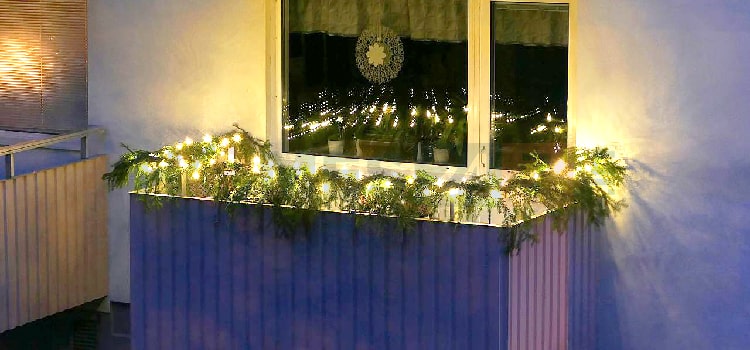 1. Light up the sky:
Well, the best way to change anything, just add lights to it. It is a pretty simple idea, one that is followed for its simplicity and merit. Just imagine a Diwali without any of these balcony hangings around anywhere. You cannot, can you? Just follow that, take a few LED fairy lights, and light up the place.
From wall designs that resemble wings, a cigar, or even the landscape, just a few DIY balcony decor lighting ideas that you could try to lighten the ambiance. These lights can also help you set the mood for certain events, and what better time than during lockdown?
Speaking about Lights, Did you know that you can go green by adding eco-friendly lighting solutions to your home! Explore Now!
2. The modern way:
Let's face it. We are moving into an age where simplicity and minimalist style are considered a symbol of class and character. With essential and functional designs that can act often turn heads in the place. From foldable tables and balcony walls to pop out mini grills that can be installed in the tiniest of spaces can be a part of your modern balcony design.
This works well with small balcony decoration ideas because you can make character and class through the littlest things available to add beauty. It even saves you a buck or two, sounds perfect for those who want to show off but with what they already have.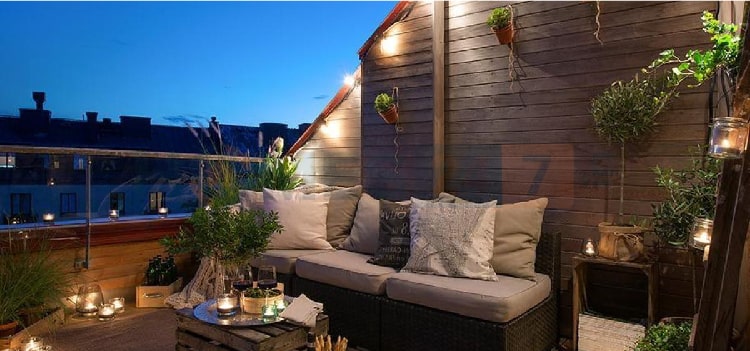 3. Go green:
This is a no brainer and one of the most common ideas practiced throughout. Maintaining a small garden in your balcony can also be a very recreational activity. It has proven to improve patience, help manage stress & anger management, and create a happy environment. From growing plants from the beginning to buying already grown plants, apartment balcony garden ideas vary from person to person.
There are many types of plants that can be grown inside our homes! Explore the Different Types of Indoor Plants!
Ultimately, its how you see this small balcony decoration idea and are willing to work towards it. Given life in your Home Is something that makes the place just be a little more appealing, giving it a natural feeling and is a must consider for all your folks out there.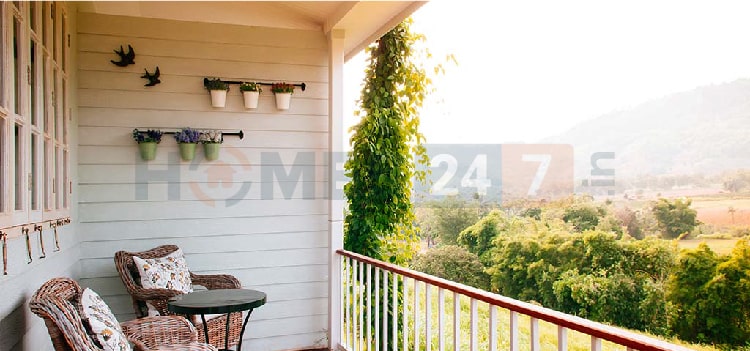 4. Cover, cover, and cover it up:
Paint or wallpapers are among the best balcony wall designs ideas out there. Simple, fun, and easy to do. It can also be like your own DIY balcony décor. Getting creative can often liven the place up. This is especially easier with smaller balconies. There is not much to work with, so it can be a relatively cheaper idea. With millions of videos online and a lot of time left spare during corona, pick up a bucket and go to town.
Among the better balcony decoration hacks, paining or using wallpaper can also help freshen the place and get rid of old paint. This can also be coupled with a GO GREEN mentality by using eco-friendly products to be just a little more fabulous.
5. The Vastu Life:
A more traditional way of looking at things, Vastu is the science of order. Vastu for Home is an order that needs to be followed around all material things in the house. From door, chairs, and windows to clocks, mirrors, and even plants. Vastu for Balcony tells that the roof of the balcony should slope only to the North East and Flowerpots in the South West! From wealth to family, relations can positively be influenced just by following Vastu.These are among the few small balcony decoration ideas, according to Vastu, that you can try to increase the prosperity and happiness in and around you.
These 5 DIY balcony decor tips can be taken as a project in your balcony to make it look the best there is. These small balcony decoration ideas are just the start down a long road of creativity. The limit here, well, there is no limit. So go nuts and have fun.