Why do modern wallpaper ideas continue to influence contemporary interior decor so much?
Can a simple wallpaper become the ultimate tool to design your home?
Gone are the days when the wallpaper was considered a piece of paper used to conceal patches and scratches. It has emerged to be an affordable accessory that brings out the best in every room. A gamut of designs is available. With a little imagination and thinking, a lot can be done with this thick, colourful strip of paper.
A muted look can be achieved by using wallpapers in single colors. Meanwhile, bright, colourful wallpapers can add drama to your room and transform the mood.
Cartoon wallpapers can add fun elements to a child's room while a 3D wallpaper can add optical illusions to a room.
A wallpaper can offer an extensive range of textures, designs, and finishes and is easy to change. It is durable and can last up to 15 years. It's ideal for highly usable areas in a house.
Accent walls can be created by using wallpapers with colourful and bold motifs, vintage patterns, plastic-coated wallpapers to fabric wallpapers to design your home. The variety is endless, and one can let their imagination run wild with this piece of accessory. Just make sure that you go for a removable wallpaper so that you can easily replace it with a new one if you get bored with the design.
From simple to nature-inspired to eclectic designs, let's take a look at the wallpaper designs you can choose from, to add drama and glamour to the room.
6 Types of Modern Wallpaper Ideas for Living Room: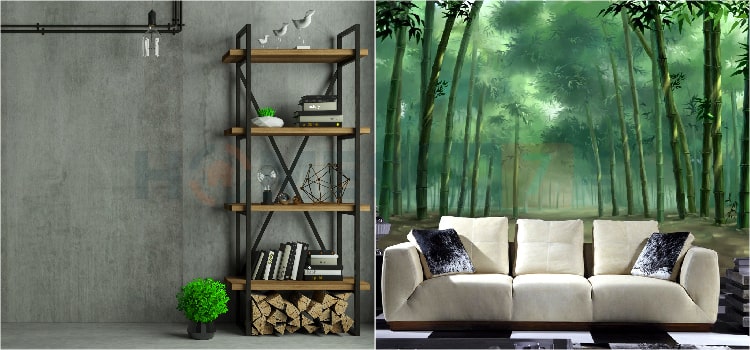 1. Bold Wallpaper
A colourful and bold wallpaper can add a splash of youth and cheer to your room. Bold wallpapers are available in bright colours like purple, orange, red, to name a few. It can focus your entire attention on itself and make a beautiful living room wallpaper or bedroom wallpaper. The trends are changing. People are opting to use it in the bathroom and kitchens, as these wallpapers create an inexpensive illusionary effect.
These bold wallpaper designs will go well with Home Office Designs! Explore how to create your Own Home Office Now!
2.Nature Wallpaper
For those nature lovers, a nature-inspired simple wallpaper is a perfect answer to your decoration needs. A beautiful display of flowers, greenery, animals, birds, or even aquatic life can bring about fervent ardency into your room. It can be uplifting for dull interiors and lend cheerfulness and enthusiasm to a room. Modern Wallpaper Ideas like "Textured wallpapers" with a nature-inspired theme is another popular option that will give an earthy touch to the room.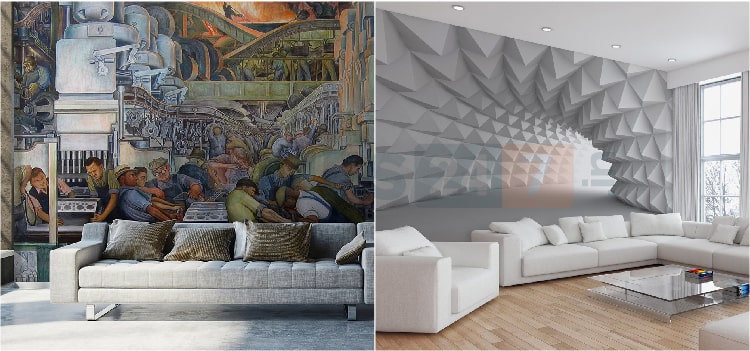 3.Culturally Inspired Wallpaper
A wallpaper depicting the rich cultural and architectural heritage can create wonderment in the room. One can choose from natural heritage like the royal Bengal tiger or architectural marvels of India like the Taj Mahal. One can also choose from quaint artwork like Mughal paintings or the panorama of cities like Varanasi to transform their dull walls into a picturesque eye-catching space. Such modern wallpaper ideas will be suitable for a living room wallpaper or a bedroom wallpaper.
4. 3D wallpaper
A three-dimensional wallpaper is an excellent choice for people who want to add illusionary bits to the room to create an edgy effect. Such textured wallpapers can be used for living rooms and bedrooms, and with a selective choice of colours, one can add a contrasting feature to the room. You can opt for bright and colourful collectibles and furniture in shades of oranges and reds to add vividness to the room.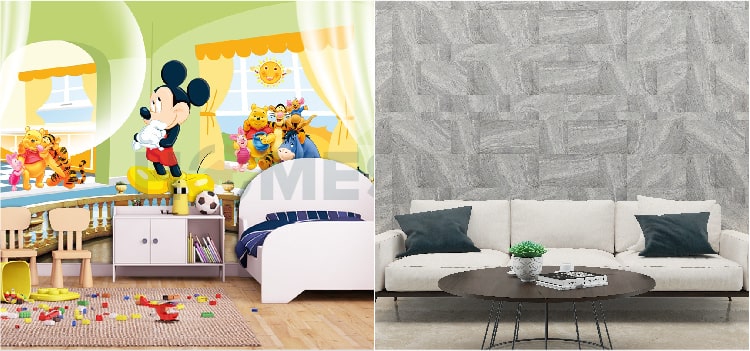 5. Kids Wallpapers
Baby room wallpapers or kids wallpapers can either be themed on their favourite cartoon characters or can be in bright solid colours. For younger children, it would be ideal to use wallpapers in muted colours. In contrast, for older kids, wallpaper designs that will familiarize them with stories and virtual lives is a wonderful choice. Thus, you can pair modern wallpaper designs with furniture in bright colours and pieces that create drama to bring out an evocative effect in the room.
6.Simple wallpaper
Simple designer wallpapers can be mixed and matched to create sophistication and contrast in a dull room. Such wallpaper in brighter colours can add contrast to soothing wallpapers while a luxurious wallpaper in gold, silver, or bronze detailing can lend a regal charm to a room.
A wallpaper comes at a premium upfront cost, and its installation charge is higher in comparison to paints. With increasing demand, a plethora of options is available in a wide range of colours and shades. Wallpapers can create intricate and textured effects and can be used in areas of the home with a lot of activity. It is easy to change if you're using peel and stick pieces with easy installation methods. It can cover damaged walls with little preparation and doesn't create odour or stain issues after it's usage.
There are many other ways other than wallpapers to adorn your living room. Explore modern living room designs now!
Before deciding on the wallpaper, you intend to use, make sure that you choose on your budget and have thought about the design you intend to get with the use of wallpapers. Thus with these modern wallpaper ideas and adding a simple wallpaper, you can transform your wall into a fine piece of art.