Diwali is around the corner. The excitement is growing by the day, so is the mood setting in to prepare the house for Diwali, this season. One of the best features about the grand festivities is the anticipation and the enthusiasm, and the creative decoration ideas that will beautify our home. Decorating the house for Diwali is a time when the family gets together in good spirits to spread positive vibes and energy. The process of decorating the house begins with the annual cleaning ritual which is also the most important step before one begins to get on with the Diwali decorations. It doesn't make much sense to loosen the strings of your purse to beautify your home for a few days during the festive season.
Here are nine simple and inexpensive tips to add colour and lights to your home as you welcome Goddess Laxmi with grandeur and celebration this Diwali.
Creative Decoration Ideas for Diwali Celebration
1) Clean House
It all begins with the cleaning of the house. You may either avail the services of a professional cleaner or do it yourself. Start with the basic cleaning from the kitchen to bedroom to the living area. Discard all newspapers, magazines and every other clutter that can take up space in your house. Make sure to get rid of the cobwebs and other dust mites that have cluttered the house. Use colourful upholstery and cushion covers that will stand out and add colours to your house. Also ensure that the walls are cleaned if you have painted them with a washable paint. If you want to indulge in an yearly painting ritual, make sure that you do it much before the festival arrives, to have enough and more time to clean up the place. Get rid of the smell of paints before the onset of Diwali by using home fragrances and allowing the rooms to receive ventilation and sunlight.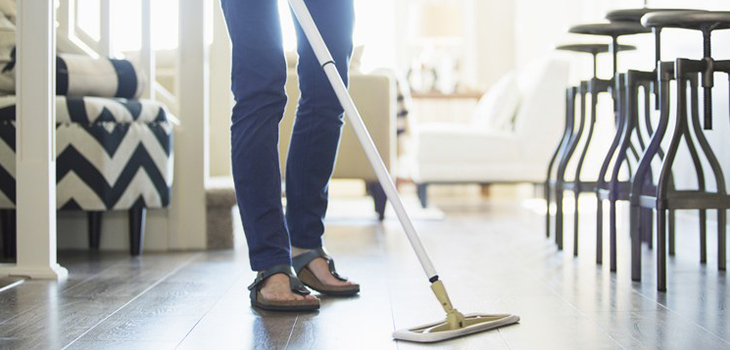 2) Earthern Diyas
Diyas are synonymous with Diwali and make for quaint decorations that will stand apart. You can use them to add rustic elements to your decorations by floating them in a large decorative basin of water and flowers or using them alongside rangoli designs. You can use acrylic paints and affix decorative materials to make your diyas stand out. Craft materials like small mirrors and colourful stick ons add colourful elements to the diyas.
You can make diyas using the materials available around your house. For example, wheat flour can be used to make some hand made eco-friendly diyas. Add enough water to the wheat flour and let it rest for ten minutes. Use wads of cotton to make wicks. Once the dough has rested and seems hard enough to get moulded into diyas, use them to make differently shaped diyas and use natural eco-friendly paint to decorate them. Fill these diyas with wax and let them set in. And there you have it, your very own hand made diyas! Make sure that you make these diyas on the same day that you plan to use them so that they look new and last for a while. Such creative decoration ideas are eco-friendly and easy on the pocket.
3) Decorative Lanterns
You can opt for sophisticated lanterns to add brightness to your Diwali decorations or make yours at home paper or glass bottles.The simplest way to make a pretty lantern is to grab an empty box and decorate it with prints and patterns carving a hole for a diya to shine through.
You can also opt for big bottles with wide necks that are huge enough so that a big enough to push a lamp or a string of fairy light through it, and paint it with metallic colours. These contemporary lighting ideas will add brilliance and radiance to your creative decoration ideas.
4) Simple Floral Decoration
Another indispensable element of Diwali is flowers. Flowers can be used in a variety of ways – be it long string to form wall curtains, as well as in so many other ways. Make paper flowers if you are unable to find natural flowers in your location. Flowers can also be used to decorate pieces of furniture like the edges of doors and windows or furniture. Add ribbons to flower garlands like roses to make them look dainty. You can also make your own torans out of marigold flowers and leaves to decorate the doors and windows of your house.
5) Beautiful Rangoli
Rangolis whether made of flowers or colours will add a dainty detailing to your Diwali decor. If you haven't been able to buy Rangoli colours from the market, you can use the spices from your kitchen to make a colourful rangoli at home. Grind the spices and use them as per the colours that are needed. You can use flower petals to create a rangoli which will look cheerful and colourful. Such concepts that use natural products won't be harmful for the environment and would add new dimensions to your creative decorations ideas for Diwali.
6) Fairy Lights
Fairy lights are easy on the pocket, but the variety of colours they display makes them an attractive decoration piece. A couple of strings hung on the front doors, windows and the porch will dress your house for the festival. You can use these strings of lights more innovatively by using them around the pieces that you have used to decorate your home for Diwali. Use battery operated lights so that you are spared of hunting for the sockets in the last moment. Fairy lights are available in a variety of colours and as per your budget and can add lustre to your creative decoration ideas.
7) Crepe Paper Decorations
The decorative pieces that can be created using craft paper and old newspapers can not be underestimated. A wide range of paper crafts can be created using craft paper like paper mache, origami, quilling and others. These creative decoration ideas can unite the whole family in a fun filled activity, thus strengthening bonds and spreading cheer. It'll allow your creative juices to flow and at the same time allow your family to decorate the house and grow the spirit of togetherness.
8) Mason Jars as Decorative Lanterns
Mason jars are quite popular nowadays not just because of their functionality but also because of their sizes and colours. You can use paints to colour these jars and use diyas or tea lights to make lanterns. Once you are done with the festivities, you can use these mason jars to store items in the kitchen or use them on your decorative shelves.
9) Home Mandir Decoration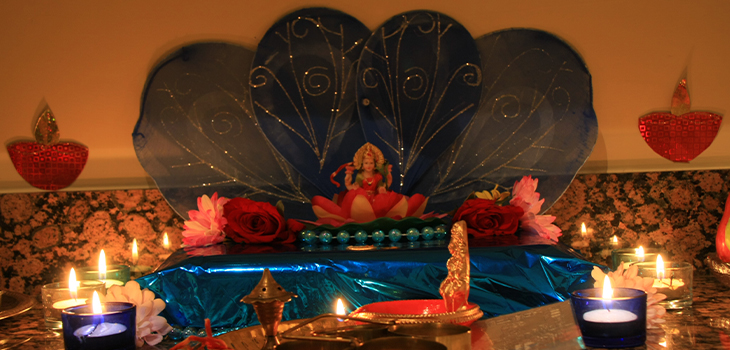 Give your pooja room or pooja area a contemporary and fresh look by adding strings of fairy lights around the doors, windows and the idols and the pictures of Gods. These creative decoration ideas will add brilliance to your home mandir. Do not forget the fresh flowers and also make sure that your lamps are polished before the arrival of Goddess Laxmi. Put new wicks in the lamps and fill it with fresh oil.
Use a speaker to play devotional music or soothing chants in the pooja room to enhance the serene atmosphere in the house.
Diwali brings with it cheerfulness and prosperity. People wait all through the year to welcome Goddess Lakshmi into their homes with glee and festivity.
You shouldn't be the only one dressed for the festive season, right? Make sure that your house looks as beautiful as you this Diwali by using some of these ideas from our curated list of Diwali creative decoration ideas.