Are you aware of the Importance of Tulsi Plant at Home?
Buying a house is not hard, but turning that house into a home is what most homeowners are trying to do. The popular notion is that your home represents your identity and who you are essentially.
In India, most people love having a small garden in their house; if there is enough space!
One of the standards and prominent plants that most people in our country love having is the basil plant, or more commonly knows as the tulsi plant.
Ancient Indians were well aware of the advantages and the importance of Tulsi plant at home. They have ever since deemed it pure and holy.
Even now, in India, the tulsi plant is a fundamental element of all holy offerings. The plant represents energy. It brings in positivity around us and the space we are in. A home should represent energy, and this positive energy will help the people in it.
In India, the tulsi plant is used majorly in religious ceremonies and home remedies. It possesses many medicinal traits and is believed to hold immense energy.
The other important fact to keep in mind is that we can't just place the plant anywhere around the house. It has to be placed on the eastern side of the house where there is enough sunlight.
Taking care of the plant is very important as it also needs to be placed in a clean and healthy environment for it to grow and keep all the positive energy around us.
One of the easiest ways to bring in positivity to your life is follow these
The number of holy basil plants should always be kept in an odd number according to Vastu Shastra; it should always be in a sequence of 1,3,5.
There are different types of tulsi plants, however, in India, only a few are considered significant. The major three Types of Tulsi Basil Plant are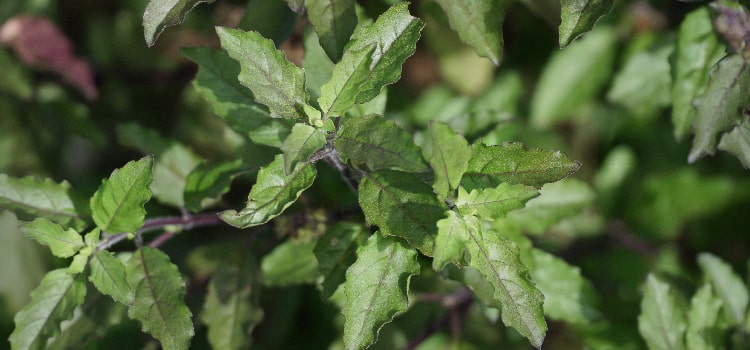 PURPLE BASIL PLANT (Ocimum Basilicum)
KRISHNA TULSI (Ocimum tenuiflorum)
RAMA TULSI ( Ocimum Sanctum)
Also, note that the tulsi plant should not be kept alongside any cactus or thorny plants as it could kill the growth of the plant.
Now let us see why the importance of Tulsi plant at home is highly emphasized. There are a lot of advantages in keeping the Tulsi plant at your home :
The positive energy that comes around this plant.
The plant has various medicinal benefits, which also helps fight bacterial infections.
The potent antioxidant that is present in the plant helps diabetic patients.
In a lot of Indian homes, people usually light the lamp and worship or pray to the plant. In Indian mythology, the plant fights away all the evil spirits and brings in positive energy.
Tulsi also purifies the air around and acts as an anti-pollution plant.
It is also used all over India as a natural insect repellent that gets rid of common household insects like mosquitoes and house flys.
Tulsi or the Holi Basil Plant is also one among the 15 vastu compliant plants for home , which is considered to bring luck and prosperity to your home.
It is said that, if placed towards some other direction, it would yield the opposite results. Instead of fighting the negative energy, it may end up attracting it.
The Tulsi is not simply just another plant that you bring home. It is, in fact, an upgrade to our home's entire ambience.
The Tulsi plant brings in a new and revived sense of positivity, once we plant it in our homes.
Hope you understood the importance of tulsi plant at home and how it brings in a new perspective to our day to day lives, which gives us an overall positive approach towards things.
Our Other Trending Blogs